'Cobra Kai' Season 4: Creators Address Anthony LaRusso (Griffin Santopietro)'s Shocking Storyline
Anthony LaRusso (Griffin Santopietro) has a much bigger role in Cobra Kai Season 4. Fans of the show and his character may be surprised to see where his character goes. The show's creators spoke with Showbiz Cheat Sheet about the Karate Kid's kid. 
[Spoiler alert: This article contains spoilers for Cobra Kai Season 4.]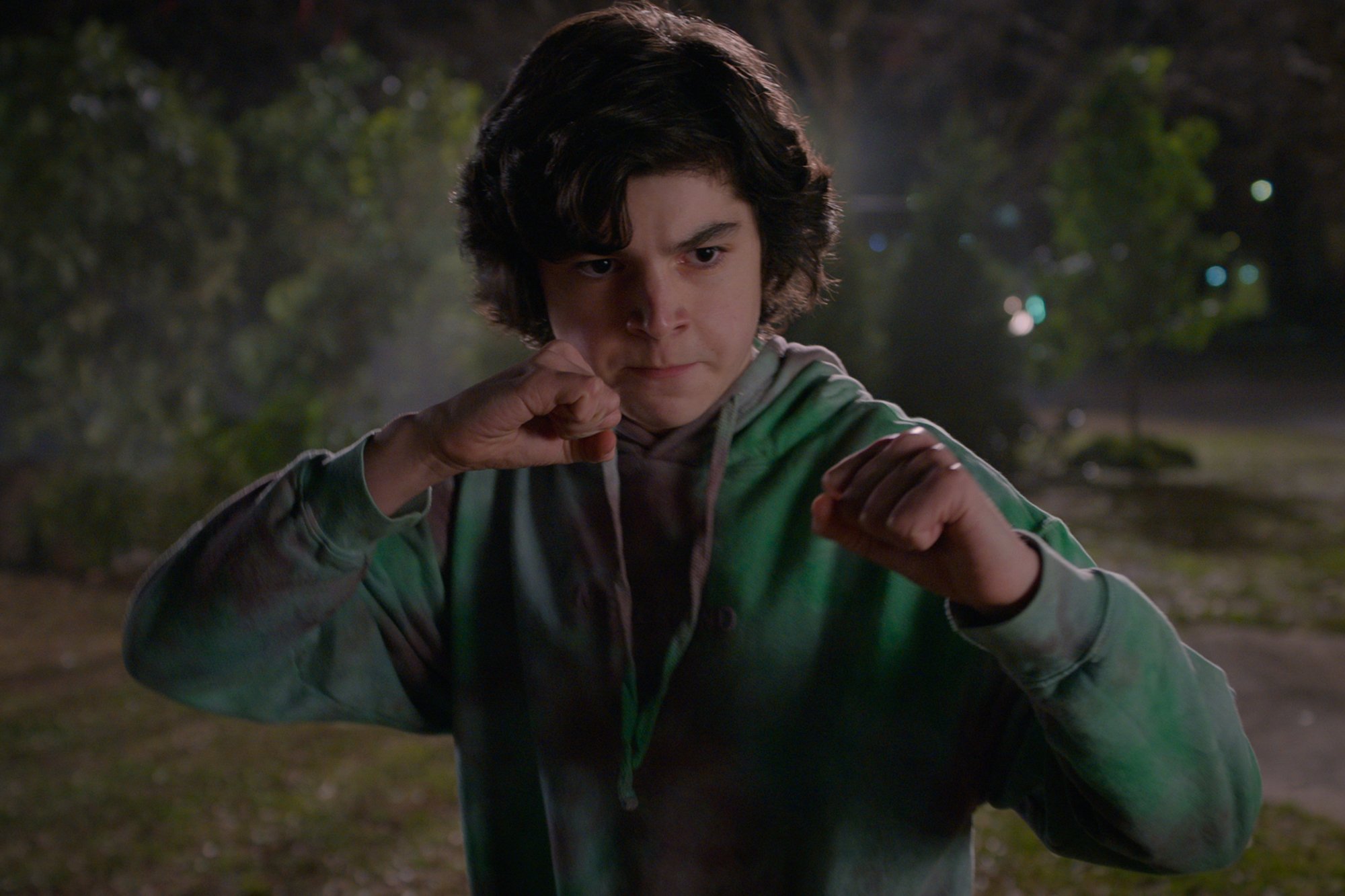 Creators Jon Hurwitz, Hayden Schlossberg and Josh Heald spoke with Showbiz Cheat Sheet by Zoom about Cobra Kai Season 4 on Dec. 2. Schlossberg and Hurwitz discussed Anthony's storyline for those who have already watched the season. Cobra Kai Season 4 is now streaming on Netflix.
'Cobra Kai' Season 4 turns The Karate Kid's kid into a bully 
Cobra Kai always explored the thin line between bullies and their targets. By making Johnny Lawrence (William Zabka) the hero, Daniel LaRusso (Ralph Macchio) doesn't always appear in the best light. Their students have vacillated back and forth two as their fights have caused major damage. But it's heartbreaking to see Anthony LaRusso bully new kid Kenny (Dallas Dupree Young).
"We wanted to do something a little bit different that you wouldn't expect," Schlossberg said. "We liked the idea that while he, in some way, has some of the positive qualities that Daniel has, he grew up in a completely different environment, a very privileged kid in a community of spoiled kids. Everybody's really competitive. That's the type of environment where you could inadvertently become a bully."
Griffin Santopietro has a lot more to do as Anthony LaRusso in 'Cobra Kai' Season 4
Another important aspect of Cobra Kai is understanding what makes people bullies. Johnny had a bad teacher in John Kreese (Martin Kove). Even some of his students get the wrong message, despite Johnny's best intentions. Likewise, Anthony isn't just terrorizing Kenny to be a bad guy.
"We try to make it where he's not this inherent monster who just wants to hurt people," Schlossberg said. "He's just, like a lot of kids, in the rat race of popularity and just kind of goofing on a kid and not realizing what it's like to be in that other kid's shoes. That really allowed us to get, again, back to the themes of what Karate Kid is all about, about bullying but in a different, fresh perspective."
As heartbreaking as it was to see Anthony pick on Kenny, it was even more heartbreaking to see his parents discover what their son had done. Daniel and Amanda (Courtney Henggeler) have to figure out how to parent a bully.
"We thought there was something interesting about that, it really hitting Daniel like a ton of bricks, Daniel and Amanda, that it was right in front of them and that they didn't see it coming," Hurwitz said. "It's a tough thing for all parents. I think a lot of people can look back at their childhoods and look at moments where they felt insecure. They, to make themselves feel better, were not nice to somebody else, and can as an adult look back on those moments and feel like crap about them and feel regretful about those things."
Screen time may be to blame for some of Anthony LaRusso's attitude
Daniel's been kind of busy teaching Samantha (Mary Mouser) and other kids Karate, engaging in the drama with Cobra Kai, leaving Amanda to run LaRusso motors. They can't watch Anthony all the time. 
This kid we saw in the first three seasons is buried in his iPad. A lot of us parents don't know exactly what our kids are doing on those iPads. We don't know exactly what is happening there. I think it opened the eyes for Daniel and Amanda that this kid who maybe they thought was maybe a little spoiled, a little bit lazy but they never thought that he would bully people. That was not the way that they taught so to give Daniel and Amanda that kind of emotional realization that they need to go through themselves while giving Griffin a fresh storyline, a different kind of storyline, it's a complex storyline for that character that we thought was an interesting way to go.

John Hurwitz, interview with Showbiz Cheat Sheet, 12/2/21