'Cobra Kai' Season 4: Everything We Know So Far
Netflix has released the official trailer for Cobra Kai Season 4. The one-minute clip showed Daniel LaRusso (Ralph Macchio) and Johnny Lawrence (William Zabka) putting their differences aside to work together and defeat a familiar foe. However, enemies from the past form an alliance to take down the pair. Here's what fans should expect from Cobra Kai Season 4.
What will happen in 'Cobra Kai' Season 4?
Initially, the series started as a Youtube Original and moved to Netflix. Hollywood actors Ralph Macchio and William Zabka reprised their roles from the 1984 film The Karate Kid. Created by Josh Heald, Jon Hurwitz, and Hayden Schlossberg, Cobra Kai takes place 34 years after the 1984 All Valley Karate Tournament. From Johnny Lawrence's point of view, he reopens the Cobra Kai karate dojo studio and reignites his old feud with Daniel LaRusso.
In the trailer, the "All Valley Tournament" is steadily approaching. In an attempt to work together, Johnny and Daniel team up to help the dojo students beat Cobra Kai and "take back the Valley." But, old foes come back to stop their efforts. John Kreese (Martin Kove) and Terry Silver (Thomas Ian Griffith) partner up to sabotage their plans.
In an interview with Collider, creator and showrunner Josh Heald shared what fans should expect from the new season. "All I can say is it was really important for us to end season three the way we did with a kind of like yeah! as a feeling as opposed to aww, where season two went," he explained.
"We want to deliver on that feeling. We want to make sure we're delivering on goosebumps, on tears, on belly laughs, and fist bumps," Heald continued. "It's the same recipe with different tastes and everything else, but it's even bigger, so we're really, really proud of what we're making so far. I can't wait for you to see what everybody's doing."
Who is returning for the fourth season?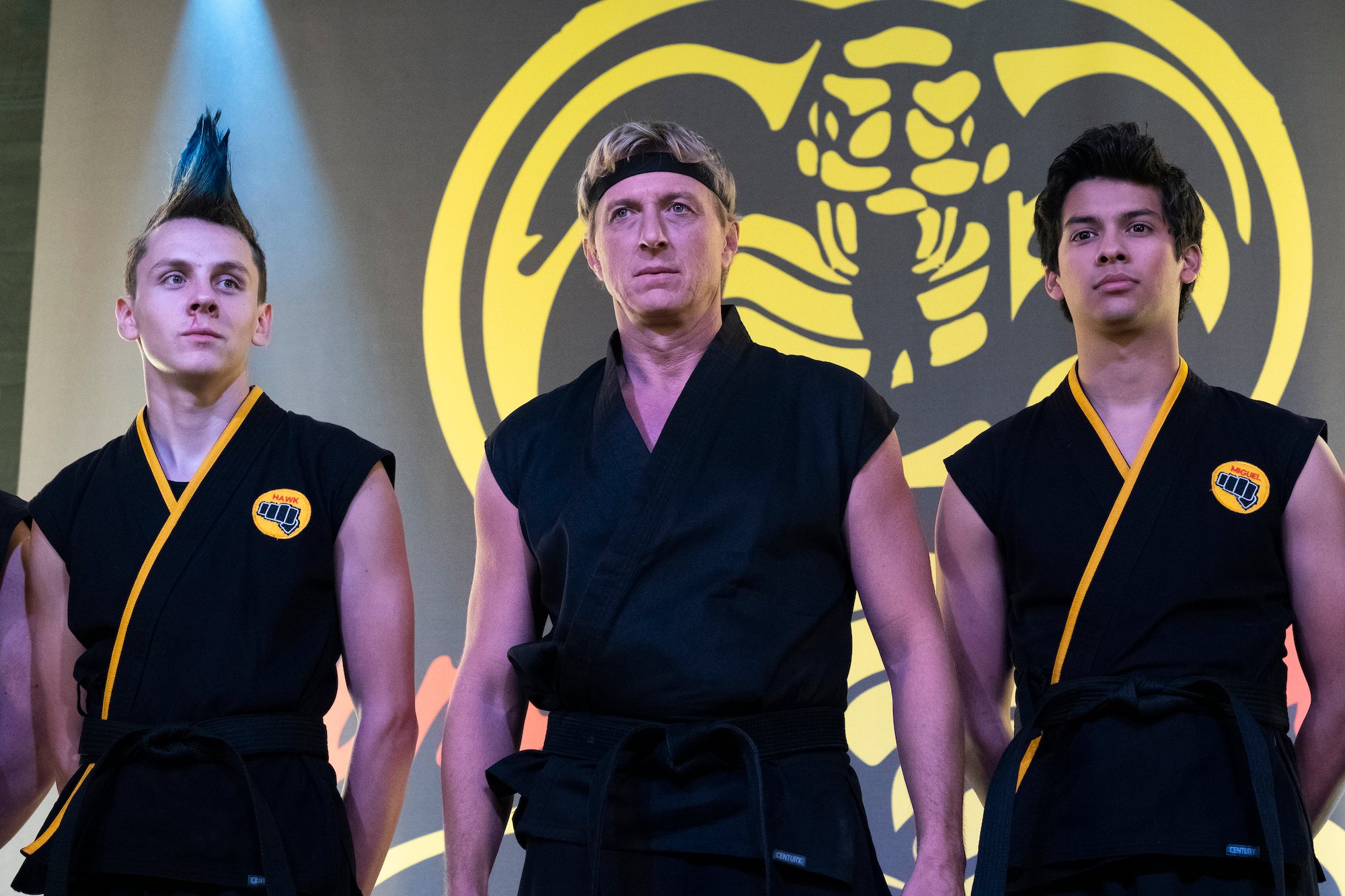 The new season will feature familiar faces like Ralph Macchio and William Zabka, as well as star pupils Sam LaRusso (Mary Mouser), Miguel (Xolo Maridueña), Demetri (Gianni Decenzo), Hawk (Jacob Bertrand), Tanner Buchanan (Robby Keene), and more. In addition, Terry Silver makes an appearance in Cobra Kai Season 4. Thomas Ian Griffith played the corrupt millionaire in The Karate Kid Part III.
In an interview with Entertainment Weekly, the actor talked about reprising the role in the Netflix series. "I never imagined I'd be stepping back into this role, but what an incredible opportunity to bring Terry Silver full circle," he said. "When they say Cobra Kai never dies, they mean it!" 
When is 'Cobra Kai' Season 4 debuting to Netflix?
During the 2021 TUDUM fan event, Netflix announced the drama series would return on Dec. 31, 2021. So, fans have until then to binge-watch the series. The fourth season should be 10 episodes, but the streaming service has not confirmed yet. 
All three seasons of Cobra Kai are streaming now on Netflix.