'Cobra Kai' Season 4 Will Premiere After Christmas
Netflix has been trickling out information about the Cobra Kai Season 4 premiere date. On Sept. 25 at their TUDUM event, Netflix confirmed season 4 will premiere on Dec. 31. When they said it premiered in December, we didn't know they meant the very last day of the month and year! Well, Cobra Kai Season 4 will be a late Christmas present. 
[Spoiler alert: This article contains spoilers for the first three seasons of Cobra Kai.]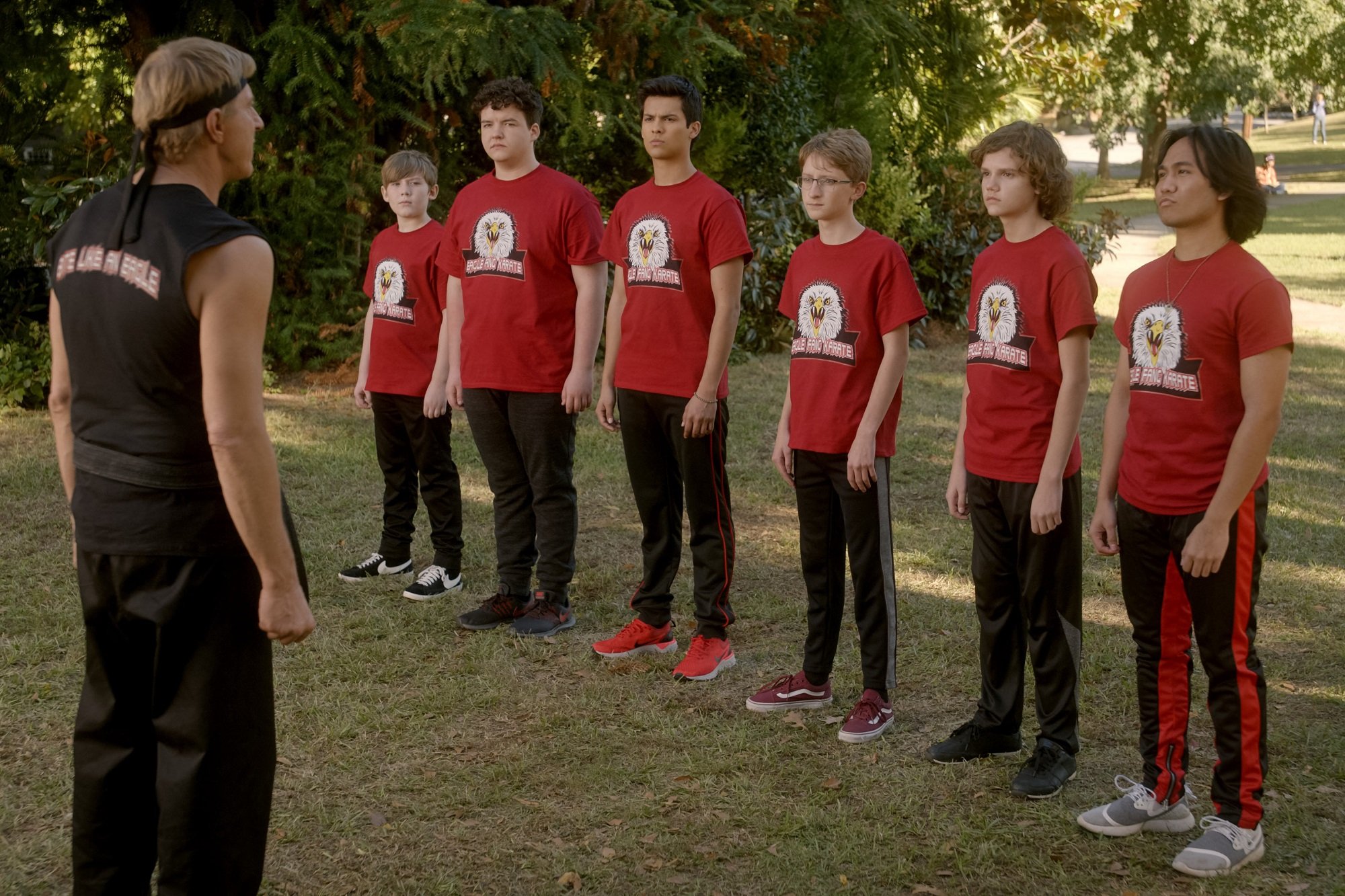 You can binge 'Cobra Kai' Season 4 on New Year's Eve before 2022
Cobra Kai Season 4 went into production in January 2021 just after season 3 premiered a week early, on Jan. 1. The cast and crew produced season 4 under coronavirus (COVID-19) safety protocols with showrunners Jon Hurwitz, Hayden Schlossberg and Josh Heald sharing behind the scenes looks along the way. 
After two Cobra Kai Season 4 teasers, Netflix finally released a trailer that shows some scenes from the new season. The Terry Silver and All Valley Karate Tournament teasers have led to this. It looks like season 4 picks up right where season 3 ended, with Johnny Lawrence (William Zabka)'s Eagle Fang dojo teaming up with Miyagi-do to beat Cobra Kai. 
Daniel LaRusso and Johnny Lawrence have different teaching methods
In the Cobra Kai Season 4 trailer, Daniel LaRusso (Ralph Macchio) speaks to the class. 
"Many of us used to be enemies, but rivalries don't need to last forever," Daniel says. "The All Valley Tournament is just a few months away. The stakes are higher than they've ever been. We know that Cobra Kai is going to use every dirty trick in the book. There's only one way we're going to be able to beat them."
Here's where Cobra Kai Season 4 brings the comedy. Johnny interjects with his idea of how to defeat his former dojo and John Kreese (Martin Kove).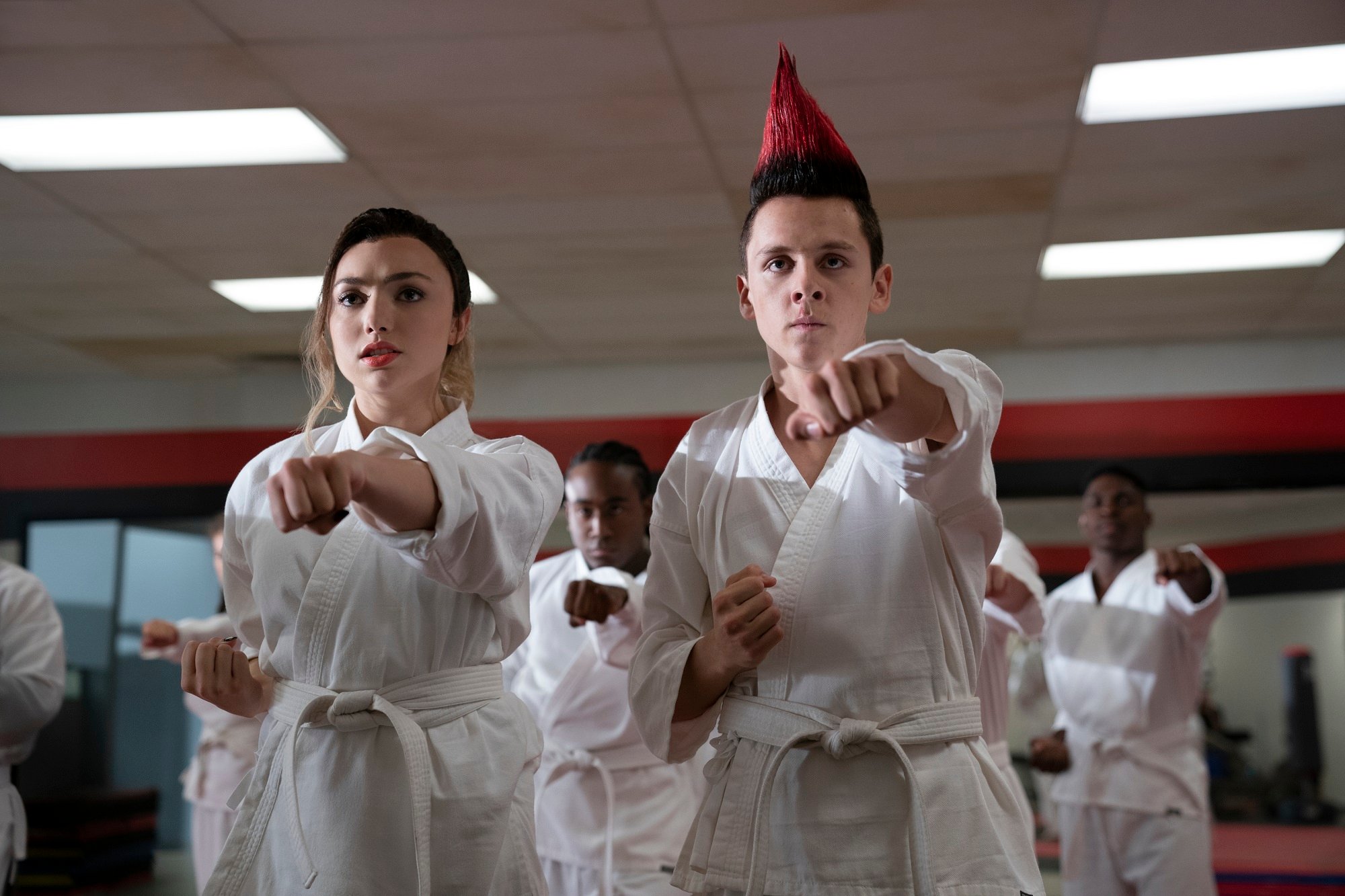 RELATED: 'Cobra Kai' Star Martin Kove Didn't Even Recognize This 'Karate Kid Part III' Star Today
"By kicking their asses so hard they sh*t themselves," Johnny says. "They strike first, we'll pre-strike. We're going to take back the Valley. We bite first."
Cobra Kai began when Johnny reopened the dojo he practiced at in high school, in 1984's movie The Karate Kid. Johnny connected with some new high school kids experiencing bullying, but unfortunately it also brought John Kreese back into his life. By the end of season 2, Karate landed kids in the hospital.
When Kreese usurped Johnny as the sensei of Cobra Kai, Johnny formed his own dojo with some of his loyal subjects. Others, like Tory (Peyton List) and Robby (Tanner Buchanan) stayed with Kreese. 
Terry Silver appears in the 'Cobra Kai' Season 4 trailer
The Cobra Kai Season 4 trailer shows all the different Karate kids training, including Eagle Fang/Miyagi-do's Miguel (Xolo Maridueña), Samantha (Mary Mouser), Hawk (Jacob Bertrand) and Demetri (Gianni DeCenzo).
Of course, Season 4 has one big star returning. Terry Silver (Thomas Ian Griffith) returns to Cobra Kai dojo. His long hair is now gray, but he still pulls it back into a pony tail. He's wearing khakis and a blue shirt but he starts hitting the heavy bag.
"They're not the only ones teaming up," Silver assures Kreese.
RELATED: 'Stranger Things' Fans React with Mixed Reviews to 'TUDUM' Reveal
TUDUM also included new looks at Stranger Things Season 4, The Sandman and more Netflix shows. Look for more reports on TUDUM announcements here on Showbiz Cheat Sheet, as well as more with the Cobra Kai cast and creators before Dec. 31.  Netflix has already renewed Cobra Kai for a fifth season.