'Cobra Kai' Season 5: Miguel's Story Was Not What Xolo Maridueña Thought It Would Be After the Season 4 Finale
Xolo Maridueña teases the changes that occurred between the 'Cobra Kai' Season 4 finale and filming Miguel's season 5 story.
Every season of Cobra Kai leaves the fans with a tease of what's coming up next. The most difficult cliffhanger was season 2, in which one character was in the hospital with a broken back. And then it took two years for season 3 to air. Season 4 sets up Miguel (Xolo Maridueña) season 5 story, but Maridueña himself said that changed by the time they filmed Cobra Kai Season 5.
[Warning: This article contains spoilers for Cobra Kai Season 4.]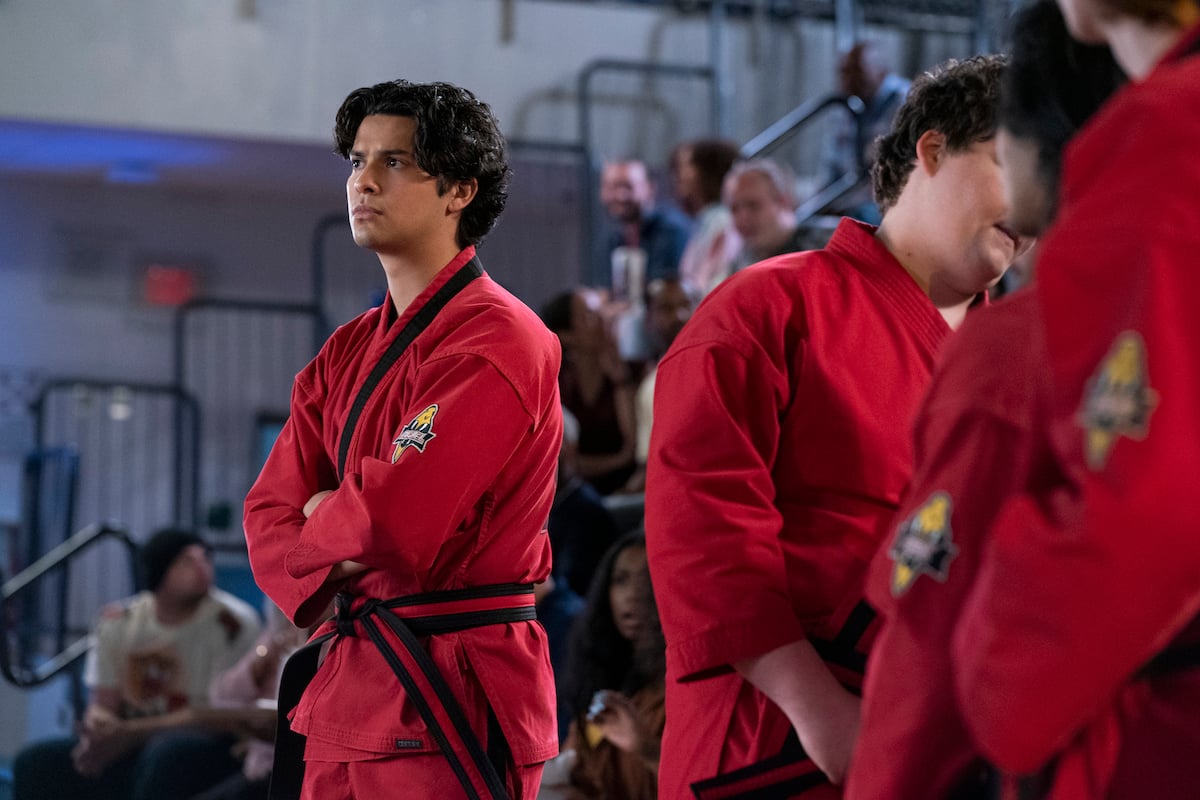 Maridueña discussed the upcoming Cobra Kai Season 5 on his podcast, Lone Lobos, which he co-hosts with co-star Jacob Bertrand. He wouldn't spoil season 5, but described how his storyline changed. 
'Cobra Kai' Season 5 wasn't set in stone when Miguel left for Mexico
Season 4 ends with Miguel going to Mexico to find his father. He leaves a note for his mother, Carmen (Vanessa Rubio), who reveals his father doesn't know he has a son. Netflix green lit Cobra Kai Season 5 before it even set the date for season 4, They filmed it at the end of 2021, so now Maridueña knows what happens.
"They didn't know at that point what was going to happen," Maridueña said on Lone Lobos. "Now, having filmed season 5 and gone through it and everything, obviously they've figured out what happens after season 4. But at that point they didn't know. Honestly, they told me a couple versions and none of them are what actually happened."
Xolo Maridueña gets briefed on the story every season 
Maridueña described the process for every season of Cobra Kai. Creators Jon Hurwitz, Hayden Schlossberg and Josh Heald tell each actor what's in store for the next 10 episodes. Even season 4 had room for flexibility. 
"There was no point of contention with me," Maridueña said. " We have these meetings and they basically just give the rundown. It's like a bullet point, a loose list. A, you're starting to train with Daniel. B, Johnny doesn't like this. Johnny and Carmen are dating. They decide to tell Miguel. This stirs up some tension between Johnny and Miguel. This tournament is coming up quickly, some problems with Sam along the way. And this tournament happens."
Maridueña said the Cobra Kai creators hadn't settled on the details of the All-Valley Karate Tournament yet, but they knew Miguel wouldn't triumph again.
"'It could be a couple of things but we can tell you that you don't win,'" Maridueña said. "That is something that they were like, 'You don't win.' I was like all right, unrealistic."
Maridueña has faith in 'Cobra Kai' Season 5
Maridueña believes the Cobra Kai Season 5 story will pay off. He should know. Miguel was the one Robby (Tanner Buchanan) kicked off the second floor in season 2. That worked out, so this will too. 
"But, one thing that has remained constant I will say is you have to have trust in Josh, Jon and Hayden, our creators because somehow, dude, they threw me off a f***ing building and still somehow made it work out," Maridueña. "Still people were like, 'F*** Robby.'"