'Cobra Kai' Season 3: Why William Zabka Said Reuniting With Elisabeth Shue Was 'Like Seeing an Old Friend From High School'
Cobra Kai continues to bring in high ratings on Netflix. Recently dropping its third season, the series derived from the popular 80s Karate Kid film is reaching new audiences as well as those wanting a bit of nostalgia.
Starring Karate Kid alums Ralph Macchio (Daniel LaRusso), William Zabka (Johnny Lawrence), and Martin Kove (John Kreese), the show brought back another original character in season 3. Elisabeth Shue reprised her role of Ali Mills much to the delight of fans and co-stars.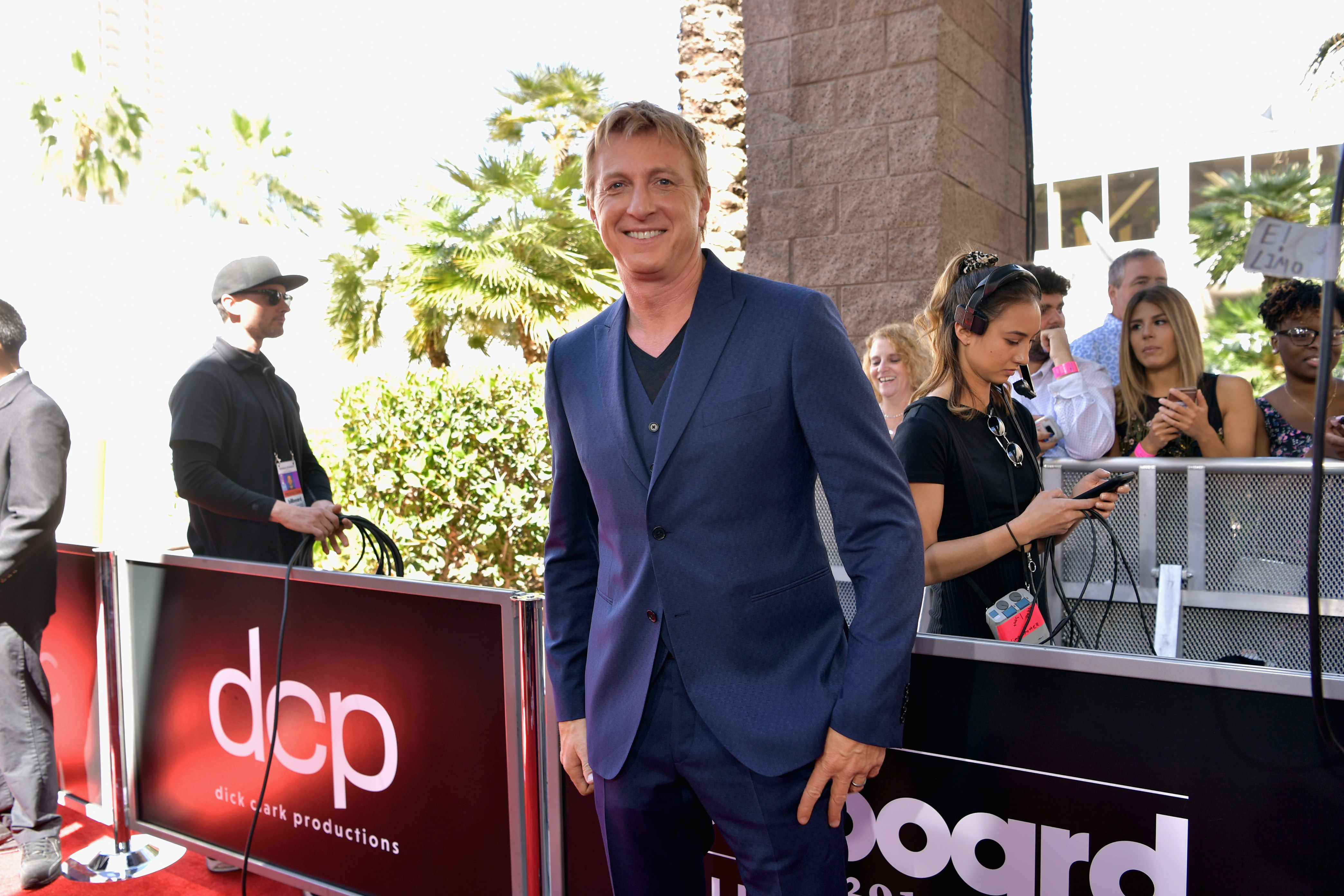 Elisabeth Shue's character caused the original rift in The Karate Kid
In the 1984 film, Johnny and Ali were an item when Daniel moved to town. With Johnny's less-than-stellar treatment of Ali coupled with Daniel's charms, Ali turned her affections toward the karate protegé and left Johnny in the dust. Zabka credited the original love triangle for starting the animosity between Johnny and Daniel.
"She's kind of the, almost, cause of it all," Zabka told Men's Health in January 2021. "If there was no Ali, maybe this never would have happened."
Zabka considered Johnny's massive fall in the film an ideal storyline for Cobra Kia. Part of that plot included building up Shue's return in season 3.
"I loved that when Johnny got crane kicked in the face, he lost his title, he lost his sensei, he lost his girl, and that was the one thing that was going good for him before all this came down," Zabka explained. "So the fact that we kind of played on that in the first two seasons up to Elisabeth coming in was awesome."
'Karate Kid' reunion on 'Cobra Kai'
Shue was a welcomed addition in season 3, where Zabka felt like they picked up right where they left off.
"I love working with her," he raved of Shue. "It was like seeing an old friend from high school. In between scenes, we're talking about our real families and our real life."
One scene featured Ali and Johnny enjoying a date at a mini golf complex. Apparently, the fun seen on screen was also going on off camera.
RELATED: 'Cobra Kai': Ralph Macchio Shares Which Scene 'Brought a Rush of Emotion' for Him
"She's super fun," Zabka said. "The Golf N Stuff date, we just laughed the whole time. I don't think we stopped laughing. … [Shue is] super competitive. Playing air hockey, she wanted to beat me all the time. She's competitive and fun, and it was lovely to have her."
'Cobra Kai' season 4 is coming 'sooner than you think'
Along with viewers, Zabka is clearly enjoying his renewed collaboration with Macchio.
"Every time we're together, there's nostalgia," the Cobra Kai star commented. "Whether it's a fighting scene or it's REO Speedwagon, bopping our heads in the car."
While many television shows have had to halt or delay production due to the coronavirus (COVID-19), Zabka revealed that fans may not have to wait too long for season 4 of Cobra Kai.
"I know we're gearing up at some point here soon, but nothing I can share publicly," he remarked. "We're moving forward. Season 4 is happening. We live in a different time right now, and there's a lot of safety protocols that have to be taken into account."
Zabka added that the fourth season will be arriving, "Sooner than you think. Sooner than you think."