Collaborations With BTS That Are So Good We Must Manifest Them
From 'Boy With Luv' to 'Dream Glow' some BTS songs feature other artists. However, there are still some popular artists that BTS has not collaborated with. Not yet, anyway.
BTS collaborated with Nicki Minaj for a version of "Idol." Their song with Halsey, "Boy With Luv," even earned this boy band recognition at the Billboard Music Awards. However, there are still a few collaborations that BTS fans are dreaming up.
Those include collaborations with groups like Coldplay and award-winning solo artists like Ariana Grande and Troye Sivan.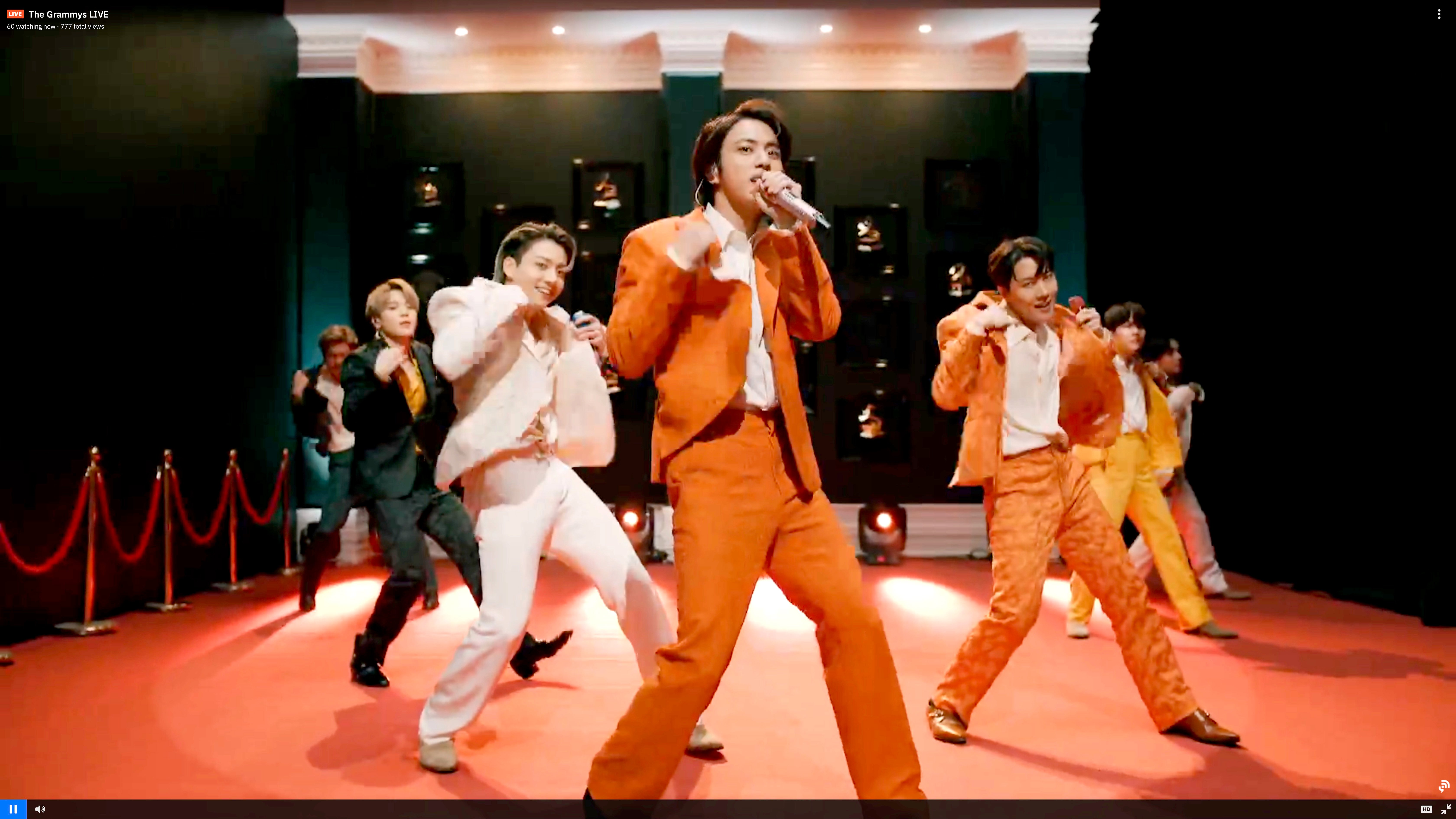 BTS X Ariana Grande
Before the Grammy Awards, this K-pop group hung out with the award-winning singer Ariana Grande. The "No Tears Left to Cry" artist even had a picture with Jungkook as her phone background. (He attended one of her concerts, visiting her backstage the same day.) 
Although there's no Ariana Grande collaboration on the horizon, some fans look forward to music from these artists in the future. 
BTS X Coldplay
When BTS appeared on iHeart Radio Live in 2019, they answered questions about their dream collaborations. Coldplay was mentioned by V, one of the singers in the group.
"Chris Martin," RM agreed, prompting some of the members to sing Coldplay's "Viva La Vida."
When BTS performed their MTV Unplugged segment, they featured a surprise cover of the Coldplay song, "Fix You." This cover was meant to bring comfort to fans impacted by the coronavirus (COVID-19) pandemic. However, BTS has yet to collaborate with Martin and the band.
BTS' Rap Line X Drake
This K-pop group finally met this rapper in person at the 2019 Billboard Music Awards. BTS' J-Hope even appeared in the music video for "In My Feelings," around the 7:37 mark, performing the dance challenge that accompanied the song.
Since the boy band's debut, BTS shared their love for Drake. During an interview with the Hollywood Reporter in 2019, several of the idols mentioned the rapper as their dream collaboration. 
"Drake," J-Hope called out. "Please call me."
"We heart Drake," V added.
BTS' Vocal Line X Troye Sivan
The four members of the BTS vocal line have pretty unique voices. However, none of them have a voice quite like Troye Sivan. In fact, according to Soompi, Sivan even played a role in writing a song off of the boy band's album, Map of the Soul: 7. That's "Louder Than Bombs."
As solo artists, members of this boy band collaborated with other performers. RM recorded a remix of "Old Town Road" with Lil Nas X. J-Hope released "Chicken Noodle Soup" with Becky G, complete with a music video and a viral dance trend. 
The "Dynamite" music video is now available on YouTube. Music by BTS, including their recently released album, Map of the Soul: 7, is available for streaming on Spotify, Apple Music, and most major platforms.