Concert Review: Monsta X Electrifies a Sold Out Radio City Music Hall
On Saturday, May 21, K-pop group Monsta X performed to a sold-out crowd at Radio City Music Hall in New York City. The No Limit tour was postponed earlier this year due to coronavirus (COVID-19.) Fans were beyond eager to see the K-pop giants on stage again and Monsta X did not disappoint.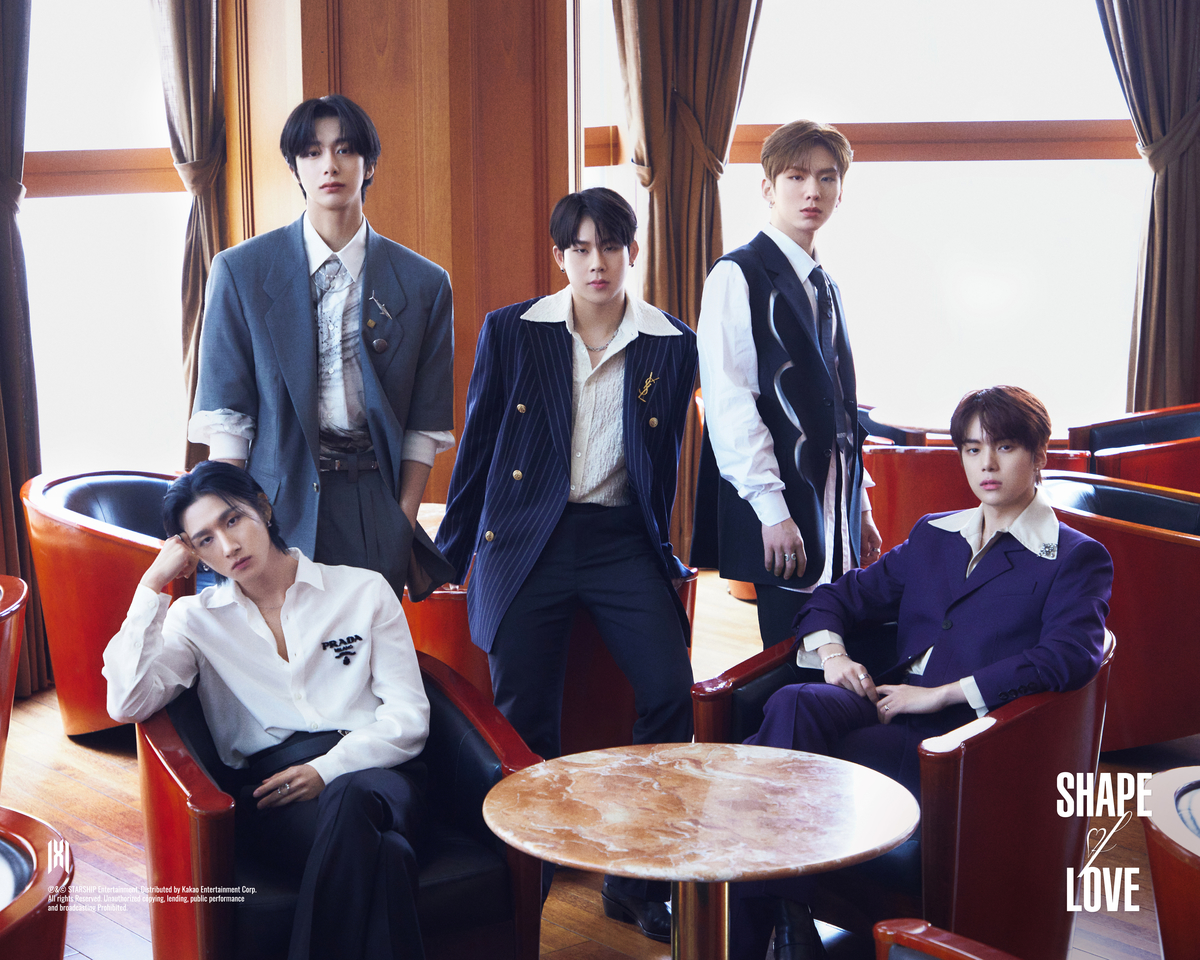 A smaller Monsta X lineup kick off the 'No Limit' tour at Radio City
Minhyuk, Kihyun, Hyungwon, Joohoney, and I.M make up the current roster of Monsta X. Debuting in 2015 under Starship Entertainment, Monsta X originally consisted of seven members. In 2019, shortly after their last US tour, Wonho departed. Group leader Shownu is currently completing his mandatory military enlistment in South Korea.
Losing two key members is not easy for any group, but Monsta X has found exciting new dynamics within the current roster on their releases SHAPE of LOVE and No Limit. Minhyuk and Hyungwon have taken on more significant singing roles, finally getting the chance to showcase their talent and unique vocal tones to a larger degree.
Main vocalist Kihyun continues to prove why the saying "the K in K-pop stands for Kihyun" is accurate. At the same time, rappers I.M and Joohoney make up the most interesting rap line in the genre. I.M brings a low-key sexy swagger to the table and Joohoney turns up the energy and infuses passion into everything he does. By the way, they both can really sing too.
The 10-stop No Limit tour is the first time US audiences have seen the most recent Monsta X lineup.
Monsta X performed for two and a half hours during the first US tour stop
On Saturday night, Monsta X took the stage at Radio City Music Hall around 7:40 PM. The five members strutted to the center of the stage and launched into "Gambler" from 2021's One of a Kind. Wearing black suits with multi-colored rhinestones, they had swag for days as they performed the sleek choreography.
There's no doubt that these are the grown men of K-pop. Each member exudes a cool confidence. In fact, Monsta X may have the best on-stage presence and chemistry of any active K-pop group.
For the No Limit tour, they crafted a setlist that allowed them to perform for around two and a half hours without letting the energy in Radio City wane. Uptempo sections were followed by ballads. A solo section showcased why the group should be considered one of the most talented boy bands, K-pop or otherwise. Finishing around 10 PM, Monsta X gave fans a memorable night.
The 25 song setlist is a celebration of Monsta X's past and bright future
The setlist on Saturday night included hits and sleeper B-sides, much to the delight of Monbebe (Monsta X fandom.) Songs from most eras of their seven-year career were part of the show. Monsta X showcased an impressive roster from older hits like "DRAMARAMA" and "Fallin" to new tracks like "Just Love" and "Rush Hour."
Uptempo songs "Play it Cool," "You Problem," and "Love Killa" elicited loud cheers from the audience. However, the most powerful moment came during a section with the two emotional ballads "Find You," and "AND."
Although Monsta X are beasts, as the song "Beastmode" aptly showcases, there's an emotional undercurrent to their slower stuff that's heavier and more mature than most boy band fluff. After a costume change, "Mercy" also offered a moment of intense drama.
Setlist:
"Gambler"
"DRAMARAMA"
"Rush Hour"
"Just Love"
"Burning Up"
"One Day"
"Play It Cool" (English Version)
"You Problem"
"Find You"
"AND"
"Wildfire" (Hyungwon Solo)
"God Damn" (I.M Solo)
"Happy to Die" (I.M Solo)
"Ongshini" (Minhyuk Solo)
"Rain" (Kihyun Solo)
"Smoky" (Joohoney Solo)
"Voices" (Joohoney Solo)
"Mercy"
"Love Killa"
"LOVE"
"Beastmode"
"ZONE"
"Fallin'"
"Stand Together"
"Love Forever"
Solo stages show personality, emotion, and undeniable talent
Dressed in all black, Hyungwon started things off with a sophisticated solo performance of the Monsta X song "Wildfire." The tallest member of the group often composes songs with heavier emotional content so it came as no surprise that he chose this song for his showcase. Vocally, Hyungwon navigated the other member's parts with ease.
Next up, I.M performed "God Damn" off his solo album Duality. Dressed in leather pants and a mesh shirt, the youngest member's toned physique took center stage. He then launched into "Happy to Die" showing off his rap skills.
Minhyuk brought humor to Radio City when he performed "Ongshini" a trot song co-written with Joohoney. Dressed in a bright yellow suit, the temporary group leader until Shownu returns, performed like a seasoned showman. Minhyuk has a future on Broadway if he wants it.
Kihyun used his solo stage to deliver a stunning rendition of "Rain," an emotional ballad from his debut solo album Voyager. Hearing his voice in person is more impressive than any recorded material can fully showcase. When it comes to K-pop, Kihyun stands out for his range, tone, and power. All he needs is a microphone to deliver the perfect performance.
Rapper, singer, and songwriter Joohoney ended the solo segment with a heartbreaking rendition of "Smoky." Written for his debut solo album, the intensely personal song delves into the struggles that eventually led him to take a temporary hiatus from the group in 2020.
Wearing a blindfold Joohoney sang "Somebody come help me now/ Somebody can you hear me now/ I am lost and I wanna be found/ It is smoky/ Smoky in front of me." He then launched into a new song entitled "Voices" that represents Joohoney getting out of a bad place because of the positive voices from fans and those around him. It was a powerful moment of despair and triumph.
Monsta X 'Stand Together' showing a deep bond with one another
The group members joked around with one another throughout the evening and seemed to genuinely enjoy what they were doing. Monbebe was excited about the concert but Monsta X was perhaps even more thrilled to finally see their fans in person after years of virtual events.
I.M said "Now I feel alive because of you guys, seriously. You guys made us alive and you are the reason we exist." He also sweetly complimented the other member's English and asked the crowd to cheer for their progress.
When Joohoney became emotional and had to pause while talking about his solo, Kihyun stepped in and said Joohoney "went through a hard time." The other members quickly said things like "we all go through hard times," and "it's OK."
'Love' was the theme of the night
Love was a central theme for the evening with the members describing what love means to them and performing several songs with the word in the title including the new single "LOVE."
The show ended with "Love Forever" off their latest EP, SHAPE of LOVE. A song of celebration and appreciation for Monbebe, the crowd enthusiastically sang along while confetti dropped from above.
Minhyuk mentioned how nervous they were for Saturday night's show at Radio City Music Hall. The nerves didn't show as all five members proved why Monsta X are the beasts of K-pop. Although very successful, It's perplexing why they aren't one of the biggest groups in the world at this point.
The Monsta X No Limit tour plays Alexandria, VA on Tuesday, May 24 before making eight more stops throughout the US. Tickets are still available in some cities through Ticketmaster and Axs.
Related: Monsta X on Their Album 'The Dreaming' and Touring Again