Is Netflix's'Concrete Cowboy' Based on a True Story?
Netflix's Concrete Cowboy starring Idris Elba and Stranger Things' Caleb McLaughlin has arrived on Netflix, and it's already capturing fans' hearts. The movie follows 15-year-old Cole (McLaughlin), whose frustrated mother drives from Detriot to Philadelphia to leave him with his father, Harp (Elba) after he's expelled from yet another school.
An urban cowboy whose always been estranged from his teen son, Harp's main source of happiness is riding his horse with a group of horse riders who have built makeshift staples in a dilapidated warehouse in the middle of the city.
As he tries to adjust to a new life in Philly, Cole is torn between his fascination with Harp's horses and Smush (Jharrel Jerome), a childhood friend who is focused on fast money. But, is the coming of age story based on a real story?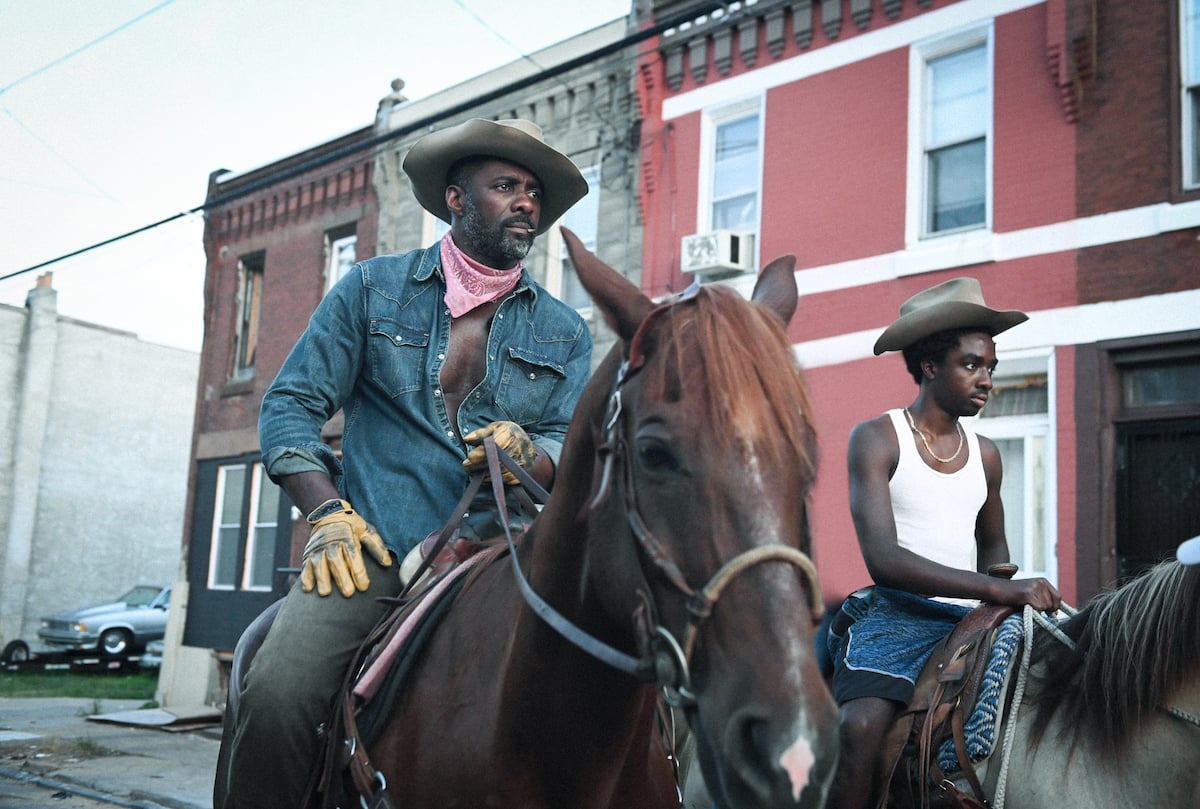 'Concrete Cowboy' is based on a fictional book
Concrete Cowboy is not based on a true story. However, the movie is based on Greg Neri's YA novel titled Ghetto Cowboy. Neri was inspired by the real-life urban Black cowboys who still live in Philadelphia and Brooklyn who have been misplaced as cities continue to urbanize.
Concrete Cowboy director Ricky Staub spent two years in Philadephia researching to bring Neri's words to the big screen. He spent time with the Fletcher Street Urban Riders Club (FSURC), a Black horse-riding club and nonprofit organization, learning about their struggles and traditions before he was able to transform Neri's book into a script.
Though there are actual actors in the film like Elba, McLaughlin, Jerome, Lorainne Toussaint, and Method Man, Shaub wanted his films to be as authentic as possible.
Real-life members of The Fletcher Street Riders are in 'Concrete Cowboy'
While the characters in Concrete Cowboy are fictional, Shaub used real-life Fletcher Street Riders in the movie. Founded by Ellis Ferrell in 2014, the origins of FSURC have been around much longer. Ferrell opened the first stables in the city in the 1980s.
On the organization website, Ferrell writes, "Horse riding is not only therapeutic and instills discipline, but it enables a sense of empowerment to the disenfranchised and those living in communities of hopelessness."
Real-life riders in Concrete Cowboy include Ivannah Mercedes, who plays Esha, Cole's love interest Esha, and Jamil "Mil" Prattis, who plays Paris, Cole's non-nonsense mentor in the stables.
The Fletcher Street Riders from 'Concrete Cowboy' still don't have a permeant home
While Concrete Cowboy is fictional, like the cowboys in the movie, the FSURC are still searching for a permanent home for their stables and horses. They've faced erasure due to gentrification in Philadelphia, as well as the city seizing their stables due to lack of permits and funding.
As the end of Concrete Cowboy states "The city of Philadelphia is currently developing on Fletcher Street's land. Like generations of cowboys before them, they ride on in search of a permanent stable to preserve their heritage."
Since Concrete Cowboy was released on Netflix, Ferrel's GoFundMe to help FSURC find a permanent home has exceeded its $100,000 goal.