Connie Britton Had an 'Identity Crisis' After 'Friday Night Lights' — 'Who Am I if I'm Not Tami Taylor'
Connie Britton was so attached to her 'Friday Night Lights' character Tami Taylor, she said she had an "identity crisis" when the show ended, and it was time to let her go.
Actor and icon Connie Britton connected so deeply with her Friday Night Lights character, Tami Taylor, she went through an "identity crisis" when the show ended and it was time for her to move on to other roles. She said she was "in denial" after the final episode and asked herself, "… Who am I if I'm not Tami Taylor?"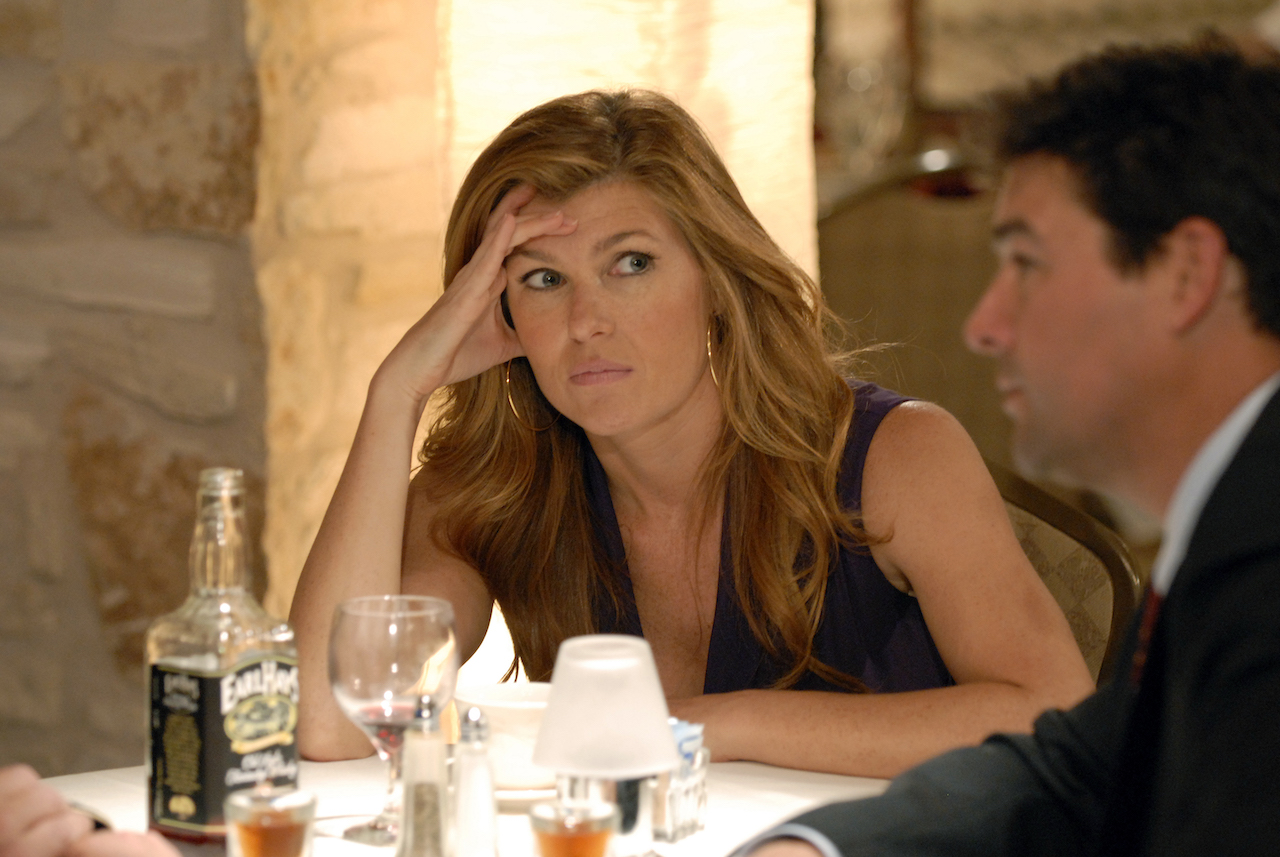 Connie Britton connected with Tami Taylor as a Southern woman
In 2013, Britton, who grew up in Virginia, explained to Garden & Gun, "When the character of Tami Taylor in Friday Night Lights came along, it jogged something in me, like, I know this woman."
"It clicked," she explained. "She felt very familiar."
Britton added she found her character had qualities "so specific and unique" as a Southern woman. To elaborate, she said, "In many ways, the South can be very traditional and confining. And what is interesting to me is how women find their way around it."
"Those obstacles create an amazing sense of humor, of fun, and, ultimately, of integrity," she concluded. And those were characteristics that seemingly drew her to the now-iconic role.
Connie Britton had an 'identity crisis' after Tami Taylor
Notably, Britton was hesitant to take the role of Tami Taylor in the first place and said she was "rabid" about making sure the character didn't get sidelined in plots heavily focused on high school football.
As reported by the New York Times, Friday Night Lights ended after five years, and Britton confessed it wasn't an easy transition for her. "I'm still just in denial and having an identity crisis," Britton told Chelsea Handler shortly after shooting the last episode. " 'Cause who am I, if I'm not Tami Taylor?"
Of course, Britton would become Vivien Harmon on the first season of American Horror Story, Rayna Jaymes on Nashville, and Nicole Mossbacher on The White Lotus, to name a few of her roles since Friday Night Lights.
But Britton stood by her words. "I really wasn't kidding in that moment," she said more recently. "I felt a sense of responsibility to that character."
Connie Britton and Kyle Chandler formed a 'lifelong friendship' playing the Taylors on 'Friday Night Lights'
Part of what bonded Britton to Tami Taylor was the character and marriage she helped form. And after Friday Night Lights concluded, Britton reunited with Kyle Chandler, who played her on-screen husband, for an interview with Entertainment Weekly. While they were chatting, she revealed Chandler to be something else she would miss about the role.
And Chandler said of meeting Britton, "I think we both knew pretty soon it was going to be a fun relationship."
"I think we immediately started making funny jokes or something," she shared. "I thought he was goofy."
But the two agreed a "lifelong friendship" formed between them through years of playing husband and wife on television. "They've built a new house, and he's already built me a guesthouse. And it's mine," Britton joked. "… I feel like that's very positive for the future."