Conor McGregor Cheats on His Diet in the Best Way Possible
Mixed martial arts and boxing champion Conor McGregor is one of the best-known and most successful fighters in the world.
He has had an incredible trajectory to worldwide fame, beginning his professional career in 2008. McGregor has received numerous honors for his success in the world of fighting and although his career has not been without controversy, fans love him for his dedication to the sport.
Still, that level of accomplishment doesn't come easily, and McGregor follows a strict diet and training regimen that is truly impressive.
Keep reading to learn about Conor McGregor's diet, how he works out, and what he prefers to indulge in on his cheat days.
What does Conor McGregor's training routine look like?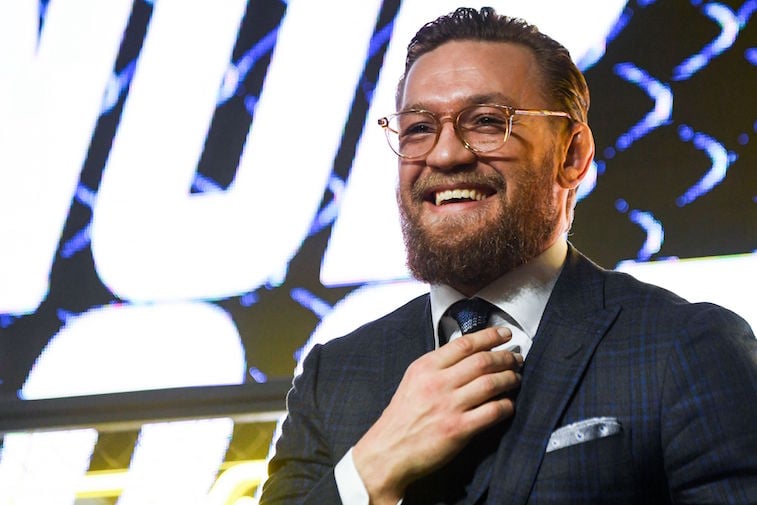 Although Conor McGregor is well known for his fitness, the truth is, he likes to "go with the flow" when it comes to his training routine. He has admitted that "variety is the best way" and that he doesn't stick to any one particular type of exercise in order to stay in tip-top shape. McGregor has talked about how he likes to mix things up by combining fitness classes, gym sessions, and lots of flexibility training.
There are a few signature exercises that McGregor likes to incorporate during the week, including leg swings, hip circles, push-ups, pull-ups, air squats, and the seated butterfly. It's clear that whatever he is doing, it is working, because McGregor is widely known as one of the fittest fighters in the industry.
What is Conor McGregor's diet?
As with his workout regimen, McGregor tries to incorporate a lot of variety into his meals. Still, that doesn't mean he's ordering takeout every night. McGregor's diet focuses mainly on healthy carbohydrates and "real" food. McGregor doesn't follow a fad diet but simply sticks to good habits throughout the day in order to look and feel his best.
Although he is limited in the things that he eats, McGregor makes sure to always eat plenty, so that he stays full and focused for training.
McGregor's breakfast includes plenty of healthy fats like eggs and avocados, while his lunches usually include lean proteins such as seared tuna, grilled fish, or chicken, paired with lots of vegetables and carbs such as sweet potato or squash.
Dinners for McGregor are also healthy and filling, and usually feature delicious roasted chicken with rice and even more vegetables. Conor McGregor also loves pasta, and while he rarely indulges in dishes such as fettuccine alfredo, he sometimes fills his plate with three-bean pasta and grilled shrimp.
McGregor's chef also makes sure to fill up his fridge with fruit and nuts, so that the champion always has healthy snacking options available and isn't tempted to reach for candy or salty snacks. 
Does Conor McGregor ever have cheat days?
Conor McGregor might have to stick to a healthy diet but that doesn't mean he's immune to delicious treats from time to time. McGregor has admitted to having cheat days and has said that he definitely has a "sweet tooth."
In fact, McGregor loves "cakes and coffee" and has stated that those two things would cause him to "on some weight out of fighting."
McGregor also loves to indulge in a beer from time to time. He actually has a partnership with the beer company Budweiser and has posted several images to his Instagram account over the years featuring the champion kicked back with a cold beer.
It's clear that even prize-winning fighters have to take days off in order to feel their best.