Content to Make Your Friends and Family Stan NCT 127
NCT 127 is a K-pop group taking the world by storm. The band debuted in 2016 and is a fixed sub-unit of SM Entertainment's NCT. For NCTzens looking for ways to convince their friends and family to stan NCT 127, here is a list of content to show them.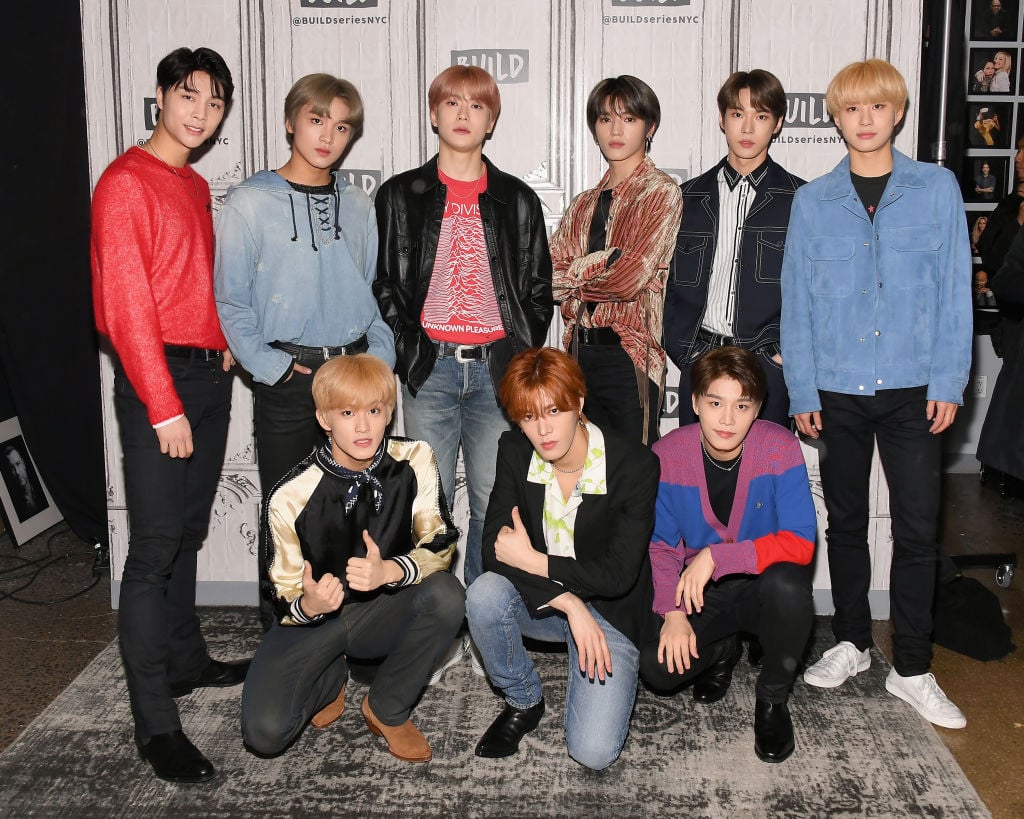 NCT 127 appeared on 'The Late Late Show with James Corden'
In May 2019, NCT 127 played a game of Flinch on The Late Late Show with James Corden. To play the game, the band members stood behind plexiglass while Corden shot fruit at them. The game is designed to test a person's nerves and bravery as they anticipate the fruit that will be shot at them.
Taeil, Johnny, Taeyong, Yuta, Doyoung, Jaehyun, Jungwoo, Mark, and Haechan were split up into groups of three for the game. This clip from The Late Late Show with James Corden is a great way to introduce people to NCT 127 as it is hilarious and gives an introduction to the members' personalities.
RELATED: What the Members of NCT 127 Like Most About Each Other
The group took a friendship test
For those looking for a more in-depth guide to the band members' personalities, Glamour posted a video of NCT 127 taking a friendship test in January 2020. Jungwoo is absent from the video due to the fact he took a break from NCT 127 promotions for health reasons. WinWin is also absent as he began promoting with WayV, another NCT sub-unit, in January 2019.
In the video, the members were put into pairs and completed a series of tasks as part of a friendship test. They discussed how their friendship evolved, hugged for one minute, complimented each other, and mirrored each other's dance moves. Because the members are split up into pairs, fans are given more insight to their personalities.
NCT 127 released 'Kick It' earlier in 2020
In March 2020, Jungwoo returned from his brief hiatus for NCT 127's Neo Zone comeback. With Neo Zone and the album's lead single "Kick It," the band saw a huge increase in sales and fandom size, and Neo Zone reached No. 5 on the Billboard 200 chart.
Based on the "Kick It" music video, it's clear to see why the Neo Zone era appealed to fans so much. The members all had their fair share of lines and screen time. "Kick It" is also quintessential NCT 127 while still managing to incorporate new sounds. Taeil, Johnny, Taeyong, Yuta, Doyoung, Jaehyun, Jungwoo, Mark, and Haechan seems to be the band's fixed lineup going forward, making "Kick It" a great song to get friends and family into NCT 127's music.
RELATED: NCT 127's 'Kick It' Music Video Shows This Comeback Was Worth the Wait
The band visited Chicago and met Johnny's family
Johnny was born and raised in Chicago, and in 2019 the group visited his home and met his family while touring in North America. Johnny posted a Johnny's Communication Center vlog of the visit. The vlog is incredibly sweet and shows the members meeting Johnny's parents and exploring his childhood home.
Doyoung and Mark stay with Johnny and have a sleepover at his house. Before going to bed, they take a chaotic trip to Target that involves Mark and Johnny hiding from Doyoung.
The group released a dance practice video wearing Halloween costumes
NCT 127 released their first studio album Regular-Irregular in October 2018 with the single "Regular." On Nov. 1, 2018, the band posted a dance practice video of "Regular." However, it was no ordinary dance practice video. The band members wore their Halloween costumes from NCT's Halloween Eve gathering, adding more fun to the already catchy song.