Corey Feldman Movies: His Best-Known Roles and What He Says About Michael Jackson
Corey Feldman says he "can no longer" defend Michael Jackson against allegations of sexual abuse. The actor made the statements during an interview with HLN on Wednesday, March 6.
Feldman, who was one of the best-known child actors of the 1980s, was a long-time friend of Jackson. He caused controversy on Monday when he called Leaving Neverland, the explosive documentary that details claims the pop singer abused two boys, "one-sided."
What he's saying about Jackson now
In the interview, Feldman clarified his comments, explaining that as a survivor of sexual abuse and a friend of Jackson, grappling with the allegations has been difficult.
"You're a kid who's endured sexual abuse and during those times, I'm looking to somebody like Michael Jackson as a friend, as a big brother figure and he was that person to me," Feldman explained. "It comes to a point where as an advocate for victims, as an advocate for changing the statutes of limitations to make sure that victims' voices are heard, it becomes impossible for me to remain virtuous and not at least consider what's being said."
"I don't want to be perceived as I'm here to defend Michael because I can no longer do that," he went on to say. "I cannot in good consciousness defend anyone who's being accused of such horrendous crimes, but at the same time, I'm also not here to judge him because he did not do those things to me and that was not my experience."
Feldman has said that he was sexually abused while working as a child actor and has asserted that such abuse of children is a "deep-seated virus within" Hollywood.
Feldman is known for The Goonies and Stand By Me
The 47-year-old Feldman is probably best known for starring in memorable '80s movies like The Goonies, Stand By Me, and The Lost Boys. He also appeared in Friday the 13th: The Final Chapter, Gremlins, License to Drive, Dream a Little Dream, and The 'Burbs.
His career began at age 3, when he appeared in his first TV commercial. Soon, he had landed roles on shows like Eight is Enough and Alice, and The Bad News Bears. That led to starring roles in films, including several with his friend Corey Haim. The pair became known as the "Two Coreys."
Later struggles
Though Feldman was making teen girls swoon in the late 1980s, his personal life was a mess. He later said that the decision to work so much throughout his childhood was a decision made by his parents, not him, according to Biography. He became emancipated at age 15 and eventually developed a drug problem. He was arrested for heroin possession in 1990 and ended up in rehab. He divorced his first wife, Vanessa Marcil, in 1993. Meanwhile, his career suffered.
While Feldman was no longer the star that he once was, he continued to work throughout the 1990s. He played a bank robber in 1994's Maverick with Mel Gibson and Jodie Foster, starred in a straight-to-video sequel to Dream a Little Dream in 1995, and appeared in the short-lived TV series Dweebs in 1995.
Feldman also released two albums in the 1990s. By the 2000s, he'd embraced reality TV, starring in The Surreal Life in 2003 and with Haim in The Two Coreys in 2007.
Recent projects and advocacy for abuse victims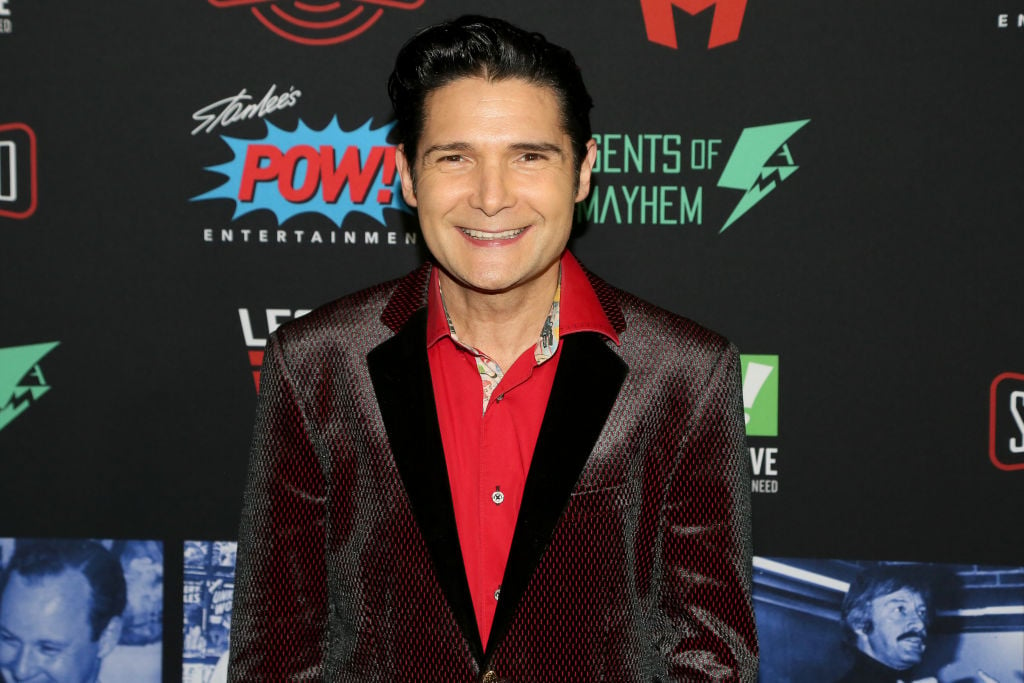 More recently, Feldman has appeared in episodes of Psych and American Dad and movies like The Zombie King and Corbin Nash. He also voiced Slash in Teenage Mutant Ninja Turtles TV series. (He provided the voice of Donatello in the TMNT movies from the early 1990s.).
In 2013, Feldman's autobiography Coreyography, was published. He married Courtney Anne Mitchell in 2016. He's dedicated much of his time recently to advocating for victims of childhood sexual abuse. He's campaigned to extend the statute of limitations so that abuse survivors have more time to seek justice.
"I want to be a voice of strength for survivors who live in fear of bringing their predators to justice, and to grow public awareness about more than just what's happened in this industry — it lives somewhere within many families, unrecognized and ignored," Feldman wrote in a recent opinion piece for NBC. "Child sexual abuse is far more common than many people realize."