Could 'Star Wars: Rebels' Season 5 Happen? Creator Dave Filoni Explains
'Star Wars: Rebels' creator Dave Filoni explains the biggest reason why another season of the show isn't going to happen, despite fans' hopes.
Fans might still be reeling from the conclusion of the final George Lucas-created Star Wars project. But now Star Wars: The Clone Wars has gotten the finale showrunner Dave Filoni hoped for. The series' seven-season arc memorably bridged the gap between Attack of the Clones and Revenge of the Sith. So fans are understandably excited to see what else Filoni has in store.
After all, he followed the initial cancelation of Star Wars: The Clone Wars with another animated series, Star Wars: Rebels. Now many fans are wondering if Filoni is looking to return to give that series one more belated season. Here's what he had to say on the matter.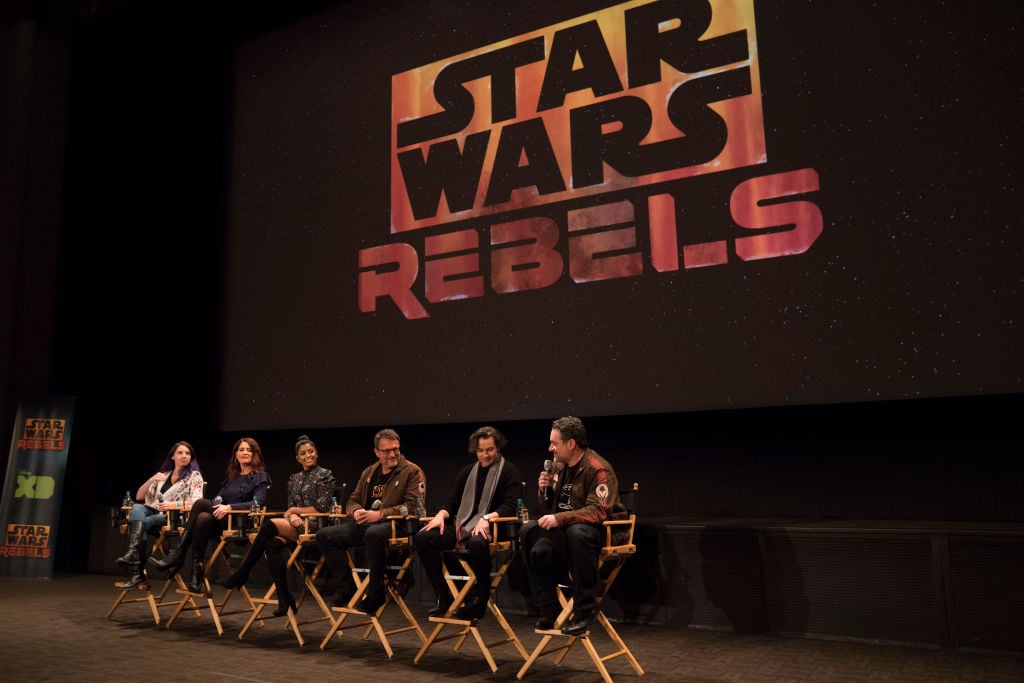 'Star Wars: The Clone Wars' began a legacy of animated series
With Star Wars: The Clone Wars, Filoni didn't just create an animated series. He kickstarted an entirely new era of Star Wars. The saga dabbled in animation before but never with such detailed mythology. So Star Wars: The Clone Wars — which started with a feature-length animated movie — was a real opportunity for Filoni and Lucas to flesh out the prequel trilogy.
And fans largely agree Filoni and his team did an excellent job exploring the stories behind the movies. In fact, Star Wars: The Clone Wars was the only project — other than the movies, of course — Disney grandfathered into the canon after the company's 2012 purchase of Lucasfilm. That transition did mean the series' end but another show sprung up its in place.
Launched in 2014, Star Wars: Rebels introduces an entirely new crew for fans to fall in love with. In many respects, Filoni's show serves as a sequel to Star Wars: The Clone Wars, especially with the inclusion of fan-favorite Ahsoka Tano. The series ended in 2018 after four popular seasons. But fans are still desperate to know what happens next.
Dave Filoni doesn't feel the need to do 'Star Wars: Rebels' Season 5
Alas, Filoni has no plans for Star Wars: Rebels Season 5. Deadline recently asked him about the possibility of returning to Rebels. But Filoni has no desire to get back to the show, not like he did with The Clone Wars. But he has an excellent reason for feeling that way.
I was really happy with how [Star Wars: Rebels] turned out, and I feel like we got to tell a complete story there. It was one of the things that really drove me to thinking, well, it would be great to have a complete feeling like that for Clone Wars, so now to have both is really great.
Star Wars: The Clone Wars fell victim to the business side of things. Obviously, Disney didn't want their newly acquired asset pumping out new programming for the Warner Bros.-owned Cartoon Network. Therefore, Rebels joined the Disney XD block, as has another Filoni-created animated series, Star Wars: Resistance.
But Filoni does hint that the story of Sabine Wren will continue
That being said, fans certainly haven't seen the last of the Rebels crew. Set after the defeat of the Empire, the series finale hinted at Ahsoka and Sabine Wren's quest to find young Jedi Ezra Bridger. Lucasfilm has not made any official announcements regarding when this story might be told. But Filoni vaguely teased it could be in the works.
I think that there's always potential for stories that involve the characters from Rebels, which is maybe a better way to put it. They've all earned their place in the galaxy, so to speak. So I'm sure there's some more of them to do. … Certainly, I will say it's something I've given a decent amount of thought to. So you never know when or if it will actually ever take shape.
Rosario Dawson reportedly joins The Mandalorian Season 2 as Ahsoka. That series is pointedly set a few years after the Empire's fall. So it is the perfect venue to at least check in on Ahsoka and Sabine. Whether their search for Ezra will impact The Mandalorian remains to be seen. Perhaps the show will just introduce the characters' potential for their own new series.