Could the Ahsoka Tano Series Show How She Transitions To Ahsoka the White? Rosario Dawson-Led Series Confirmed at Disney+
Dec. 10 was a very big day for Star Wars fans. And anyone who is a fan of anything owned by Disney, which is a pretty big chunk of the world. But in the galaxy that is Star Wars, so much news was announced. From Hayden Christensen making a triumphant return to new Bad Batch footage, there was a lot. 
Another big announcement was the fact that Rosario Dawson was going to reprise her role of Ahsoka Tano in a stand-alone series on Disney+. This was pretty expected, however still major. What wasn't as expected was the time period it's in or the logo which gives some hints on what it could be about. [Spoiler alert: Spoilers ahead for the most recent The Mandalorian episodes in Season 2].
Disney announced they're created an Ahsoka live-action series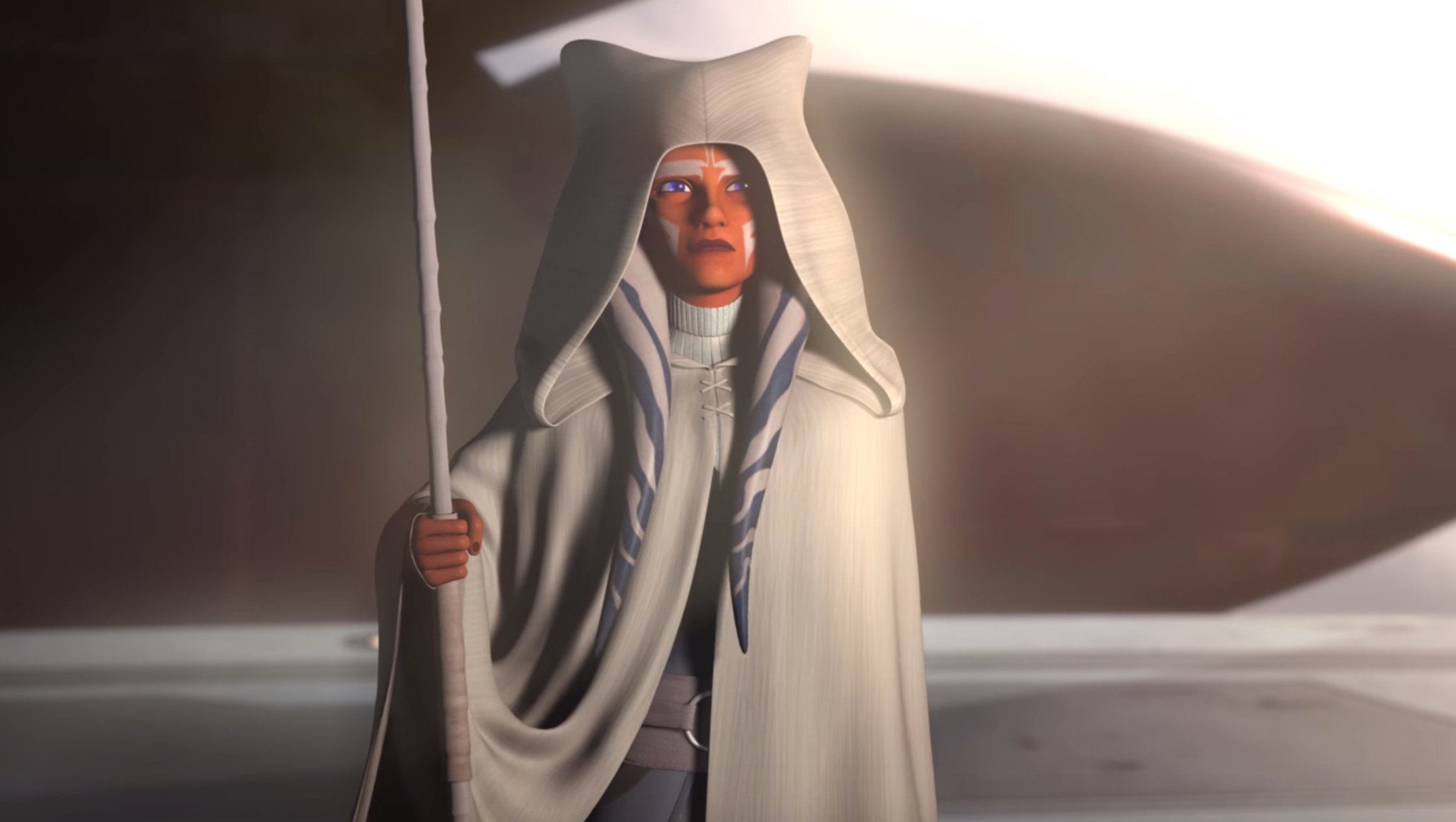 RELATED: 'The Mandalorian' 'Chapter 15' Explores Its Excellent Pacing and Pascal's Superb Acting — REVIEW
Ahsoka Tano made her debut in 2008 in the Star Wars: The Clone Wars film and then subsequent series. She was originated by Ashley Eckstein, who voiced her for years after in all iterations. And there have been many.
"Ahsoka, a new Original Series, starring @RosarioDawson and set within the timeline of @TheMandalorian, is coming to @DisneyPlus," the Star Wars Twitter account sent out on Dec. 10.
In Season 2 of The Mandalorian, Dawson stepped into the role in the first live-action form of the role. A live-action form of the character — who started out as Anakin Skywalker's Padawan but then left the Jedi Order — has been anticipated for a while. So Dawson's addition and this series announcement was a long time coming.
But what can fans expect from this series? There isn't a synopsis yet, but there are some educated guesses fans can make.
The series could connect to Ahsoka's World Between Worlds and Morai connections
So, the fact that Dawson is reprising her role already could have tipped off fans that it was going to be in or around the time of The Mandalorian. Ahsoka isn't a Jedi anymore, but is still on the "good side." In Star Wars Rebels, she's a Fulcrum operative, meaning she's a Rebel spy. She still has lightsabers and uses the Force, even being better at it than a lot of other Jedi.
She refuses to train Grogu because he's so heavily attached to Mando, and Ahsoka knows what that did to Anakin. However, she also isn't a Jedi. At least not the last time the audience saw her. But her connection to the Force is deeper than just her abilities. When Anakin brought her back in Season 3 of The Clone Wars, she became forever connected to The Daughter, gaining Morai, a condor and conduit of this Force being. 
A lot of people saw this owl in The Mandalorian, and this could lead in to her series. And what makes this theory even stronger is that the symbol in the Ahsoka series logo looks an awful lot like the World Between Worlds portal arches. 
That's a lot of information and even more theorizing. But basically, nothing in Dave Filoni's writing, especially when it comes to Ahsoka, seems to ever be on accident. So with the symbol and the condor seemingly making an appearance in The Mandalorian — and Morai being a focal point in the World Between Worlds episode of Rebels — it's safe to say that those connections will probably be explored. 
Going off that, Filoni recently rose a lot of eyebrows when he stated that it's possible that The Mandalorian episode that Ahsoka appeared in is actually before the Epilogue of Star Wars Rebels.
If 'The Mandalorian' came before the 'Star Wars Rebels' Epilogue, it could show how Ahsoka becomes 'Ahsoka The White'
Due to the fact that Dawson's appearance happened second, many assumed that it came after. But Filoni, of course, pointed out that that means nothing in Star Wars, which tends to work out of order all of the time. 
So, with this knowledge that the new series will focus on this time period after or around the time Ahsoka sends Grogu and Mando off to find Tython, this could lead to how Ahsoka goes on to don the white cloak. And where she's been. 
Ahsoka's fight with Darth Vader on Malachor in Star Wars Rebels' Season 2 really shook her. She was in denial about Anakin turning to the Dark Side, although there was a lot to hint that her former master was the Sith Lord. After Ezra saves her through the World Between Worlds in Season 4, sending her back to her time, fans don't know what she got up to until she shows up in her white cloak to help Sabine Wren search for Ezra. 
"Ahsoka the White" has become the name of this version of Ahsoka that shows up, with some believing she turns back to the Jedi Order. Others think it just means she comes to some sort of epiphany or realization. Or possibly just some sort of powerful transition or enlightenment. 
Regardless of what happens, this series is the perfect time to show how she gets there. If there's any significance at all, which there most likely is. But with Ahsoka, anything is exciting and important, so it's bound to be a blast for fans new and old.  
RELATED: 'The Mandalorian' Might Change Your View of 'Revenge of the Sith' After Baby Yoda's Reveal