Could This 1 Moment In The 'Ahsoka' Novel Hint At A Reunion On Obi-Wan Kenobi's Disney+ Series?
The Star Wars franchise is going strong, and even if another movie doesn't come out for a while, the Disney+ content will keep fans going. The company already announced that The Mandalorian Season 2 would come out this year, and The Clone Wars' final season premieres in February. In addition to those, Lucasfilm is already working on a Cassian Andor spin-off series and a highly anticipated Obi-Wan Kenobi show with Ewan McGregor back in the iconic role. And while there are several characters his show could bring back, Star Wars might have already hinted at an Ahsoka cameo.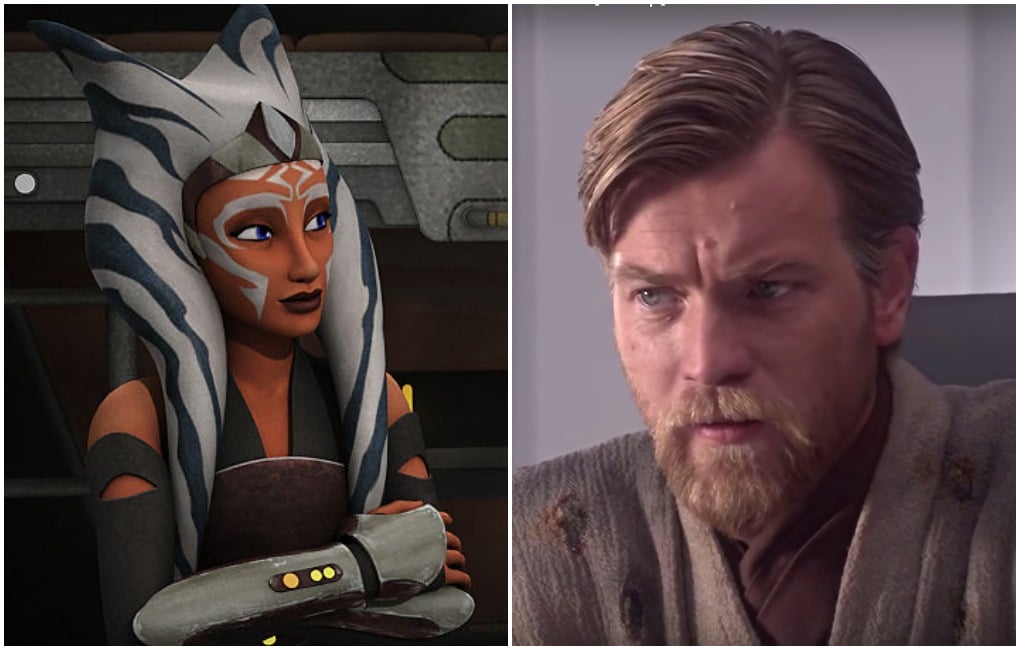 The Obi-Wan Kenobi series has a lot of potential for cameos
The Untitled Obi-Wan Kenobi series has a lot of mystery behind it. Other than the fact that it's in development and confirmed, we only know the timeframe it's set in. According to an interview Ewan McGregor did with Men's Journal, filming won't start until this summer. Of course, there are already rumors that the show is casting for a young Luke and Leia. While Disney hasn't confirmed anything of the sort, it would make sense to include them in the show. It takes place eight years after Episode III when Anakin fully turned into Darth Vader, Padmé died, and the twins were sent to Alderaan and Tatooine.
In addition to the children, Bail Organa could also make an appearance (which is most likely the case, if Leia's shown). One of the last things Yoda tells Obi-Wan is that his old master, Qui-Gon Jinn, found a way to communicate as a Force ghost, so that's also a character that could come up.
Obi-Wan's show will focus on his days on Tatooine
Obi-Wan has a lot of lingering feelings post-Revenge of the Sith, and it sounds like the new series will delve into those. "It will be interesting to take a character we know in a way and show him—Well, his arc will be quite interesting, I think, dealing with the fact that all the Jedi were slaughtered with the end of Episode III," McGregor told Men's Journal. "It's quite something to get over."
Obi-Wan experienced immense loss and is very devoted to his mission on Tatooine, which is Luke. We don't know much else about what he got up to in the 18 years between Revenge of the Sith and A New Hope, but it must have been eventful enough to revisit him eight years later. Another essential character to bring into the Kenobi series is Ahsoka Tano, Anakin's former Padawan.
Ahsoka is one of the most important characters in Star Wars. Even though she left the Jedi Order, she came back to work closely with Obi-Wan and Skywalker near the end of the Clone Wars. Even though she was much closer to Anakin, she still regarded Obi-Wan as a mentor and close friend.
A moment in the 'Ahsoka' novel hints that they meet again
In the novel Ahsoka, a brief glimpse is given at Obi-Wan's life in solitude on Tatooine. It shows a sad, quiet life, a year removed from the events of Episode III. Obi-Wan is meditating and trying to communicate with Qui-Gon Jinn, which he achieves for a split second. He also visits Shmi Skywalker's grave and apologizes for what's become of Anakin.
It's a little bleak, but, interestingly, Obi-Wan is the only character the novel visits who doesn't have a direct correlation to Ahsoka's story in the book. Bail Organa and the Imperial leader are visited, but those scenes are essential to Ahsoka's mission and arc. The novel probably wanted to touch on Obi-Wan because they couldn't visit Anakin (Darth Vader "killed him), but it makes you think. Could this hint that Ahsoka and Obi-Wan's stories line up again in the future? If it is, this new show is a great spot for them to reunite. It would also be the first time Ahsoka appears in live-action form. That is, if she doesn't show up in The Mandalorian at the end of 2020.
Again, all will be revealed in time. But if Lucasfilm wants to make even more of an impact (and a lot of fans happy), including Ahsoka would be the way to go.