'Counting On': A Complete Breakdown of All the Duggar Family Baby Names
There are 19 children in Jim Bob and Michelle Duggar's family. To make matters even more confusing, the 19 Kids and Counting reality stars chose names for each of those children that start with the letter "J" — even the ones you wouldn't expect.
Many of those kids are grown up now and having children of their own. But these Duggars, many of whom appear on the TLC series Counting On, aren't sticking with a single letter for their own offspring. Their baby names range from biblical to modern, traditional to unique. And they show off the personalities of each individual family.
It's not easy keeping track of every Duggar. But this comprehensive list of all the baby names is a good place to start.
Jim Bob and Michelle Duggar decided on a 'J' theme for names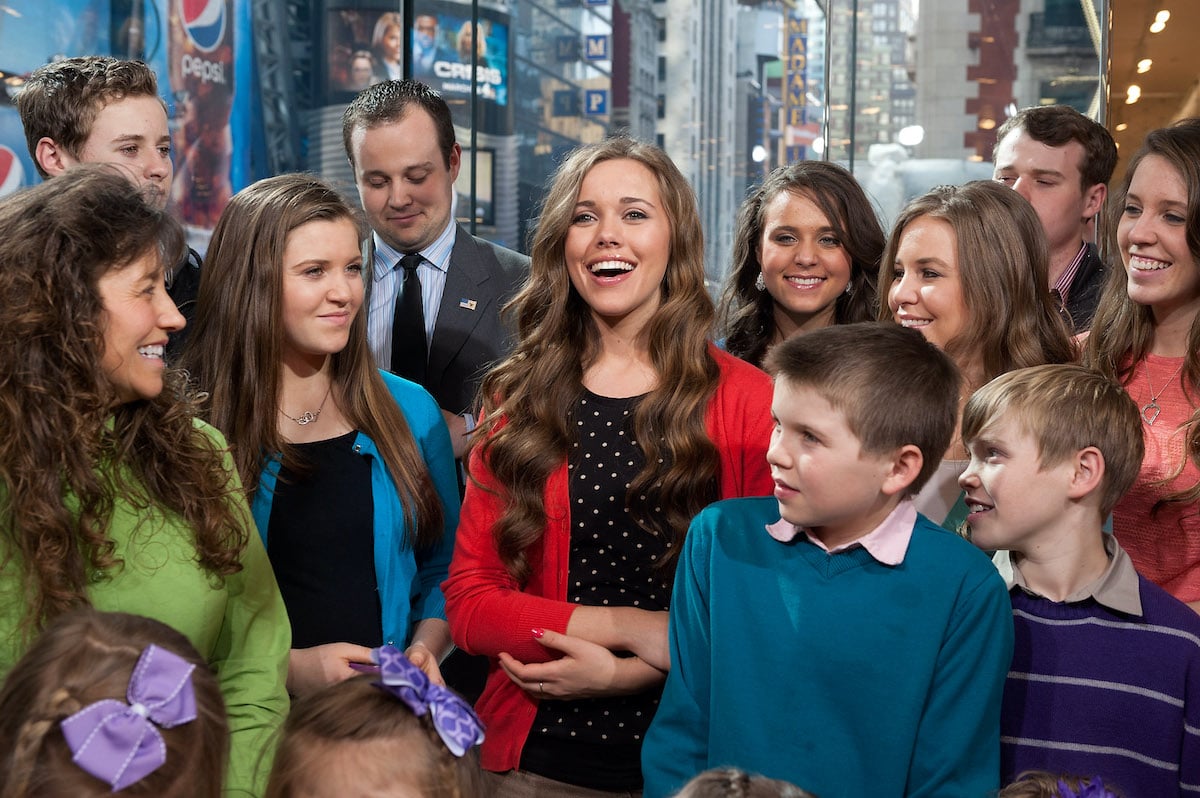 The story goes that Jim Bob and Michelle never set out to name all their children J names. After Joshua, they wanted Caleb for their second son's name. But then Michelle experienced a miscarriage and when she became pregnant again with twins, she picked John and Jana as the names. Her accidental "J" naming tradition began just like that.
The Duggar kids in order are: Josh, Jana and John David (twins), Jill, Jessa, Jinger, Joseph, Josiah, Joy-Anna, Jedidiah and Jeremiah (twins), Jason, James, Justin, Jackson, Johannah, Jennifer, Jordyn-Grace, and Josie. A 20th child, Jubilee, was stillborn in 2011.
Josh and Anna Duggar have 6 children all with 'M' names
Following in the big family tradition, the eldest Duggar son Josh has 6 kids along with his wife, Anna. Their baby names all begin with the letter M in part to honor Josh's mom, Michelle. 
The kids are Mackynzie Renee, Michael James, Marcus Anthony, Meredith Grace, Mason Garrett, and Maryella Hope.
John David Duggar has one daughter with his wife, Abbie Burnett
Compared to his siblings, John David waited a bit longer to get married. He tied the knot with Abbie Burnett in November 2018 and welcomed a daughter shortly after. The couple chose the traditional name Grace Annette for their only child.
Jill Duggar and Derick Dillard have 2 sons
Out of all the Duggars, Jill is the most rebellious. She and her husband, Derick Dillard, got kicked off the show Counting On after controversial comments he made. Together, the couple has two sons who sport biblical names.
The Dillards' boys are named Samuel David and Israel Scott.
Jessa Duggar just announced she's expecting her fourth baby
It seems like there's always at least one pregnant Duggar kid, and 2021 is no exception. Jessa, who is married to Ben Seewald, announced in February that she's preparing to welcome another addition to the family.
The Seewald family so far includes Spurgeon Elliot, Henry Wilberforce, and Ivy Jane. Jessa chose the most unusual name for her first son in honor of the late Baptist preacher Charles Spurgeon, who lived from the mid to late 1800s. 
Jeremy and Jinger Vuolo are raising 2 daughters in California
Most Duggars live in Arkansas or close by, but Jinger followed her husband to Los Angeles, where he's serving as a pastor. The couple welcomed their first daughter, Felicity Nicole, before experiencing a miscarriage. 
They had another daughter Evangeline Jo in November 2020.
Joseph Duggar and Kendra Caldwell have 2 children with 1 on the way
The Vuolos aren't the only ones expanding their family in 2021. Joseph Duggar and his wife Kendra currently have one boy and one girl, Garrett David and Addison Renee. 
The pair haven't mentioned what they're planning to name their newest addition but they did reveal that the "tiebreaker" baby is a little girl.
Josiah Duggar and Lauren Swanson have 1 daughter with a special name
Josiah's wife Lauren suffered a heartbreaking miscarriage before giving birth to the couple's only daughter. They honored that loss by naming the baby Bella Milagro, which means, "beautiful miracle."
Joy-Anna Duggar and Austin Forsyth have children also
The youngest Duggar who has kids, so far, is Joy-Anna. She and her husband Austin Forsyth welcomed their son Gideon Martyn in 2018. In 2019, Joy-Anna experienced a miscarriage at 20 weeks and named the baby girl Annabell Elise. 
In 2021, the Forsyths had another daughter and named her Evelyn Mae.