'Counting On': Anna Duggar Just Revealed Which Family Members She Thinks Are a 'Perfect Couple'
Counting On star Anna Duggar doesn't appear that often on the family's reality show. But she does keep fans up-to-date on social media where she often shares pics from her life as a mom of six kids.
Anna also comments on many of her family's posts. And recently, she revealed which family members she thinks are the "perfect couple."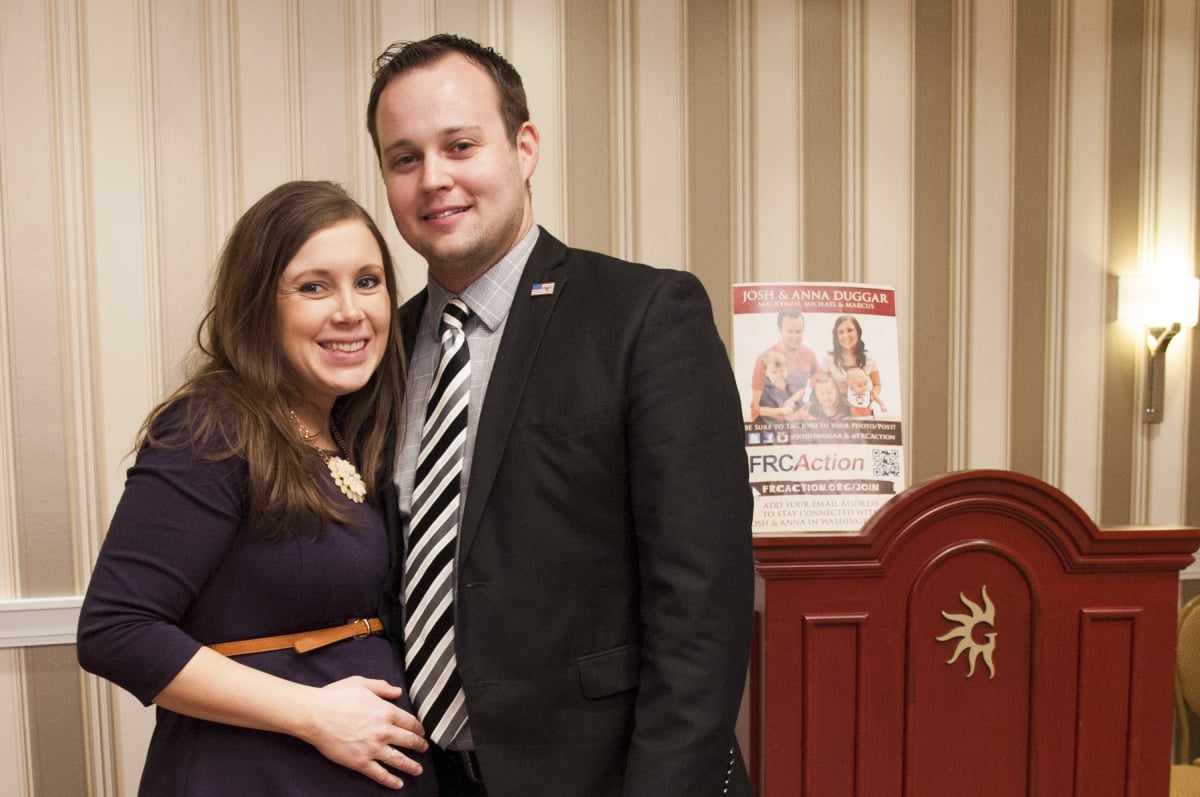 Josh and Anna Duggar have had a troubled marriage
Back in 2008, Anna married Josh Duggar, the oldest child of Jim Bob and Michelle. He was the first kid in the family to tie the knot. And fans followed the young couple as they welcomed their first four children – Mackynzie, Michael, Marcus, and Meredith.
The family's TLC reality show followed Josh, Anna, and their kids when they moved to Washington DC after he got a job with the Family Research Council. But their marriage got into serious trouble back in 2015 when Josh was part of two nasty scandals.
A 2006 police report emerged that revealed Josh had molested five underage girls when he was a teenager. And some of his victims were his sisters. Josh was also busted having extra-marital affairs via the website Ashley Madison.
Josh ended up resigning from his job and moved his family back to Arkansas in disgrace. He went to faith-based therapy for sex addiction, and Anna stood by his side the entire time. They even welcomed two more children after the scandals – Mason and Maryella.
The former 'Counting On' stars are living in a warehouse on Jim Bob Duggar's property
When Josh and Anna moved back to Arkansas, they lived in a large home for a few years. But they eventually sold that house and have apparently moved into a windowless warehouse on Jim Bob Duggar's property.
Neither Josh nor Anna have confirmed that they are living in the warehouse. But internet sleuths put the pieces together based on social media posts from the family and past episodes of Counting On. Josh has seemingly been unemployed for at least a year since the used car lot he was running shut down after a Homeland Security raid.
While all of this has been going on with Josh and Anna, her sister Susanna Keller has had her own drama. Back in 2013, Susanna had a baby girl named Noelle out of wedlock. As fans know, this is a huge no-no in Duggar world.
A few years later, Susanna got engaged to a man named Matt Davis. But they never made it down the aisle, and things ended quite abruptly. Then, Susanna met York Bridges and they ended up falling in love and quickly tying the knot in 2019. Now, Susanna and York are expecting their first child together.
Former 'Counting On' star Anna Duggar calls her sister and brother-in-law the 'perfect couple'
Despite Susanna having a baby before she got married, Anna appears to have no judgement and is just fine with her sister's choices. This isn't always how things go in the world of religious fundamentalists, but it appears that Anna and Susanna are still pretty close and on good terms.
When Susanna shared a pic on Instagram of a date night with York, she showed off her baby bump and told her fans a baby boy was on the way. In the caption she wrote, "Date night with my boys."
In the comments, Anna chimed in and wrote, "Such a perfect couple!"
It's not really known what the state of Anna and Josh's marriage is these days since he never appears on Counting On and she rarely shows up. But, it appears that Susanna is very happy and Anna approves.
Counting On is currently on hiatus.