'Counting On' Critics Think Josh Duggar's Wife, Anna Duggar, Fully Expects to Inherit Jim Bob and Michelle Duggar's House
Duggar family critics think Anna Duggar, Josh Duggar's wife, is just waiting for the day she can live in the huge Arkansas family home.
Those who've followed the Duggars are quite familiar with Josh and Anna Duggar. Josh Duggar is the oldest of Jim Bob and Michelle Duggar's kids, and he was caught up in a molestation scandal that hit the news back in 2015. Since then, he and his wife have maintained a low profile. But many still wonder what their lives are like, as they reside on Jim Bob and Michelle's property.
Now, Duggar critics are speculating on what Anna may think of Josh as a person after all is said and done. And it seems many believe she's not too concerned with the fact that their home and Josh's job are all thanks to Josh's parents. In fact, some think Anna's waiting for the day she inherits Jim Bob and Michelle's huge family home.
Josh and Anna Duggar live on Jim Bob and Michelle Duggar's property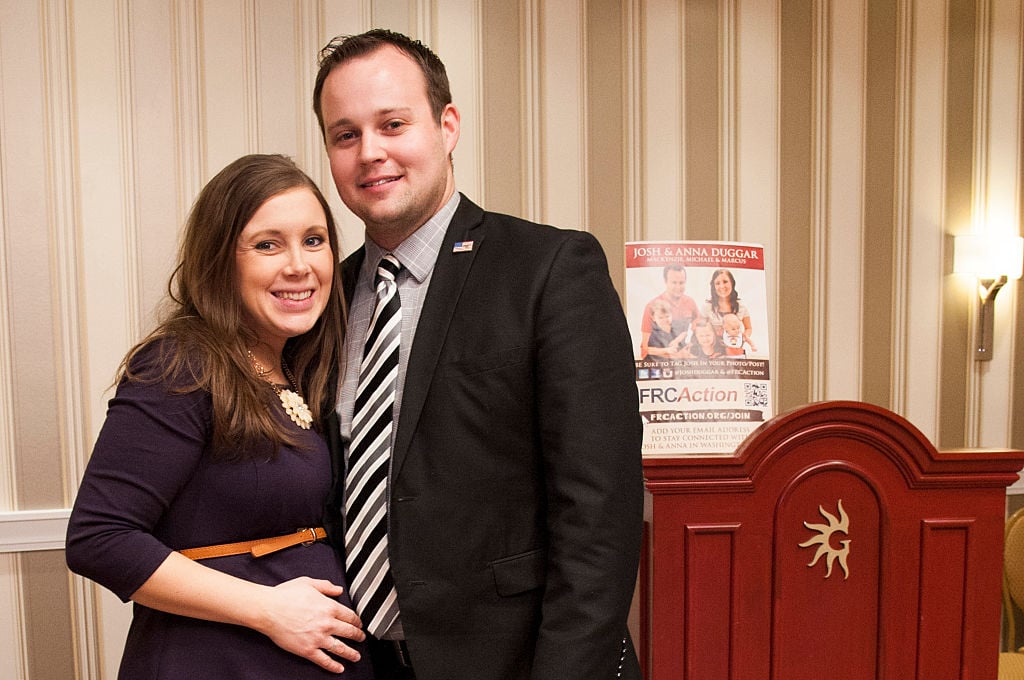 The Duggar kids grew up in Arkansas, and many have managed to stay geographically close well into adulthood. Josh, Anna, and their six kids might reside the closest to Jim Bob and Michelle of any of the adult Duggars, too (aside from Jana, as she still lives with her parents at 30 years old). And this is because Josh and Anna reportedly live on the Duggar family property.
So, where exactly are Josh and Anna living? It's been reported that they reside in a warehouse of sorts, and they've been there since 2019. Prior to their current living situation, they reportedly had a farmhouse that they sold for $285,000. And since Jim Bob is well-versed in real estate, he's known for helping his kids out with housing.
Duggar family followers have wondered how permanent their current stay is as well. And it looks like Josh and Anna are making themselves right at home. Anna redid her kitchen backsplash in April 2020 and posted about it to Instagram.
Josh worked on a car lot thanks to his family
Not only do Josh and Anna have Josh's parents to thank for their home, but Jim Bob and Michelle have also majorly helped Josh make money. Since the 2015 scandal, Josh hasn't appeared on Counting On. And since he has six kids at home and Anna depending on him to be the breadwinner, it seems Josh made ends meet by selling used cars.
Josh's car lot-working days may be numbered, though. Daily Mail Online revealed back in November 2019 that Homeland Security had raided the car lots. While the Duggar family denied anything was going on on their property, they didn't speak of the lots. Now, the vehicle listings that were on the dealership's website are all gone. It seems something illegal may have been going on with the business in the first place.
So, where does this leave Josh now? We're not sure, though we know he's also involved in real estate like many of the other Duggars.
Duggar family critics believe Anna thinks she'll inherit Jim Bob and Michelle's place
Many of the other Duggar women are in a similar place as Anna in terms of housing and finances. Since Josh is the breadwinner, some family critics wonder if she's worried about the security in her life. And several Reddit users noted that they think Anna is simply waiting for the day she can inherit Jim Bob and Michelle's huge family home.
"Anna fully expects to inherit the big house, so she is biding her time," a Reddit user wrote.
"Anna will get the house because [Josh] is still the favorite," another added.
"Pretty sure whoever produces the most grandchildren scores the big house. Anna is front runner," another wrote.
The truth will be revealed eventually, though it could be many, many years down the line when it comes to which Duggar kid will get the family home.
Check out Showbiz Cheat Sheet on Facebook!