'Counting On': Derick Dillard Just Made His Most Shocking Claim About Jim Bob Duggar Yet
Disgruntled former 'Counting On' star Derick Dillard just compared his father-in-law Jim Bob Duggar to Jeffrey Epstein.
It's no secret that Derick Dillard is at odds with Counting On star Jim Bob Duggar. Derick has fired shots at his wife, Jill Duggar's, father for months and also has major beef against TLC following his exit from the series a few years ago. In his latest rant on social media, Derick made his most shocking claim yet about his father-in-law, leaving zero doubts that their feud is still heating up.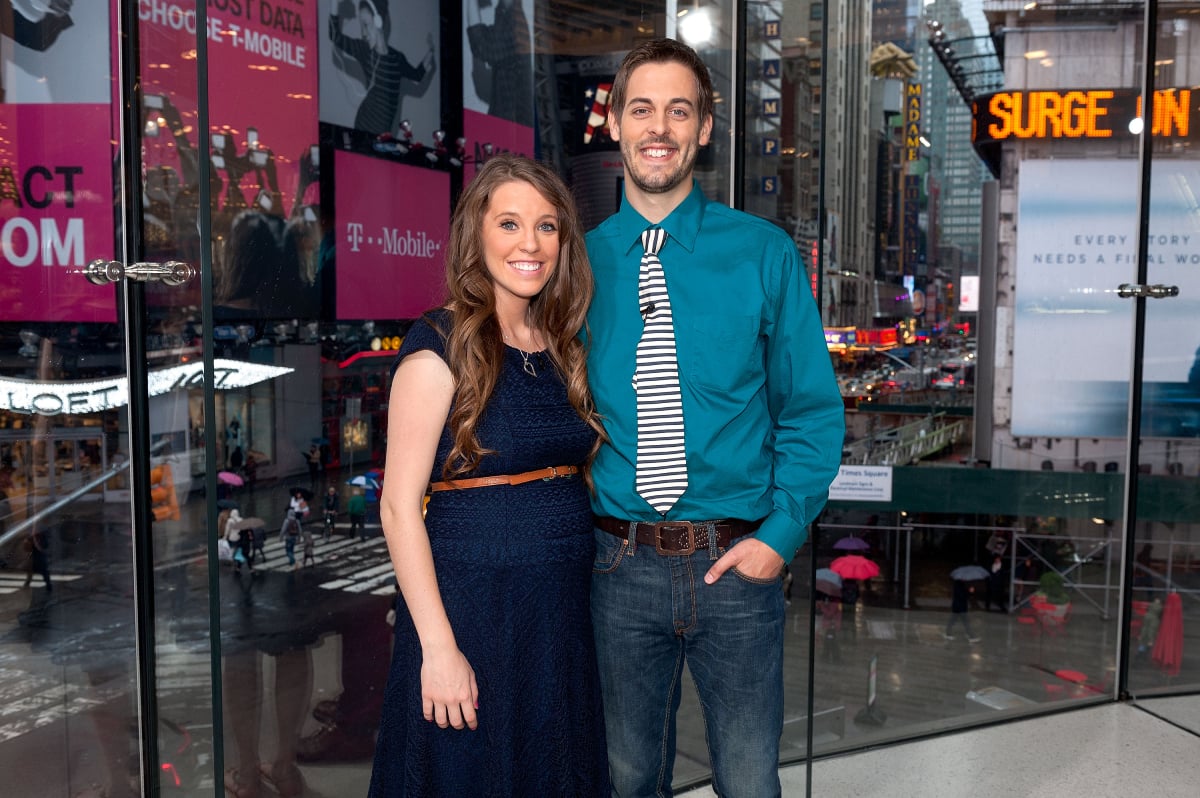 Derick slams TLC and 'Counting On' for being 'deceptive'
Derick's latest tirade against Counting On came after TLC posted a promo on Instagram for the new season. Derick wrote several comments in the post and actively engaged with fans, many of whom were surprised that he was so forthcoming about his thoughts on the show.
Derick started his rant by criticizing TLC for producing a series that "is not anything close to reality. He noted that what fans watch unfold is "not accurate" and threatened to "start a livestream during episodes" to tell viewers "what is going on in real-time."
He then turned his attention to Jim Bob and claimed that the former 19 Kids and Counting star attacked him and Jill when they tried to quit the Counting On the first time.
"We were humiliated and threatened when we first tried to not film. Now it's not dependent on us anymore to keep the show going because more kids got married, so it's more OK if we quit," Derick explained.
He added that the way Jim Bob took over Counting On is a "deceptive business plan" because it allowed TLC to continue 19 Kids and Counting after Josh Duggar's molestation scandal. Derick stated that Counting On is "designed to defraud the public with deceptive marketing and deceptive implications."
Why is the former 'Counting On' star speaking out again?
This is hardly the first time Derick has slammed Jim Bob and TLC in public. In one of his comments, Derick revealed that he continues to take a stand against Counting On and Jim Bob because the series harmed his family.
"It has messed with my family. People should address their issues instead of sweeping them under the rug," he shared.
Following his string of comments, some fans criticized Derick over the scandal that reportedly got him fired from Counting On. As fans will recall, Derick announced his departure shortly after making a series of negative comments about the LGBTQ community of social media.
While many viewers thought TLC fired Derick over the scandal, he claims that he and Jill decided to part ways with the show "months before any of that." He later stated that he quit a good six months before TLC said anything on social media.  
Derick makes a shocking claim about Jim Bob
Derick's epic rant didn't end there. He doubled down on his claims against Jim Bob, whom he says is "ruled by greed and money." The former Counting On star then compared Jim Bob to the late pedophile, Jeffrey Epstein.
"We have to break this culture that cares more about money and ratings than protecting the most vulnerable," he shared. "Jeff Epstein already showed us that if you have enough money, power, and influence, you can get away with anything."
Derick then stated that the only reason TLC brought Jim Bob and the Duggars back was because "the money was too good." He also slammed the network for canceling 19 Kids and Counting just to be politically correct.
In closing, Derick told Counting On fans that he hopes other members of the Duggar clan break free from Jim Bob's control, just like he and Jill did. He also revealed that they are currently "in counseling now" to help Jill heal from the things that happened in her childhood.
What does Jill think about Derick's beef with Jim Bob?
Jill has remained largely silent as her husband wages war against Jim Bob and TLC. Although she hasn't publically taken a stance against her family, Jill has been supportive of her parents on social media.
In one of her most recent posts, Jill shared a quick Instagram story about the house she and Derick first lived in when they got married. The former Counting On star remembered how Jim Bob is the one who graciously gave them the house to live in until they got on their own feet.
"Derick and I are just reminiscing here with the kiddos, and there's our house — old house," Jill stated. "Checking out the old house we lived in for a little while when we first got married. It was massive … it was one of my dad's house flips and we lived there until it sold."
Jim Bob is certainly not perfect and has garnered plenty of criticism in the past, but there is no denying that his real estate business has benefited many of his children. But considering Derick's latest comments, the drama surrounding Jim Bob and Counting On isn't going to go away soon.
New episodes of Counting On air Tuesday nights on TLC.