'Counting On' Fans Think Photos of Anna Duggar's Kids Marching at a Pro-Life Rally Are 'Horribly Sad'
While Jim Bob and Michelle Duggar first got their family noticed for having 19 children, fans later learned of all the intense and conservative rules the kids were expected to follow. From a dress code that required girls to wear long skirts, to their courtship rules that didn't allow couples to kiss or hold hands until marriage, we've been fascinated with how the Duggars live for years. And of course, since the family's very religious, they believe in the pro-life movement.
Now that the Duggar kids are older and living on their own, they're freer to form their own opinions. But it seems all the Duggars are still very much pro-life. Josh Duggar's wife, Anna, recently posted photos of her young children attending an anti-abortion rally, and her followers think it's "horribly sad." Here's what they're saying.
Duggar followers are constantly criticizing Josh Duggar and his wife, Anna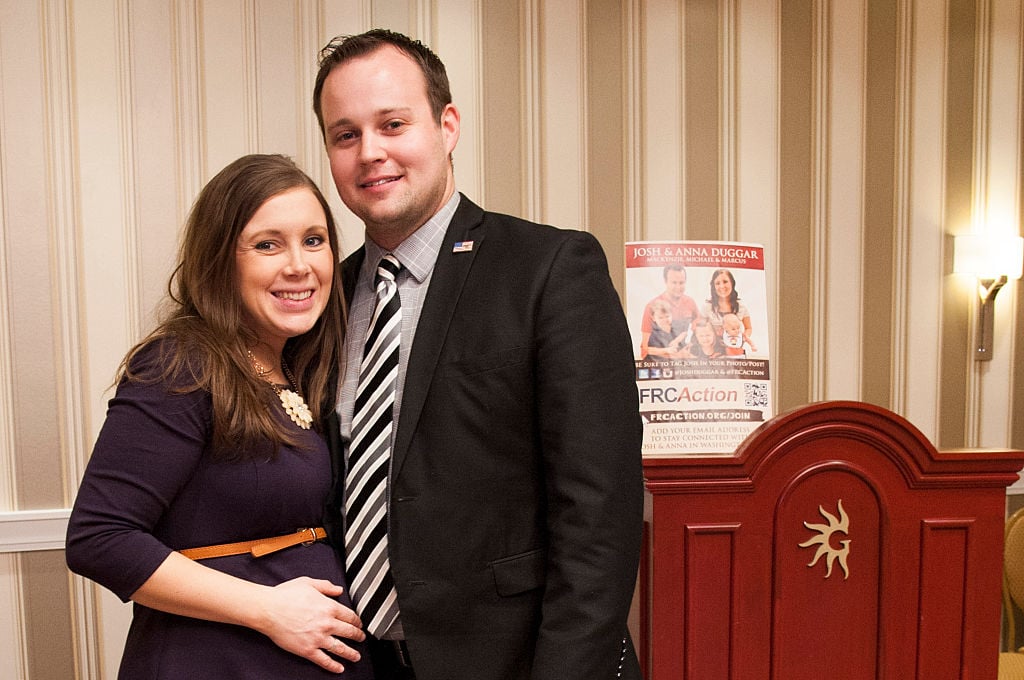 While many of the Duggars are featured on TLC's Counting On, Josh isn't one of them. The oldest of Jim Bob and Michelle's kids has a deeply tarnished reputation after his scandals came to light in 2015. He was accused of molesting five underage girls, two of whom were his own sisters. Not only that, but Josh was later found to have had an account with cheating website Ashley Madison, and he admitted to having a pornography addiction.
No matter what happened in the past, Josh's wife, Anna, has stuck by him. She recently had their sixth child in November 2019, and she frequently posts to Instagram all about her allegedly happy life.
However, her followers don't believe she's as happy as she claims to be. When Anna posted a photo to Instagram celebrating 11 years of marriage, she acknowledged the "shadows of sorrow" she and Josh have walked through together. But the post remained hopeful, so perhaps their marriage is happier than suspected.
Anna posted photos to Instagram showing her young children at a pro-life rally
While Josh doesn't have an Instagram presence, Anna's not shy about posting about her family on behalf of both of them. And on Jan. 20, she posted a number of photos of her kids participating in an anti-abortion walk in Arkansas. Not only did her children go to the event, but they also held up signs, like "Love Life."
"Several of us enjoyed participating in the local #MarchforLife in NW Arkansas yesterday afternoon," Anna captioned her post. "What an encouragement to see many of all ages taking a peaceful and prayerful stand to speak up for those who cannot speak for themselves. What a gift each precious life is!"
Anna wasn't the only Duggar present for the walk. Jim Bob was also present, as a post on the Duggar Family Instagram showed him with a few of his young daughters holding a sign of a fetus seven weeks after conception.
Many of her followers are horrified by the images
The photos of Jim Bob Duggar at the rally didn't get much support. And Anna's experience the same backlash on her Instagram. While she has some fans, others are shocked she would publicly show that she's taking this stance, especially considering all the other controversy that surrounds her family daily.
"How horribly sad," one follower simply commented.
"Stop talking and start DOing," another criticized. "Want to show others how precious life is to God? Run to the orphans. Run to be foster parents. Rescue those who need to be shown that they are precious to God then maybe the world will also believe life is precious."
Yet another added, "That's why y'all all got like 10 kids."
We know Anna and Josh believe that they'll have as many kids as God wills them to have, so they may very well end up with more than six children. It looks like that's a challenge they're willing to take on no matter what criticism gets thrown their way regarding their beliefs or their marriage.
Check out Showbiz Cheat Sheet on Facebook!