'Counting On': Critics Can't Believe How Much Jeremy Vuolo Has Changed Since College
Jeremy Vuolo is married to Jinger Duggar, and the two star in the TLC reality show Counting On. Duggar and Vuolo met through Jessa and Ben Seewald, and Vuolo was not raised with the same ultra-strict lifestyle as his wife.
Vuolo, who played soccer at Syracuse University, had a conversation with a reporter after a game nearly 10 years ago — and in the resurfaced video, followers of the show can't believe how much he has changed.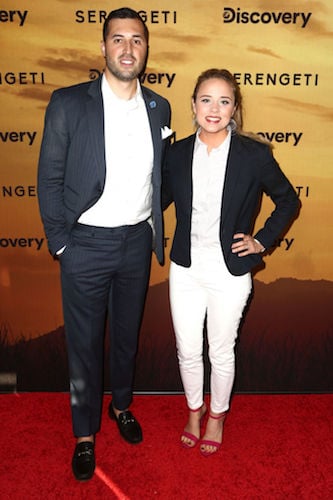 Jeremy Vuolo married Jinger Duggar in 2016
Vuolo and Duggar were introduced when Duggar's sister and brother-in-law, Jessa and Ben Seewald, met Vuolo while on a trip to Texas. Vuolo then came to Arkansas to visit, where he started getting to know Duggar. From there, the two fell in love quickly.
Vuolo and Duggar, who had to follow very strict rules while courting (the Duggars were not allowed to casually date), courted for only a few months before he popped the question. The two wed in November 2016 and moved to Texas immediately after. They've since settled down in California, and the two are living their lives much differently than the other Duggars.
RELATED: 'Counting On': Jinger Duggar's Instagram Has Gone Through a Major Change Lately
Vuolo was raised differently than the Duggars
Growing up, Michelle and Jim Bob Duggar had very strict rules for their kids. The children were not allowed to dance, listen to secular music, watch television, or freely browse the Internet. They only associated with kids their parents approved of, and anyone else required a chaperone to be present. The kids also could not casually date; they could only court with the intent to marry, and no physical intimacy was allowed before the wedding.
Vuolo was raised in a very religious household, but his rules weren't the same. He was homeschooled but eventually attended public school. He then played soccer in college, meaning he was constantly surrounded by people who didn't necessarily think like him. Vuolo was allowed to watch television and listen to music, and he didn't need to be chaperoned when he was near other kids.
The show's critics can't believe how much he has changed
In a YouTube video from about 10 years ago, Vuolo is seen speaking with a reporter after a soccer game — and critics of the show can't believe it's the same person. These days, Vuolo is a pastor, and some think he's a bit self-righteous with somewhat of a narcissistic demeanor. In the video, he looks more jovial and seems like a typical college guy, and fans wonder what happened.
RELATED: 'Counting On': Jinger Duggar Made it Clear Years Ago That She Was Going to Break All the Duggar Rules
"Wow, he's actually admitting the mistakes he made and what he needs to improve on. You sure this is him?" someone asked in a Reddit thread about the video. "He seems so normal and well-adjusted in this. He seems self-aware, and not at all narcissistic, or controlling or preachy," another user wrote. "He has aged 30 years since this video 10 years ago," another person added.
Vuolo and Duggar used to be fan favorites
When Vuolo and Duggar first wed, people were happy to see that Duggar was being pulled out of her family. She started watching TV, wearing shorts, and listening to more mainstream music, and she and Vuolo seemed truly happy together.
These days, people have accused Vuolo of appearing controlling over Duggar — one user even referred to him as a "dictator." We don't know what Vuolo is actually like behind the scenes, but fans were shocked to see the change over the past decade.