'Counting On': Jill and Derick Dillard Reveal What They Would Have Changed About Their Courtship
When Jill Duggar Dillard and Derick Dillard, formerly of TLC's Counting On, tied the knot in 2014, most fans of the Duggar family thought they would stick to Jim-Bob and Michelle Duggar's rules to a T. But after having two sons, Jill and Derick have drifted away and ventured off on their own over the years.
19 Kids and Counting and Counting On fans began to notice that Jill wasn't toeing the Duggar party line – what with drinking alcohol, sporting a nose ring, wearing pants, and sending her older son to public school. What's more, Derick, who is now in law school at the University of Arkansas, took to social media to claim that he and his wife actually had to sue TLC to get paid for their time on the show.
In a series of frank Q&A sessions on YouTube, Derick and Jill have been straightforward about how they differ from the rest of the Duggar family. Most recently, they answered fans' questions about their courtship – and their answers were more than a little illuminating.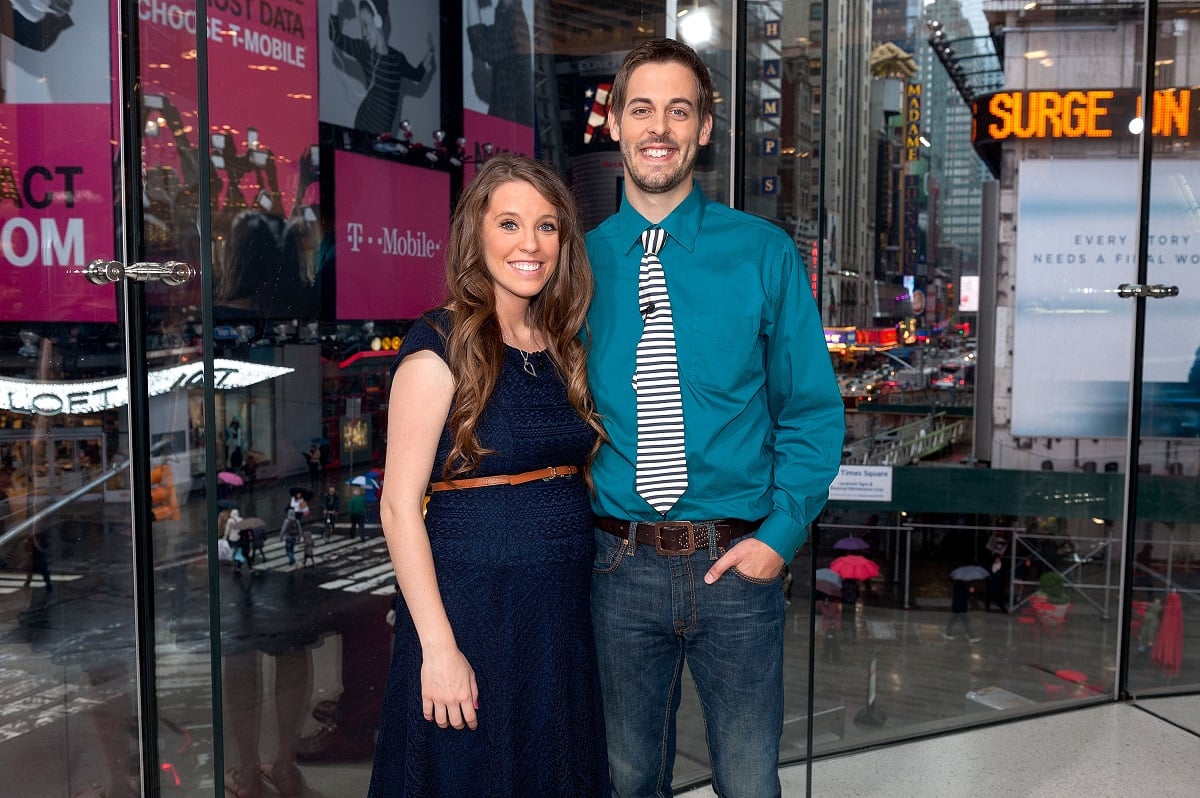 Jill said there might have been 'misconceptions' about her courtship due to the show's portrayal
In their new YouTube video, Jill and Derick answered a common fan question about their courtship. Counting On fans wanted to know how they might have approached their courtship differently if they could go back – and what they thought about the concept of courtship, as opposed to dating, today.
Jill, now 29 years old, started by admitting that she didn't feel her courtship with 31-year-old Derick was portrayed accurately on TLC (at least not entirely). She hinted that some aspects of their "getting to know each other" period were exaggerated for the purposes of drama and sensationalism.
"I feel like maybe there were some misconceptions about our courtship, because it was definitely a little bit more played up for the show," Jill said. "Things maybe weren't as weird as they seemed."
By way of example, Jill explained that, although her parents had "encouraged" them to make rules about touching and modesty before marriage, she and Derick set those standards themselves. Derick agreed, explaining that the couple wasn't given a list of rules that they had to follow or else – as it may have seemed to Counting On fans.
Jill explained further that their parents weren't on all of their Skype calls and didn't regularly pay attention to their group texts. In fact, Derick and Jill had two video calls, totaling 11 hours, before they decided to enter a courtship – and Jill's parents weren't even at home during either of them.
Derick wasn't a fan of the word 'courtship'
While the couple's courtship might not have been as extremely strict as some 19 Kids and Counting and Counting On fans believed, Derick admitted that he wasn't a big fan of the word "courtship" in general.
Jill's parents referred to the kind of supervised dating they preferred as "courtships" because they were explicitly meant to guide a couple toward marriage. But Derick had only heard the word before from his grandfather, and he perceived it as old-fashioned and overly retro.
"One thing we might do differently is call it a courtship, just because that has a certain archaic feel to it," Derick said of what he might have changed about his early relationship with Jill. "Not that everything old is bad, but it just evokes these ideas of strange things."
For Jill, the notion was "less weird," because she grew up hearing the world a lot. "I didn't think it was as weird," the mom of two said.
Still, Derick and Jill revealed that they primarily used the word "courtship" when filming for TLC. Privately, they preferred to refer to their relationship as "dating with a purpose."
The 'Counting On' stars said they might have held hands earlier in their courtship
As for what else they might have changed about their courtship, Derick said he would have preferred to hold hands with his wife earlier on. The couple waited until their engagement to hold hands, and now he thought that was far too strict.
"That might have actually been something we could have done differently," the former Counting On star mused. "I was 25 when I got engaged."
"I don't know why I wasn't holding your hand already," Derick said, turning to his wife. "My bad."
Derick explained further that Jill's parents might have "highly encouraged" the strict rules because she was the first Duggar daughter to go through a courtship.
But Jill told her husband that she didn't think earlier hand-holding would have flown with Jim-Bob.
"No, you would have had to clear it with my dad," she told a shocked Derick. "You totally would have."
Jill's husband seemed to bristle a bit at the news, hinting that he would have preferred to make that decision himself alongside his bride-to-be.
"I just now found that out," he said, wondering: "What if I just held your hand and said, 'it's OK, trust me?'"
The couple admitted they might have looser rules for their own children's love lives
As for how their approach to courtship might change in the future, Derick and Jill said they might have less "parental oversight" with their own children.
"There's some things in leaving and cleaving as a couple and starting your own family…there's certain things you want to accept from your family background and some things you might want to reject," Derick explained. And some ideas, he added, could be "recycled" – as in, borrowed and altered slightly to fit the culture of the new couple or family.
Jill agreed, saying, "[Parental involvement] might look different in our own family."
Of course, the former Counting On stars explained that the level of control they expected to have over their kids' love lives would vary depending on their age and level of independence. They might not give "unsolicited advice" on dating to a 24-year-old who was living on their own, while a 16-year-old still living at home and relying on them financially would be expected to follow more rules.