'Counting On': Jill Duggar Dillard and Derick Dillard Admit They're 'Not on the Best Terms' With Some of the Duggars After Leaving TLC
Jill Duggar Dillard and Derick Dillard have opened up yet again – this time about leaving TLC's Counting On, their relationship with the Duggar family, and how they feel about their lives today – in the latest installment of their YouTube Q&A series.
Derick and Jill, who are currently raising their two young sons, Israel and Samuel, were suspected to have been fired from TLC's Counting On (the spinoff that replaced 19 Kids and Counting after Josh Duggar's past behavior came to light) in 2017. Fans suspected that Derick was fired due to his tweets about Jazz Jennings, the teen star of TLC's I Am Jazz.
But Derick has always maintained that the couple left by choice due to problems with TLC and Jim-Bob Duggar over their contracts and alleged lack of pay. In an earlier YouTube video, Jill and Derick even claimed that they'd had to seek legal representation in order to receive any pay from TLC at all.
In their newest video, the Dillards spoke up about how they feel about having left the show three years later.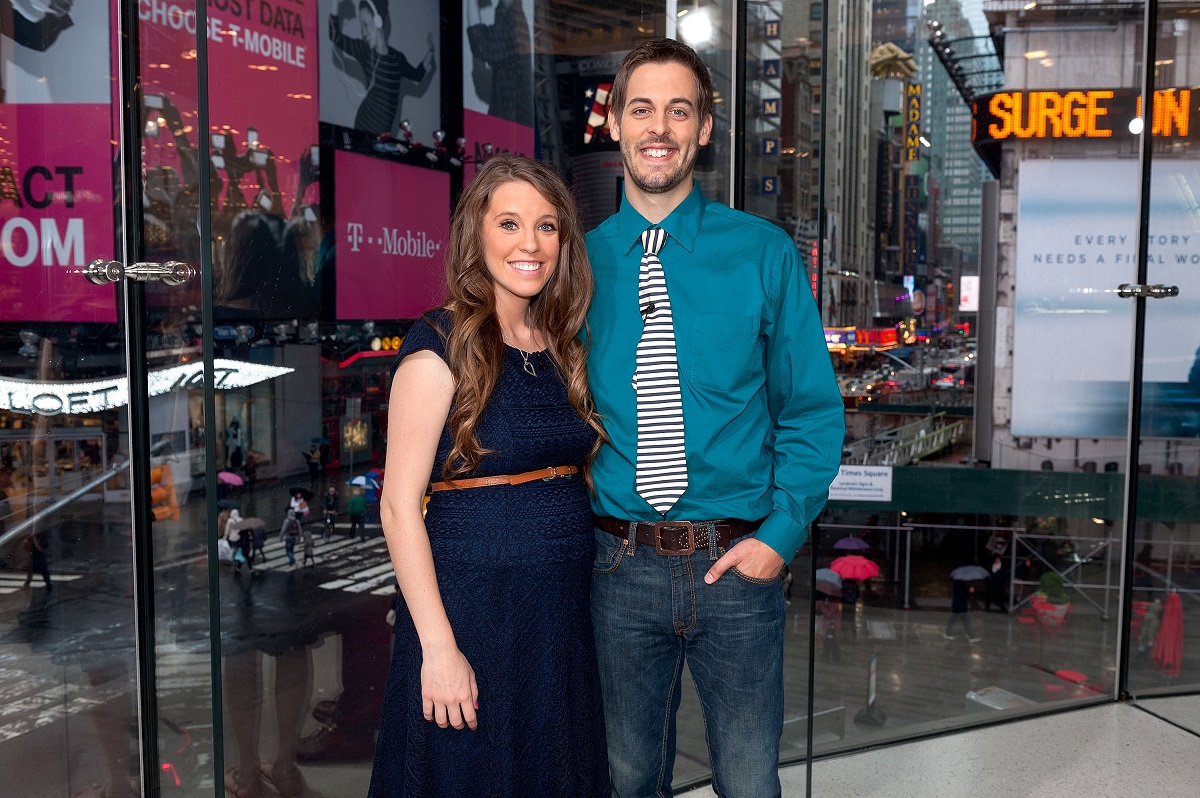 Derick and Jill claimed they left the show due to lack of 'control over their lives'
Before Jill and Derick cut ties with TLC, their courtship, engagement, 2014 wedding, and newlywed life were all captured on 19 Kids and Counting. Later, their parenting journey was prominently featured on Counting On.
In their recent YouTube video, the couple answered a fan question about why they ultimately turned away from the world of reality TV.
"Our family goals that we had for ourselves didn't align with what we found out," Jill explained carefully, alluding to "new information" they'd gotten that changed their minds about their relationship with TLC. "We ended up finding out that we didn't have as much control over our lives as it related to the show as we felt like we needed."
The mom of two went on to say that they made a family decision to "put the show aside to pursue [their] own goals."
Derick agreed, reiterating that he and Jill had "learned some information" just before they were slated to begin filming again that altered their relationship with the network. According to Derick, what they learned put them "between a rock and a hard place," forcing them to choose between their own family's goals and values and filming for Counting On.
The couple clarified that they loved the TLC film crew dearly, and they held "nothing against them." Derick also explained that they'd been present for Duggar family weddings and funerals, but they were most likely edited out of the Counting On footage.
RELATED: 'Counting On': Why Some Fans Are Concerned By This Photo of Anna Duggar's Baby
The couple said they had 'no regrets' about leaving TLC
As for whether they regretted their decision to stop filming with the rest of the Duggar family, Derick and Jill's answer was a resounding "no."
"It was a good decision for us," Jill asserted confidently. "It was a difficult decision, but one that we really needed to make for our family."
Derick, who has a history in international missions work and is currently in law school at the University of Arkansas, elaborated that he enjoyed having more time with family and control over his own schedule.
"We have our lives back now," the 31-year-old said tellingly.
Jill, 29, went on to say that they had no plans to return to the show full-time. Her open-ended statements possibly left the door open for a Counting On guest spot at some point, but she didn't hint at any current plans about future TV appearances. Jill's husband added that they would not go back to the show under the circumstances that led them to leave in the first place, so something would likely have to change first.
RELATED: Is This Family Trying to Be Like the Duggars? Their Daughter Is Marrying This Former 'Counting On' Guest Star
Jill admitted she wasn't 'on good terms' with everyone in the Duggar family
Naturally, many Counting On fans have wondered if Jill and Derick still get along with the other Duggars. After all, they haven't been spotted with many members of the family at all since their departure from the show. The couple's decidedly non-Duggaresque choices – such as drinking alcohol, getting a nose ring, using birth control, and sending their son to public school – have also raised eyebrows among some viewers.
One fan wanted to know if there had been any "distancing" between the Dillards and the Duggars. Jill admitted that, yes, there had been some "distancing" between herself and some members of the larger Duggar family.
While Jill explained that she didn't want to go into too many specific details to protect everyone's privacy, she said unequivocally that she had had "disagreements" with several of her relatives.
"We're not on the best terms with some of my family," Jill confessed.
However, Jill added, she and Derick were "working toward healing and restoration" with the family members they'd fallen out with. Right now, the Dillards needed to take some time to heal and do what was best for their own family.
"It's difficult, but we're praying and trusting God that the timeline is his," Jill said sadly.
RELATED: 'Welcome to Plathville': Olivia Plath Claims She Was 'Manipulated' By Ethan's Parents
The couple said therapy had helped them greatly along the way to healing
Derick and Jill also recommended therapy to Counting On fans and, indeed, all of their followers. Therapy, they explained, could help just about anyone build healthier relationships, develop better coping mechanisms, and improve their conflict resolution skills.
Jill brightened as she shared the many benefits of therapy in her everyday life. The former midwife said counseling had helped them "process things and work through things more," both as a couple and individually. The skills they'd learned in therapy had especially come in handy during the COVID-19 crisis, when stress levels naturally escalated at home.
Derick wholeheartedly agreed with his wife about the benefits of therapy, sharing that it had helped them grow much closer as a couple.