'Counting On': Jill Duggar Dillard and Derick Dillard Reveal How They Avoid Money Arguments
Jill Duggar Dillard and Derick Dillard might have met through Jill's famously religious and conservative father, Jim Bob Duggar, but the former stars of TLC's 19 Kids and Counting and Counting On have since proven themselves to be the black sheep of the family in more ways than one.
In a recent series of YouTube videos, 29-year-old Jill and 31-year-old Derick – who are parents to sons Israel and Samuel – have answered fans' burning questions about a variety of controversial (especially for the Duggar family) topics.
In addition to sharing that they used non-hormonal birth control, Jill and Derick – who is currently in law school at the University of Arkansas – hinted that they had to seek out legal representation to get paid for their work on Counting On. They also talked about Jill's nose ring and decision to wear pants, as well as their choice to send their children to public school instead of homeschooling.
Derick and Jill also opened up about their approach to all things finance: budgeting, saving, and spending. The former Counting On cast members also revealed how they avoided arguments about money.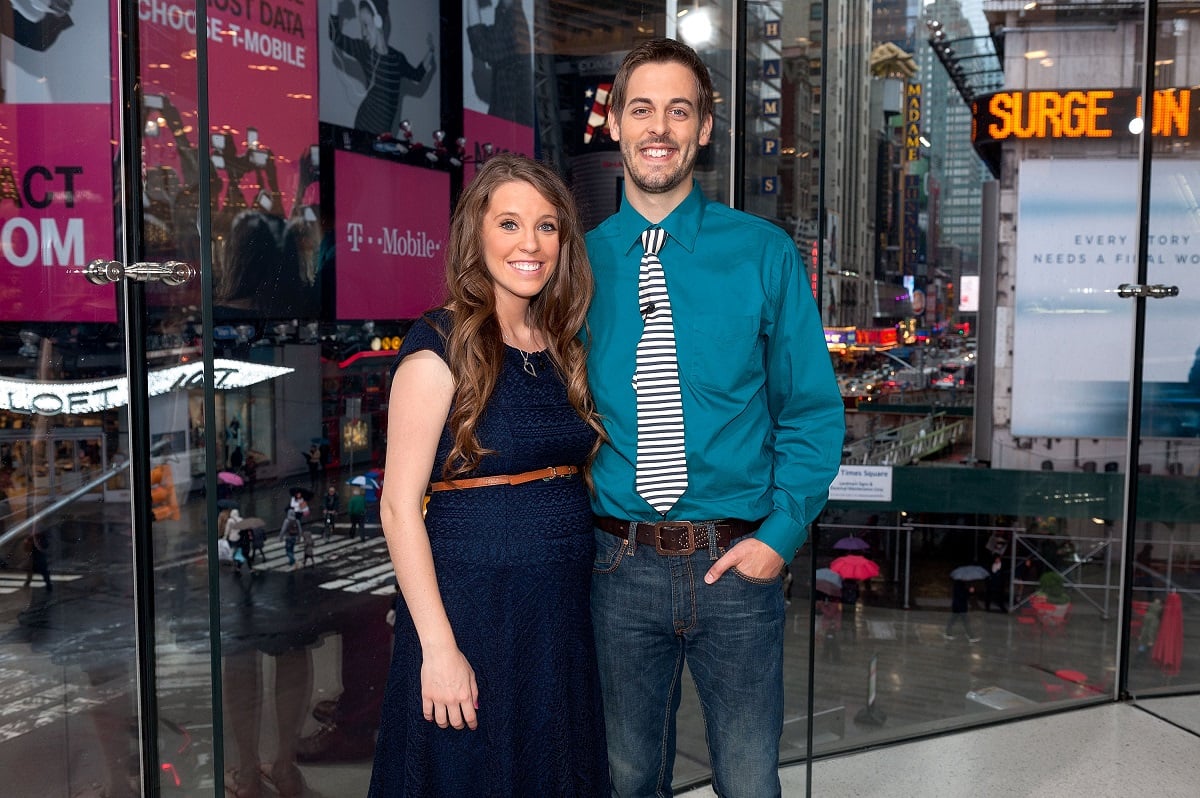 The couple talked about who was the 'saver' and who was the 'spender'
One Counting On fan asked Jill and Derick which of them was the "saver" and the "spender" in their marriage. While Derick refrained politely from answering the question, Jill was happy to oblige. The mom of two said she considered herself the bigger spender, hands down (although both of them liked to be fairly thrifty).
"Both of us like to save, but I'm definitely more of the spender," Jill said confidently. "Derrick is definitely more of the saver."
"But I feel like neither of us are big extremes," Derick chimed in, defending his wife a bit. "You're not just therapy shopping."
"Sometimes. It depends," Jill joked.
To avoid tension in their marriage about money, the couple shared, they made sure to stick to and communicate about their budget regularly.
"Having a budget is just good overall because it cuts down on money fights, which is a big thing for most couples," Derick (who was previously an accountant) advised sagely.
Jill agreed that money "could cause some arguments sometimes," so having a set plan was crucial to making sure their marriage stayed healthy and open. The last thing she would want, she explained, would be to hide her spending from her spouse.
Jill said she preferred scheduled budget meetings to spontaneous ones
As for problems they might have had in the past about money, Jill explained that she didn't like to feel as though budget issues or money talks were cropping up out of the blue. Instead, she said, they'd learned to set aside a scheduled time to discuss their budget at length every month.
"I have learned I do not like—do not like—spontaneous budget meetings," Jill emphasized. "I have to be prepared. Which is probably another reason why it just shows that I'm more of the spender."
Because she was more apt to spend on a whim than her husband, the Counting On star and former midwife said she now tried to be proactive about meeting to discuss money.
"Sometimes I'll even bring it up, since I'm more of the spender," Jill said. Then she could feel more prepared for what they were about to discuss, instead of feeling blindsided or caught off guard.
The couple also revealed that they regularly checked in with one another throughout the month, even if just by a phone call or text, whenever they might go beyond the limits of their budget. Both Derick and Jill asked each other's permission to exceed their set budget, and Derick said it was always a "two-way street" – which seemed to imply that they embraced having an equal partnership.
Derick and Jill said they often avoided marital stress through budget meetings
On a positive note, Jill said that she'd learned to see budgeting "in a different light." Instead of viewing a budget as a constraint or punishment, she looked at it as "permission to spend" instead.
Still, the couple didn't entirely agree on all of their household finances just yet. Some of Derick's more extreme ideas on how to save didn't appeal to Jill at all, and she often pushed back against them.
"I am very particular if we start talking about constricting the budget in a certain area," the former Counting On star said. "I'm like, 'Whoa, whoa, whoa!'"
Derick agreed, laughing about the horrified look on Jill's face when he tried to set some stricter boundaries around certain spending categories. Both of them had since learned to be more flexible about how they navigated their finances, so as to alleviate marital and financial stress – both in their relationship and in their budget.