'Counting On' Jill Duggar Shocks Fans By Wearing Shorts
The former 'Counting On' star just broke her parents' biggest fashion rule.
Former Counting On star Jill Duggar has been making plenty of strides toward shedding her sheltered life. She and husband Derick Dillard have essentially broken away from her family, and though they still remain very religious, they're working hard to become more and more in touch with society. And Duggar just shocked fans with her greatest fashion move yet: Shorts.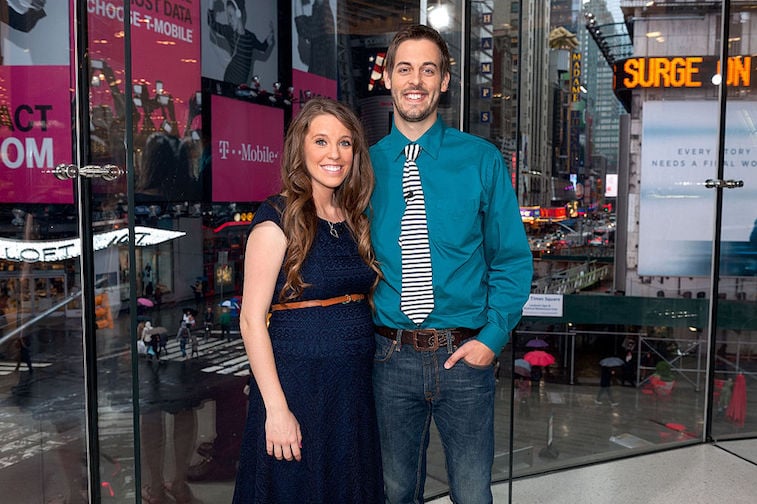 Jill Duggar and Derick Dillard left the show in 2017
When Counting On first started filming after 19 Kids and Counting was canceled, Jill Duggar and her new husband, Derick Dillard, were the stars of the show alongside Jessa and Ben Seewald. But in time, Duggar and Dillard weren't happy with the way Jim Bob Duggar was running the show. The two exited their contracts in 2017.
Over the past three years, Dillard has slowly spoken out about what life under Jim Bob's control is really like. Dillard suggested that Jim Bob held onto all the family money and distributed it as the kids needed it. He sets the kids up with jobs and homes, and Dillard and Duggar didn't like the lack of transparency within the family. There have since been rumors that Jim Bob and Michelle Duggar are not on good terms with their daughter and son-in-law.
The two have broken plenty of Duggar rules
When Duggar and Dillard decided to leave the show, they also gave up their close relationship with Duggar's parents. But distancing themselves allowed them to try new things and start to undo years of rules for Duggar. In February, Duggar broke one of her biggest family traditions (and unwritten rules) when she and Dillard announced that they had enrolled their older son in public school.
More recently, Duggar and Dillard have been working hard to understand the differences between them and their society. Duggar has become more outspoken about the Black Lives Matter movement and has done more than anyone else in her family to raise awareness. And on a smaller scale, she does things such as wear ripped jeans and keeps her hair shorter than she once could.
Duggar just shocked fans by wearing shorts
Growing up, Duggar and her sisters were only ever allowed to wear knee-length dresses or skirts. According to Michelle and Jim Bob, pants were "dishonest" to men, since they hugged women's curves and promoted promiscuity. And exposing too much skin had the same effect. The daughters didn't wear tank tops for that reason, either.
On June 4, Duggar posted an Instagram story spending time with her husband down by the water on a beautiful Arkansas day. But when she showed off the couple putting their chairs by the water, fans of Duggar couldn't help but notice that she was wearing shorts.
"it's very obvious that she's trying to learn who she is & to raise her children better than she was raised," one user wrote in a Reddit thread. "It's weird to be proud of someone you've never met, but I am," another user wrote. Many people have started to support Duggar more now that she's breaking free of her family's stronghold, and critics of the show are happy to see that she's making some serious changes in her life.