'Counting On': Jill Duggar's Husband, Derick Dillard, Has a Brother With a Dark Past
We all know Jill Duggar's husband, Derick Dillard -- but what about Derick's brother, Daniel? According to Derick's mother, Daniel Dillard has a dark past.
TLC's Counting On features plenty of our favorite Duggars, but we can't forget that there are a few family members missing from the show. Jill Duggar, one of the soft-spoken older daughters of Michelle and Jim Bob's, was a fan favorite on the show for a while — but thanks to her controversial husband, Derick Dillard, neither of them appear on the network anymore. Even without appearances on Counting On, Jill and Derick have managed to stay in the public eye thanks to their hefty social media following — and we're currently learning more about Derick's side of the family, too.
Derick's mother, Cathy Dillard Byrum, recently wrote a book about surviving cancer — but she also reportedly included some interesting information about Derick's brother, Daniel, and his seemingly dark past.
Derick Dillard is one of the most controversial people associated with the Duggars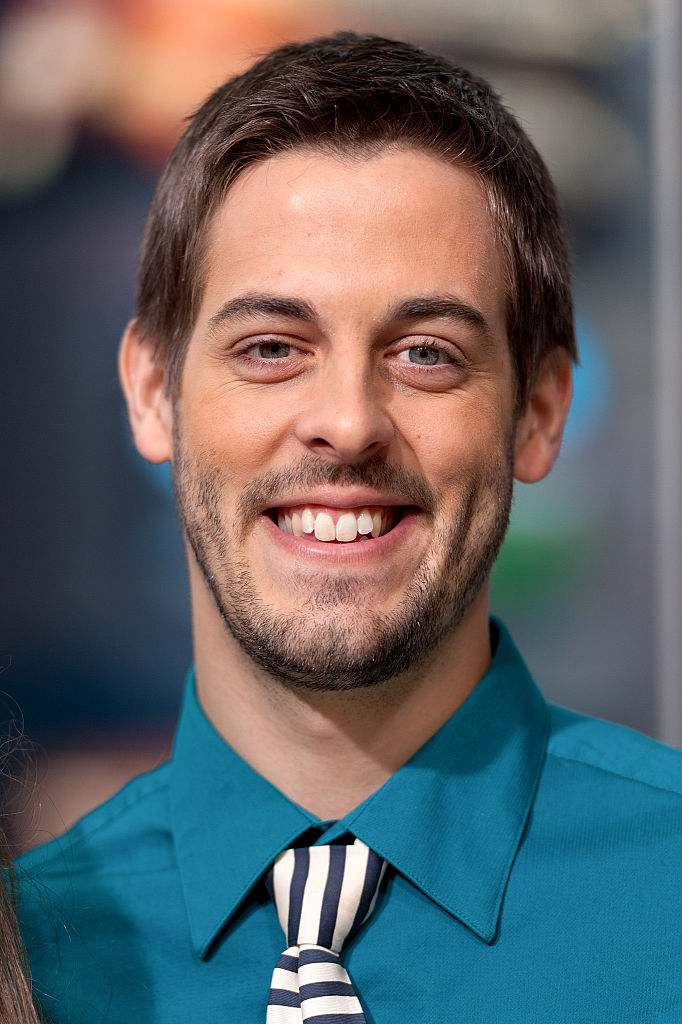 From their bizarre dating rules to their antiquated ways of dressing and ultra-religious ways, the Duggars are extremely controversial on their own. But the addition of Derick Dillard to the family complicated things even more. Derick famously got him and Jill kicked off of Counting On for tweeting transphobic messages about TLC co-star Jazz Jennings, and he also has used Twitter to share his homophobic viewpoints about others as well. For this reason, TLC shared that Jill and Derick would no longer be associated with the network going forward.
It seems Derick may have fallen out of favor with the Duggars as well. While Jim Bob was originally the one to bring Derick and Jill together, an insider allegedly told Radar Online that Jill's mother, Michelle, is upset with all the negative media attention Derick has brought upon their family. Since the Duggars have already dealt with scandals involving their son, Josh, they certainly don't need more attention of this sort.
Derick's mother, Cathy, recently wrote a tell-all book
Derick doesn't share too much of his personal life on the internet, but it does seem like he has a close relationship with his mother, Cathy. Cathy was given a Non-Hodgkin's lymphoma diagnosis years ago, and the illness made it difficult for her to celebrate Jill and Derick's wedding. Thankfully, after surgery and chemotherapy, Cathy was able to recover and has been cancer-free since 2015.
Now, Cathy is ready to tell her story, too. In Touch Weekly reports she wrote a book about surviving cancer titled, I Shall Not Die: My Walk Through the Valley of Death. The book details Cathy's 2014 stage 4 cancer diagnosis that she found out about after Derick proposed to Jill and after Derick's brother, Daniel, got his first job after college graduation. Cathy's faith with God remains strong as well, and her relationship with Christ is also detailed in the book.
Cathy wrote all about Daniel Dillard and his dark past
Cathy hopes to inspire others with her tale of overcoming the odds, but it appears she also gets into some personal detail about Derick's younger brother, Daniel. According to Radar Online, Cathy details how Daniel didn't believe in God, which was leading him on "a dangerous path to self-destruction." As Cathy wrote, "He had grown up in church and knew all the right things to do and say, but in his words, he had 'been living a double life.' He never turned his life over to Jesus."
Even Dan himself announced on Facebook that turning his back on religion was taking him down a dangerous path — so he chose to correct his course. Radar notes the Dillard brother never discussed having an addiction, but he attended and spoke at an opioid conference in February 2019, which also had many wondering. And Cathy also referenced Dan "carrying a heavy burden" in her memoir, though again, no reference to addiction was made.
Cathy details how Dan finally followed a Christ-like path in 2015 in her book, too. As she wrote, "he described how he had been running from God, and he had finally quit running and surrendered, letting Jesus come in and take over." It seems like Dan and Cathy have a close relationship now, too, as he's featured on her Instagram and seems to be doing quite well with his wife and kids.
Check out Showbiz Cheat Sheet on Facebook!