'Counting On': Jill Duggar's Husband, Derick Dillard, Once Had a Hairstyle the Duggars Would Find Shameful
Fans of Counting On know all about Michelle and Jim Bob Duggar's 19 kids. And Jill Duggar might be the most controversial of them all. Jill and her husband, Derick Dillard, told fans they stepped away from TLC completely — and they've drifted from Jill's family as a result.
Looking back, it was Jim Bob who first adored Derick and thought he'd be perfect for Jill. But Derick once had a hairstyle that wouldn't fly with the Duggar family. Here's why.
The Duggar women from 'Counting On' believe they should keep their hair long
The Duggars center their entire lives around their Christian faith. Jim Bob and Michelle made it known years ago that they trust that God will always lead the way in their lives, and they instilled these same beliefs in all of their kids. So far, it looks like all 19 of Jim Bob and Michelle's children also trust in their faith to guide them, though they've loosened up on some of the strict rules they had growing up.
In Touch Weekly reminds us the Duggars follow the religious organization ATI started by Bill Gothard. ATI followers noted Gothard liked women to have long, wavy tresses.
Aside from Gothard, the Duggar ladies also talked about having long hair in their book, Growing Up Duggar. "Our hairstyle is our choice and we choose longer hair based on our understanding of 1 Corinthians 11:14-15," the girls wrote. "While it is a shame for a man to have long hair, a woman's hair is her glory."
Derick Dillard, Jill Duggar's husband, once had long hair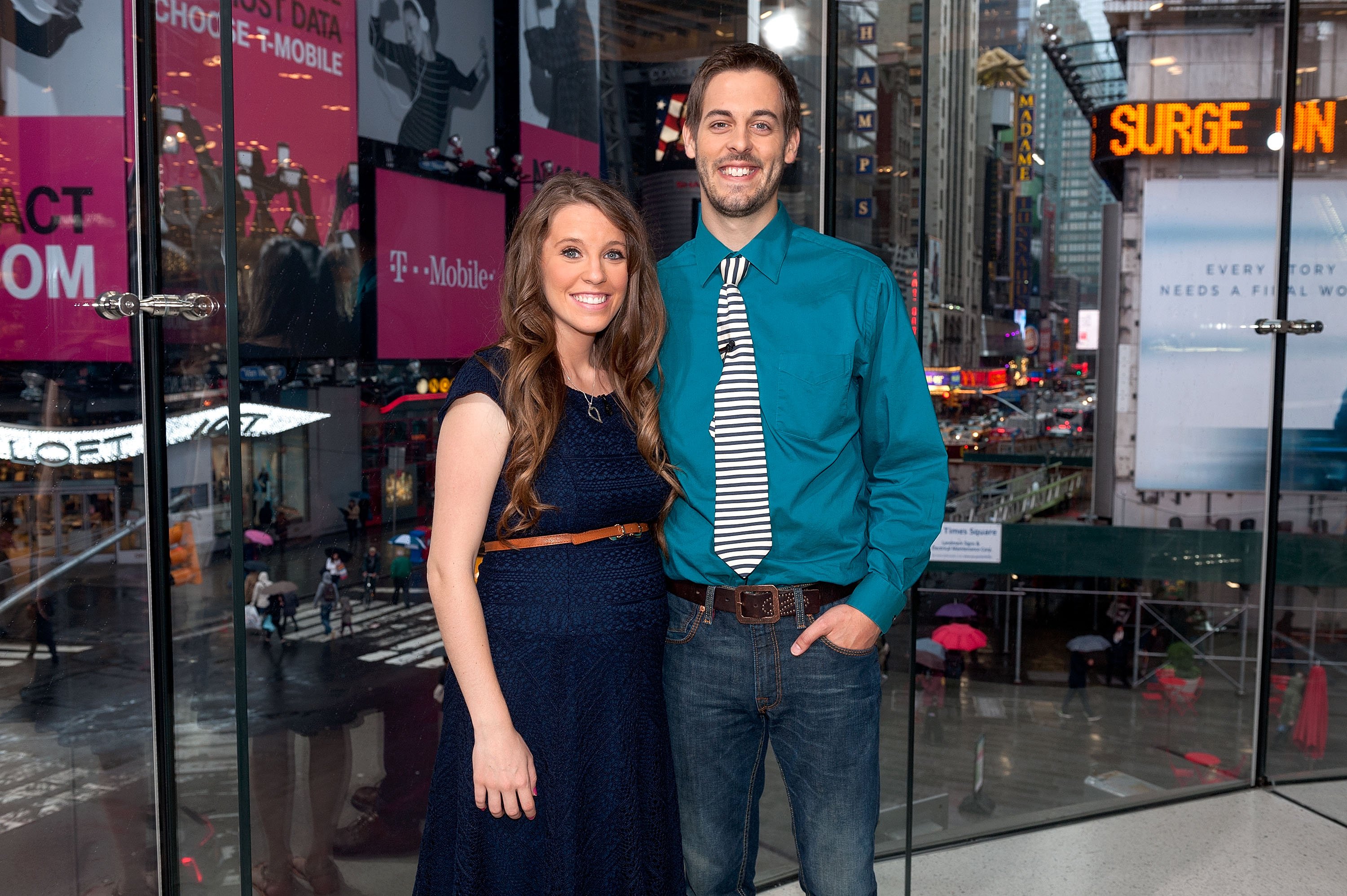 All of the Duggar women have hair that goes past their shoulders. And since it's allegedly shameful for men to have longer hair, none of the Duggar men have dared to venture into long-hair territory. Instead, they all keep their hair short and clean cut
Derick is the exception, though. Back in 2017, Derick had long hair he could pull back into a ponytail. And The Hollywood Gossip notes Jill cut it for him at home and posted about it to social media. It seems fans like Derick's hair shorter as well, and they expressed as much to Jill and Derick at the time.
Derick didn't always have long hair, though. When he met Jill, his hair was short. It wasn't until their son, Israel, was born did he decide to let his locks grow. By 2016, he was rocking a longer-hair look, and he could pull it back into a ponytail completely by late 2016. February 2017 was when his hair got the chop.
Jill also cut her hair
The Duggar women never much length off of their hair when living under Jim Bob and Michelle's roof. But the women who are now married and moved out have taken some creative liberties with their look since. Joy-Anna, Jinger, and Josh Duggar's wife, Anna, have all shown off freshly cut and dyed locks on Instagram. And Jill also cut a significant amount of her hair to give to charity in December 2019.
"I wanted to get a little more cut off than I did last time and wanted to get it done soon because it was getting to be hard to manage, the boys were getting tangled in it, I was sitting on it and the weight was contributing to headaches!" Jill explained on the Dillard Family blog. "I got to thinking about it and got excited thinking that if I got a little bit more taken off then I'd have enough to donate to an organization that makes free wigs for people who have lost their hair."
It seems Derick loved the new look, too. "I love your hair cut!" he exclaimed in the video Jill posted to YouTube.
Will Jill continue to cut her hair, and will Derick possibly grow his long once more? We're excited to see if they change it up in the future.
Check out Showbiz Cheat Sheet on Facebook!