'Counting On': Jill Duggar's Latest Claims Seemingly Push the Duggar Family Into Full-on Damage Control Mode
Just hours after Jill Duggar and Derick Dillard shared their latest truths, fans witnessed 'Counting On' patriarch Jim Bob Duggar and his family go into full-on damage control mode.
Former Counting On star Jill Duggar has finally spoken out about her decision to leave her family's reality TV series. Jill and her husband, Derick Dillard, walked away from the TLC show three years ago. Now, the couple has begun sharing their story in a series of videos posted on the Dillard Family YouTube page. Just hours after Jill and Derick shared their truth, fans witnessed patriarch Jim Bob Duggar and his family go into full-on damage control mode.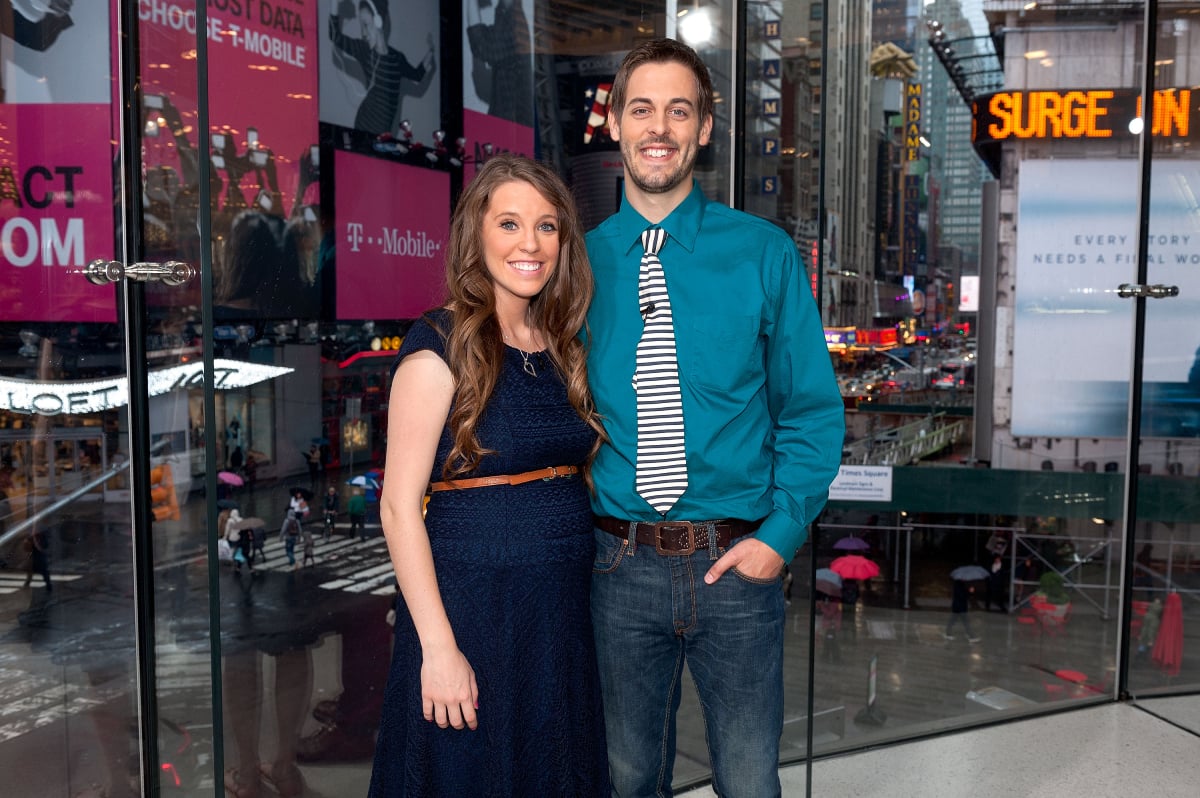 Jill says leaving 'Counting On' helped her establish 'healthy boundaries' with her family
Jill and Derick recently posted a video titled "Q&A: Babies, Pants, Nose Ring, Tattoos, & Faith!" As they answered fans questions, the couple gave some insight into why they left Counting On. They also hinted at problems with Jill's family.
Jill explained that she started to feel more comfortable making her own decisions after leaving the TLC series. She explained the journey she and Derick have been on as a couple helped her create healthy boundaries.
The mom-of-two didn't mention specific family members by name. But, she did imply that several of her siblings – not just her parents – do not approve of her less-conservative lifestyle.
"Some of the decisions that we've made. Like I probably – even if I've liked something before – maybe wouldn't have done it because of the backlash I would get from people close to me," Jill hesitantly revealed while laughing nervously.
Jill admits that it's been difficult not having her family's approval. But, she and Derick know they aren't doing anything wrong. And, they are making choices that are best for them and their family. Derick also revealed that Jill is in therapy to deal with her past trauma.
Jinger and Jessa Duggar went on Instagram Live hours after Jill and Derick's post
Just hours after Jill and Derick posted their video, Jill's sisters Jinger and Jessa suddenly appeared on Instagram Live. Jinger and Jessa appeared with their husbands – Jeremy Vuolo and Ben Seewald – for a chat in front of thousands of fans.
Jessa and Ben were at their home in Arkansas, while Jinger and Jeremy were at home in Los Angeles. It's clear that Jessa and Jinger are extremely close. And, the foursome discussed everything from their respective children to Jeremy's food demands during visits to Jessa and Ben's house.
Jinger and Jeremy revealed that they always stay with Jessa and Ben when they are in Arkansas. They laughed and shared stories. There were also cameos from Jessa and Ben's daughter Ivy, as well as Jinger and Jeremy's daughter, Felicity.
Jeremy also promoted the podcast he hosts with Jinger called The Hope We Hold. The podcast is for young, Christian couples, and they revealed that Jessa and Ben are their guests on the latest episode.
While many fans enjoyed watching the exchange between the two couples and their daughters, others were skeptical. The video came across to many as a Duggar family public relations video.
Did Jim Bob send the 'Counting On' stars out to do damage control?
As Katie Joy points out on her Beyond A Crystal Ball YouTube channel, neither Jessa nor Jinger have ever gone live on Instagram. Both have been on reality TV for more than a decade and are extremely active on social media. But, their first IG live came hours after Jill's post.
The timing appears suspicious to many fans, and one called them out in the comments section.
"So Jill does a Q&A. So Judgy Jessa gets you to do this Q&A just to rub it in what great sisters you are to each other and not to her," the skeptic wrote. "Seems like damage control. I expect this from Jessa but not from you Jinger. This was just petty and sad. You all wonder why people are Team Jill it's stuff like this."
While Jill has decided to live life on her own terms, it appears that Jessa and Jinger are closing ranks around Jim Bob. Some fans suspect the Duggar patriarch was behind Jessa and Jinger's video.
Derick has made it very clear in his social media comments that Jim Bob is the man in charge when it comes to Counting On. And, he will do anything to protect the Duggar family brand.
The most recent season of Counting On just wrapped. TLC has not revealed when the series will return with new episodes.