'Counting On': Jinger Duggar Reveals She's Already Chosen Her New Baby's Name
Counting On stars Jinger Duggar and Jeremy Vuolo recently announced that they're expecting their second child, another daughter, in November 2020. Duggar and Vuolo share one daughter, Felicity, and they have seemed to have kids at a slower pace than the rest of her family — though the two also revealed they went through a miscarriage last November.
Duggar recently told fans on social media that the couple has already chosen a name for their little girl.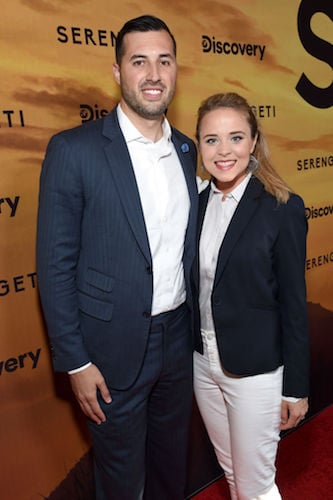 Fans have suspected for a while that Duggar might be pregnant
As far back as last fall, fans were suspecting that Duggar and Vuolo would announce baby no. 2 sometime soon. When the two moved to Los Angeles last year, Duggar said in an episode of Counting On that they might have more kids while they're living out there, though she assured producers she was not pregnant at the time.
Last fall, people once again thought Duggar might be pregnant when she started hiding her stomach in a few photos. But as time went on, no announcement was made. It turns out, though, that fans were right — but tragically, Duggar lost the baby.
Duggar and Vuolo recently posted about their heartbreaking miscarriage
When fans suspected Duggar could be hiding a baby bump last fall, they were onto something. After the couple announced their pregnancy, Duggar also posted about how she had miscarried last November. In an Instagram caption, she explained that she awoke to something unexpected only one day after she and Vuolo had told their families they were having another baby.
"Jer and I were rejoicing with our families as we announced that I was pregnant. Yet, in God's perfect timing, it was the next morning that I awoke knowing something wasn't right. Within moments I knew I'd lost the baby," Duggar explained.
Duggar revealed that she's chosen the baby's name — but it's a secret
Now, six months later, Duggar and Vuolo are once again looking forward to welcoming a new baby. Duggar said that her "overwhelming feelings of joy" are a "sharp reminder" of what she went through last year, but the two seem thrilled to be pregnant once again. And they've already picked out their little girl's name.
When one fan asked if Duggar had picked out a name, she actually responded. "Yes! But not publically announcing till she's born," Duggar replied. Fans asked Duggar to share the first letter and asked if the baby's name will start with "F" like Felicity — but Duggar did not respond to additional questions.
Fans have recently become concerned about the couple's marriage
Though Duggar and Vuolo are overjoyed about their announcement, fans and critics alike have expressed some concern about the couple's marriage recently. In a now-deleted Q&A Instagram video, fans felt that Vuolo wasn't letting Duggar speak her mind at all and suggested that he was a "dictator" in their marriage. Critics of the show also discussed their concern about the two on Reddit.
Duggar and Vuolo have continued posting loving photos with each other on social media, and some fans have called the images out for being "fake." Ultimately, though, there is no proof that anything negative is going on in their relationship — and they're clearly excited about starting a new chapter with two kids.