'Country Comfort': 4 Similar TV Shows Streaming Right Now on Netflix
Already watched singer-songwriter-actor, Katharine McPhee play an accidental nanny on Country Comfort? Check out these similar TV shows currently streaming on Netflix. An original series from the streaming giant, Country Comfort premiered on March 19, 2021, and it's already on Netflix's Top 10 list.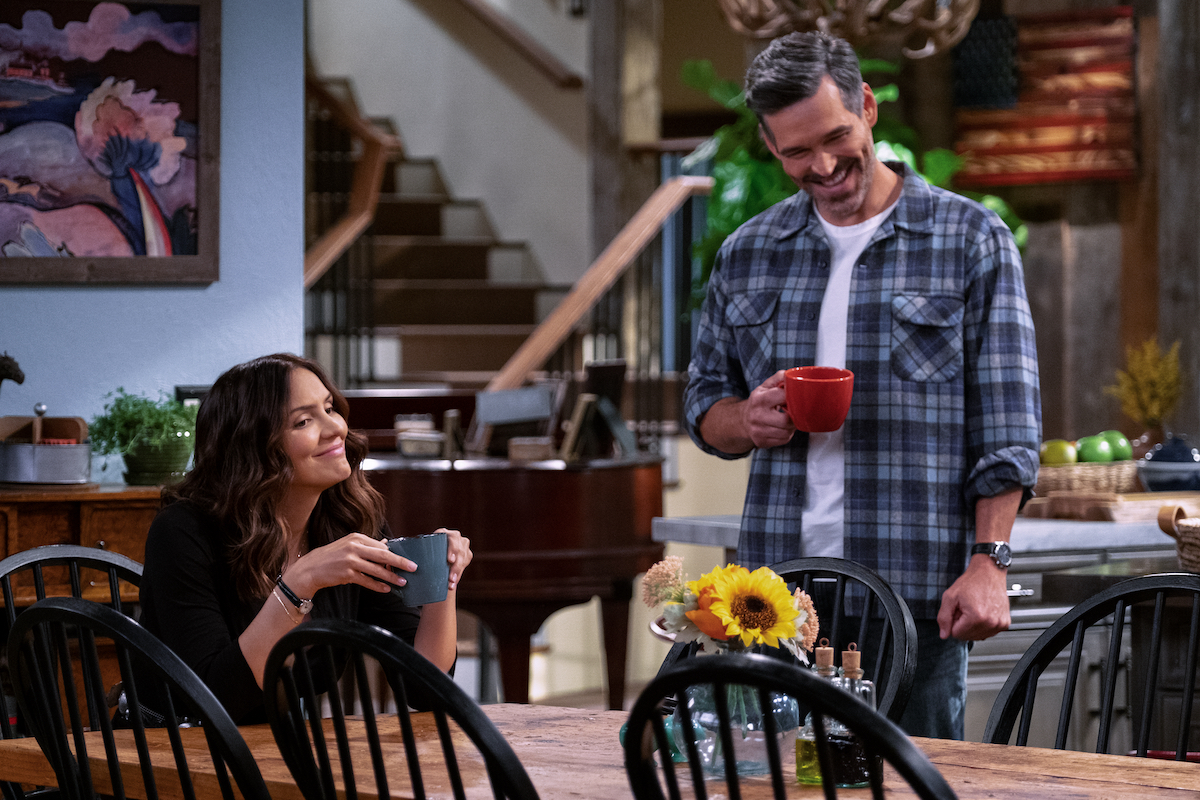 1. 'Fuller House'
The Tanner house gets a little fuller in the Netflix reboot of Full House. A family sitcom just like Country Comfort, Fuller House is all about the day-to-day lives of the extended Tanner family. 
DJ Tanner (Candace Cameron Bure)'s now a mom and she's back living in the San Francisco house she grew up in. Instead of getting advice from Uncle Jesse (John Stamos) or Joey Gladstone (Dave Coulier), she's the one dishing it out.
Almost all of the original cast reunites — sans Mary-Kate and Ashley Olsen as Michelle Tanner — in the reboot of the '80s and '90s series. Canceled in 2020 after five seasons, Fuller House Seasons 1 – 5 are streaming on Netflix. 
2. 'Virgin River'
The TV adaption of Robyn Carr's book series of the same name, Virgin River is about nurse practitioner Melinda Monroe (Alexandra Breckenridge) starting over. She leaves behind her life in Los Angeles, California, to relocate to a small town she's never heard of before. 
The Netflix original series has romance, drama, and comedy. There are cliffhangers, couples making up and breaking up, and more. Breckenridge stars in the series with Martin Henderson (Jack Sheridan), Tim Matheson (Vernon "Doc" Mullins), Colin Lawrence (John "Preacher" Middleton), and Lauren Hammersley (Charmaine Roberts) among others. 
Seasons 1 and 2 are currently streaming on Netflix with Virgin River Season 3 currently in the works.
3. 'Sweet Magnolias'
Another Netflix show based on a book, Sweet Magnolias is the TV adaptation of romance novels by author Sheryl Woods. The series centers around three best friends as they navigate romance, family, and careers. 
Maddie Townsend (JoAnna Garcia Swisher) is a newly divorced mom and Dana Sue Sullivan (Brooke Elliott) and Helen Decatur (Heather Headley) are her two best friends. Together, they decide to finally embark on their dream to make a historic home a spa. 
All 10, 44-minute episodes of Sweet Magnolias Season 1 are currently streaming on Netflix. In a March 2021 Instagram post, Swisher revealed filming on Sweet Magnolias Season 2 is officially underway. 
4. 'Country Ever After'
Formerly Country-Ish, this reality series is all about the Anderson family. Coffey Anderson is a country musician and his wife, Criscilla Anderson, is a successful hip-hop dancer.
Together, the couple's raising their three kids — Ethan, Emmarie, and Everleigh — while Criscilla undergoes treatment for Stage 4 colon cancer following a 2018 diagnosis. All 10, approximately 23-minute episodes of Country Ever After Season 1 are streaming on Netflix.