Craving Walt Disney World's Famous Mac and Cheese? Here's the Mouthwatering Recipe
Stuck at home and missing Walt Disney World's famous gourmet mac and cheese? Here's the indulgent recipe to this nostalgic classic.
Walt Disney World's famous mac and cheese is one of the most decadent dishes available at the park. And luckily, for those stuck at home, Disney just revealed the secret recipe to this nostalgic classic in honor of this year's Taste of Epcot Food & Wine Festival.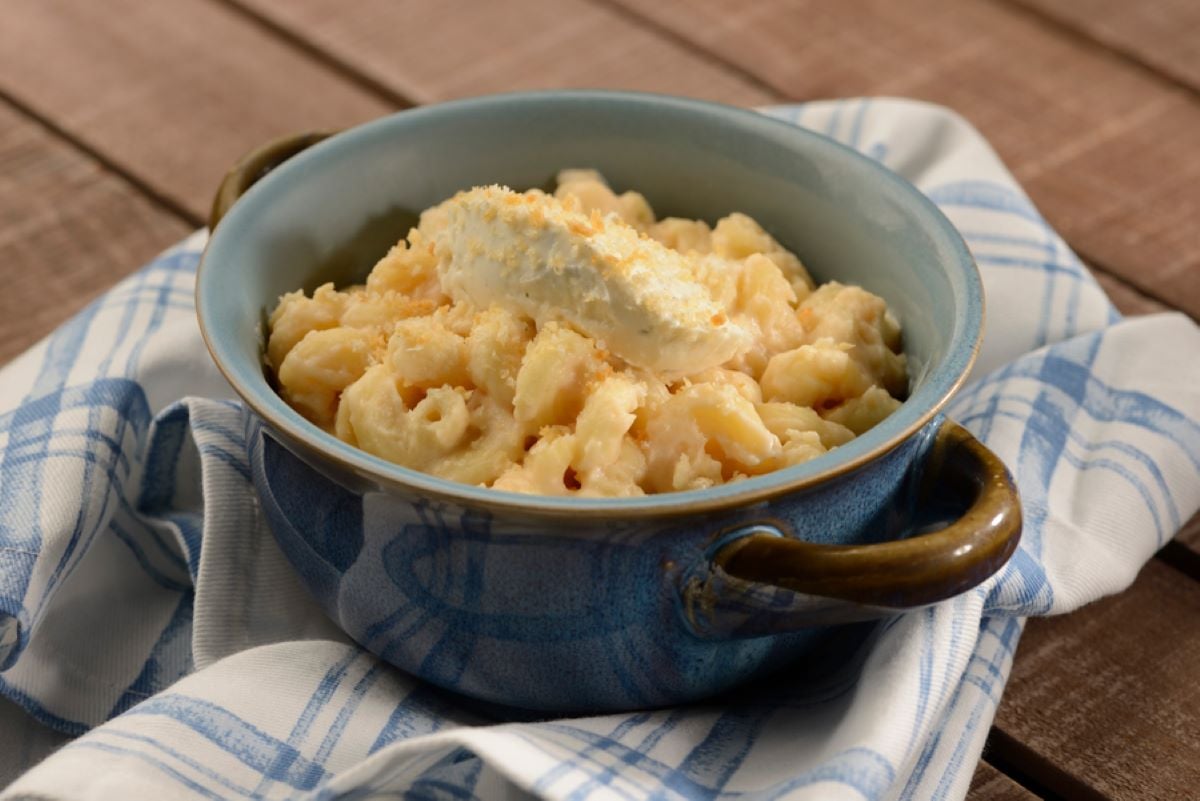 The Taste of Epcot Food festival is a little different this year
Every year, Walt Disney World celebrates world cuisines with its Taste of Epcot International Food and Wine Festival. This year, however, due to COVID-19 protocols, the festival opened with enhanced safety measures, including social distancing. 
But that aside, the event is featuring cuisines and innovative cooking techniques from six different continents. Chefs from all over the world are sharing their special dishes and spirits in over 20 individual marketplaces. 
In honor of the festival, Disney revealed the park's famous mac and cheese recipe
The festival sounds amazing. But for all those still stuck at home, Walt Disney Parks and Resorts Food & Beverage Content Relations Manager Karen McClintock shared the recipe for the park's famous mac and cheese. 
"I thought I would share some of my favorite dishes from this year's festival marketplaces!" McClintock wrote on the Disney Parks Blog. "I also have a special recipe the whole family can enjoy – Gourmet Macaroni and Cheese from the Mac & Cheese Marketplace Hosted by Boursin® Cheese located in World Showplace. This special dish is made with Boursin® Garlic & Fine Herbs Cheese and topped with herb panko, YUM!"
The Disney gourmet mac and cheese recipe includes a pound of cheese
There's a reason why the Disney Park mac and cheese is so decadent. For a serving of six to eight people, the recipe uses a pound of Boursin cheese and a hefty sprinkling of crispy Panko crumbs. Here's the full list of ingredients:
For the toasted Panko: 
4 tablespoons butter
1/2 cup panko
Coarse salt, to taste
For the gourmet Macaroni and Cheese:
1 (16 ounces) box cavatappi pasta or elbow macaroni
3/4 cup butter
3/4 cup flour
8 cups whole milk
1 1/2 teaspoon garlic powder
1 1/2 teaspoon onion powder
1 teaspoon mustard powder
1/2 pound white cheddar cheese, shredded 
1/2 pound yellow cheddar cheese, shredded
3 (5.2-ounce) Boursin Garlic & Fine Herbs cheese wheels, divided
Coarse salt, to taste
White pepper, to taste
Disney revealed the easy step-by-step instructions
Once you've got all the ingredients, just follow McClintock's step-by-step instructions:
For Toasted Panko:
Melt butter in a small saucepan over medium heat. Add panko and stir until combined. Toast in the pan for three to five minutes until golden brown. Remove from heat, add salt to taste, and set aside.
For Gourmet Macaroni and Cheese:
Cook pasta in salted water according to package directions. Drain well. Set aside keeping warm.
Melt butter in 5-quart saucepan over medium heat. Whisk in flour and cook, stirring constantly, until a blonde roux, approximately 4 minutes.
Add milk, garlic powder, onion powder, and mustard powder and bring to boil. Reduce heat to simmer and stir constantly for two to three minutes until thickened.
Fold in both shredded cheddar cheeses and two Boursin Garlic & Fine Herbs cheese wheels.  Blend with an immersion blender until cheese has melted and smooth.
Season to taste with salt and white pepper.  
Add hot, cooked pasta with cheese sauce and mix until combined and divide evenly into 6-8 bowls.
Cut the remaining Boursin Garlic & Fine Herbs cheese wheel into 6-8 pieces or crumble into a small dish.
Top Gourmet Macaroni and Cheese with the toasted panko and Boursin Garlic & Fine Herbs cheese pieces or crumbles.
Serve immediately.