'Cruel Summer Episode 3' Recap and Burning Questions We Still Have
In 'Cruel Summer' Episode 3 so much happened that we had to break it down one year at a time. Plus, let's discuss that ending. There are so many questions.
In this Freeform Cruel Summer Episode 3 recap, we remind viewers what happened to Jeanette Turner (Chiara Aurelia) and Kate Wallis (Olivia Holt) on the fourth of July in 1993, 1994, and 1995. However, after the third episode, there are still so many questions. The main one revolves around Vince Fuller (Allius Barnes) and Ben (Nathaniel Ashton).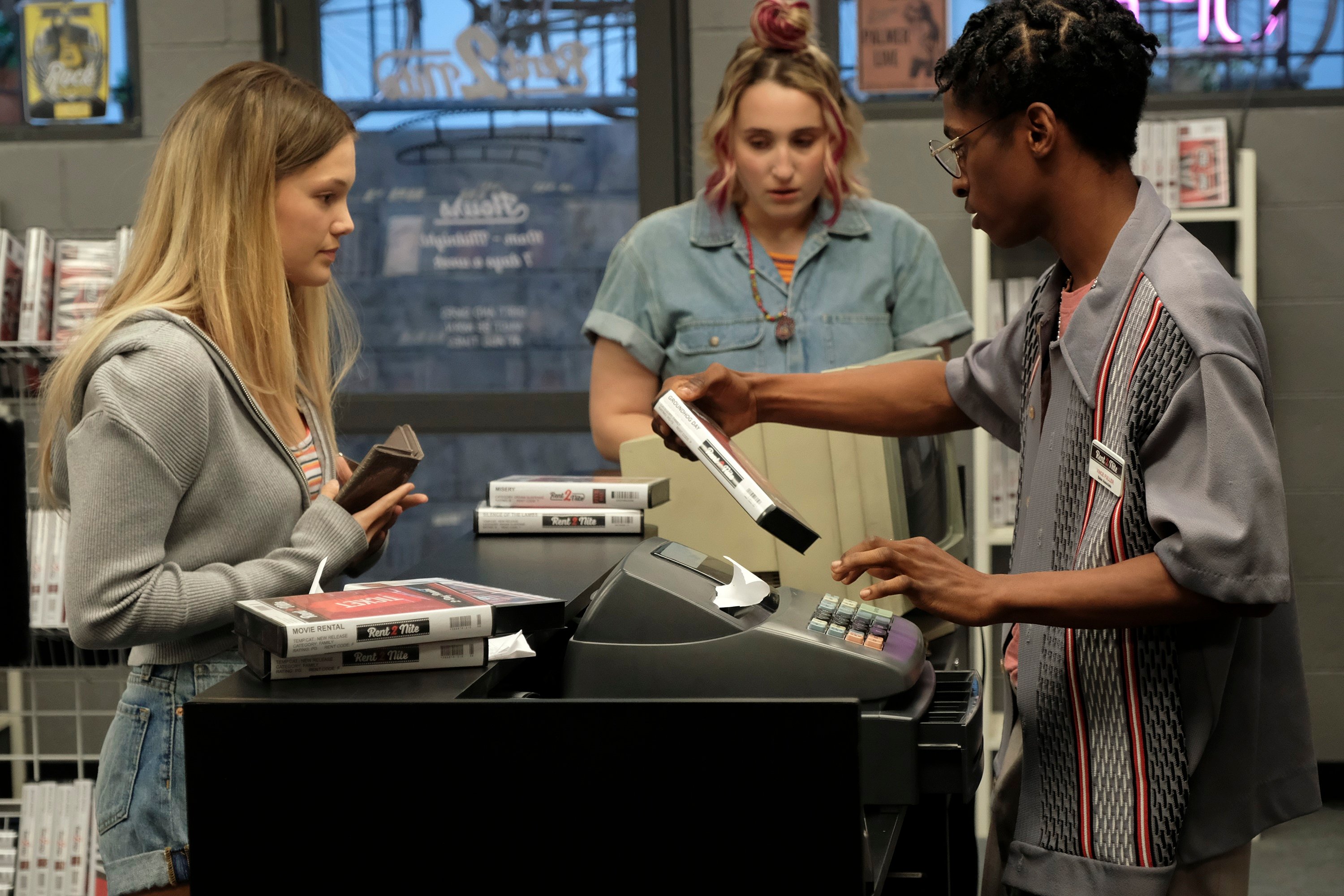 'Cruel Summer' Episode 3 recap: 1993
In 1993, Jeanette contemplated what type of boyfriend she would like to have with a teen magazine quiz. Her mother, Cindy Turner (Sarah Drew), asked again about getting her contact lenses. 
Also, in 1993, the three best friends each swiped contraband from their homes. Except Jeanette and Vince Fuller could not believe that Mallory Higgins (Harley Quinn Smith) brought weed. She wanted them to smoke it together, but Jeanette flushed it down the toilet when she left. Mallory was furious when she returned.
When Jeanette confided in her mother about the argument, we began to determine what type of mother Cindy is. She suggests that Jeanette befriend more popular girls. 
"Honey, I was [pretty and popular], and that means that you have those good jeans," Cindy told Jeanette.
During the firework display in town later that night, Jeanette returned to Mr. Harris' (Blake Lee) home to steal something. She brought a yearbook from the assistant principal's former school to Mallory to apologize for flushing the drugs.
'Cruel Summer' Episode 3 recap: 1994
In 1994, the rumors about Jeanette possibly seeing Kate while she was held captive began to affect the Turner household. Her older brother, Derek Turner (Barrett Carnahan), insisted to their parents that the rumors weren't going away. He found out that Jamie Henson (Froy Gutierrez) punched Jeanette in the face. Then the teen girl's brother and father, Greg Turner (Michael Landes), confront Jamie about hitting Jeanette.
The police bring Jeanette down to the station for some questioning about Kate. They ask her why Kate had Jeanette's necklace. She insists that it's not hers, and Kate could be spreading rumors because Jeanette is dating Jamie now.
Later, Cindy confided in her husband that she believed Jeanette lied to the police. However, in a private conversation between Jeanette and Greg, it became clear that the two have a strong bond. He didn't tell Cindy about the punch because he knew she would freak out.
That evening at the town Fourth of July celebration, Cindy noticed that everyone was talking about their family. While all Jeanette worried about was her sort-of boyfriend, Jamie.
'Cruel Summer' Episode 3 recap: 1995
In 1995, Kate spotted Jeanette at a traffic light and got out to scream at her.
"You. How dare you?" Kate yelled as Jeanette attempted to speed away. "Get out of the car! You stole my life because yours was pathetic, but you are seriously going to come after my family's money with this lawsuit? What other sloppy seconds of mine do you want? You are actual trash, Jeanette Turner."
Meanwhile, the police brought home Jamie Henson, for loitering outside Jeanette's house. Inside the Turner household, Jeanette flipped through the channels watching news anchors complain about her morality. She also scrubbed hateful language off her parents' minivan. Later, she found a court drama that gave her insight into how she should act on the witness stand.
In another scene, Kate rented Silence of the Lambs, Misery, and Groundhog Day from Vince at the movie store. While he questioned her choice in movies, Mallory defended Kate.
Jeanette confided in her brother that Kate wanted her dead. He suggested that she accept their mother's phone calls. So, Cindy isn't living with her family, and Jeanette refused to talk to her mother in 1995. We also found out that Jeanette is the one who leaked the lawsuit to the press before Kate received the papers. What reason did she have for telling the press?
Who is Ben in 'Cruel Summer'?
"I need you to understand that every time you call me, it brings me pain," Ben told Vince during a phone call.  
However, later Vince got into a car with Ben, and they discussed the rumors surrounding Jeanette. Vince insisted he believed the teen girl. They finally arrive at an underground bar for same-sex couples. The two teens romantically danced while a server and bartender contemplated the underage boys.
"This is a safe space, for us, for them. Let 'em dance," the bartender insisted. "I just won't serve 'em."
Ben was Jamie's best friend when Cruel Summer Episode 1 began. However, it turned out that Ben and Vince started to have feelings for each other at some point.
Cruel Summer Episode 4 did not give any more insight into the Ben and Vince romance. Hopefully, Cruel Summer Episode 5 will revisit the relationship between the two teenage boys. The series airs on Freeform Tuesdays at 10 p.m. EST and next day on Hulu.