'Cruel Summer Episode 5 Recap': Plus New Burning Questions
The 'Cruel Summer' Episode 5 recap is here separated by years for chronological reading. Plus, new burning questions we have after the latest installment.
The Freeform TV series Cruel Summer Episode 5 recap covers July 29th in 1993, 1994, and 1995. Kate Wallis (Olivia Holt) and Jeanette Turner (Chiara Aurelia) crossed paths at the local county fair. Plus, Kate ran into assistant principal Mr. Martin Harris (Blake Lee) again before she ended up locked in his basement. As Skylin High takes over the carnival, more questions arise for fans of the Jessica Biel produced teen psychological thriller.
[Spoiler alert: This article contains spoilers from Cruel Summer Episode 5.]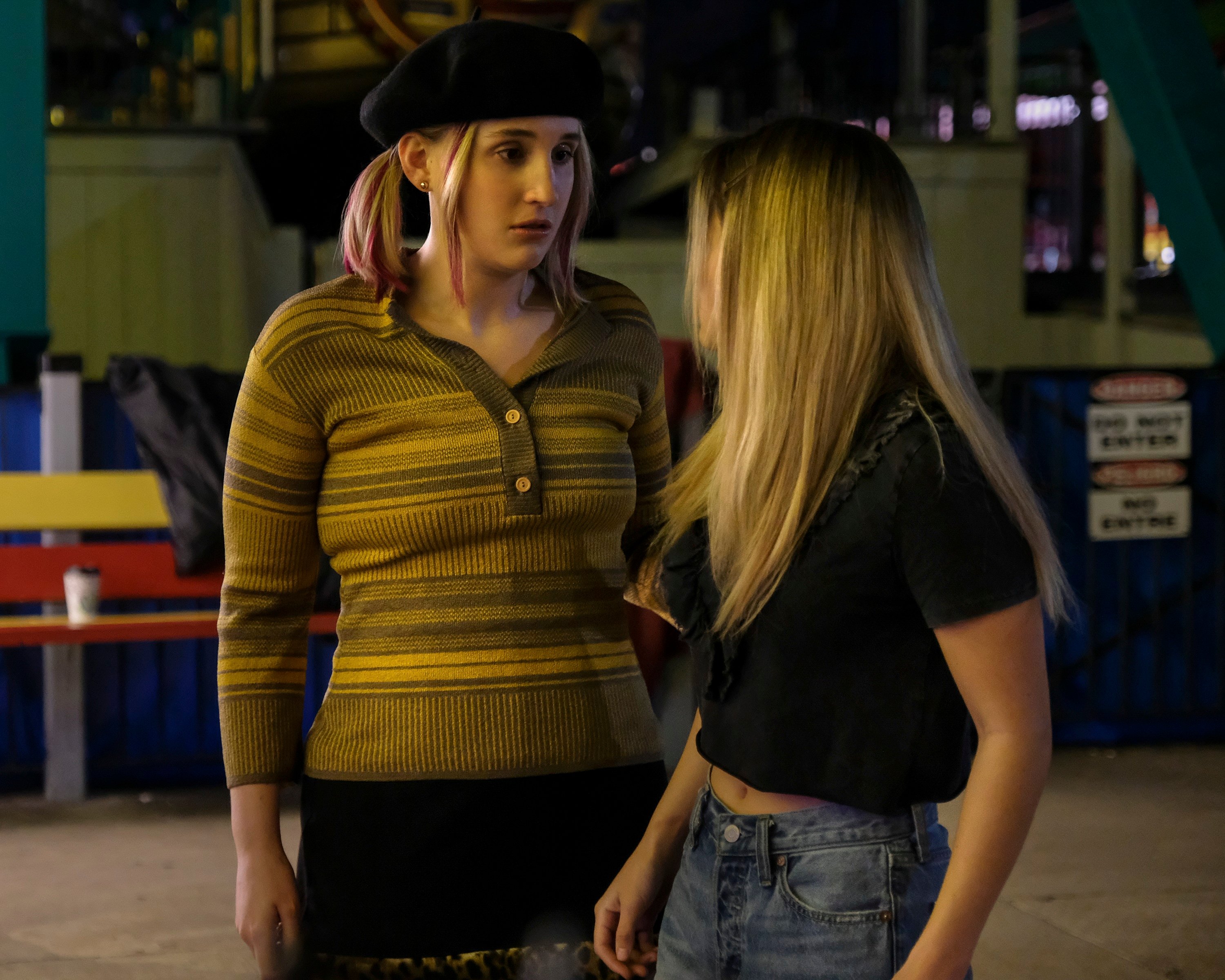 'Cruel Summer' Episode 5 recap 1993: Martin Harris continued grooming Kate
In 1993, Kate worried more about her mother cheating on her father and then ended up walking around the fair alone. Meanwhile, Jeanette prepared for her date with Gideon (Austin Zajur) at the county fair. While on a ride together, she talked about her popularity. They also chatted with Mr. Harris and played the game he was running. However, when the popular girls confronted Jeanette about being at the fair with Gideon, she pretended not to know him and ran away.
Later in Cruel Summer Episode 5, Kate Wallis ran into Mr. Harris at the county fair, too. She played the carnival game by herself, and the assistant principal gave her a stuffed bunny and tickets for winning (against no one). He also admitted that he noticed her at the garden club party and mistook her as one of the other adults.
When Mr. Harris saw Jeanette walking by again, he scolded her for leaving Gideon and told her to apologize. She noticed that the adult was holding Kate's scrunchy, so she offered to return it. At first, Mr. Harris was hesitant to give it up. As the girls headed to their rooms in 1993, Jeanette smiled with the scrunchy and Kate with the stuffed bunny.
'Cruel Summer' Episode 5 recap 1994: Kate Wallis and Jamie Henson broke up
In the 1994 Cruel Summer Episode 5 recap, things got tense between Jamie (Froy Gutierrez) and Kate. Jamie insisted to Kate that he wanted to be with her and not Jeanette. He called Jeanette a "psycho" and lied about kissing her. He admitted that he met up with Jeanette but continued to lie about kissing her. So, she broke up with him.
Meanwhile, Jeanette headed to the county fair with her brother, Derek Turner (Barrett Carnahan). While she wondered if Jamie and Kate might be there, Derek warned her to stay away from both of them. She disregarded his warnings and planned to track down Kate to clear up the misunderstanding about the rumors.
In another Cruel Summer Episode 5 scene, Jeanette's dad came home to find his wife, Cindy Turner (Sarah Drew), drunk before 5 p.m. because someone spit on her car at the movie store. When he went to rent a movie, he met Angela Prescott (Brooklyn Sudano) for the first time and she accidentally hit his car. (She's the bartender he's dating in all of the Cruel Summer Episodes in 1995)
Back at the fair, Jeanette chased Kate and Mallory Higgins (Harley Quinn Smith) through the funhouse, begging to talk. Kate got lost, panicked, and had a terrifying flashback of Mr. Harris. Meanwhile, Jeanette's brother told her to leave both Kate and Jamie alone and try being "geeky Jeanette" again.
'Cruel Summer' Episode 5 recap 1995:
In 1995, Jeanette met with her lawyer, Denise (Nicole Bilderback), again.
"You need people to remind the world, on the record, that you are a human being with a heart and a soul," Denise told Jeanette. "[You need] people who believe you. Vincent Fuller was great."
She also suggested bringing in Mallory; however, Jeanette shot that idea down right away.
"I'm your gun for hire, Jeanette, but I need you to feed me the bullets," Denise added.
Jeanette asked if her father was still on her side, and he responded with more questions. He admitted that "being on her side" cost him his job, his reputation, and his family, but he's still on her side.
Jeanette's father's girlfriend, Angela, took Jeanette to the bar where she works later on in Cruel Summer Episode 5. They bonded while singing karaoke together. However, Jeanette panicked when she began enjoying herself. Angela told her she needed to let down the walls of the fortress around her.
Meanwhile, Kate and Mallory ran into Jamie at the county fair. They dunked him at the dunk tank. Then Kate caught a drunk Jamie stealing the county fair banner. He also finally admitted that Jeanette kissed him while they were in the park last summer. Jamie apologized to her and told her she was right. 
Later, Mallory and Kate headed to the graveyard and buried the bunny that Mr. Harris gave her. She took a shovel and brutally beat his grave marker.
Burning Questions we still have
Who is Annabelle? Cruel Summer Episode 5 did not go into anymore details about the mystery girl. However, Kate wrote the name several times on a sheet of paper. Could the stuffed bunny be Annabelle?
Why is Jamie sitting outside Jeanette's house in most of the 1995 scenes? We still don't know what else happened between them.
Who is lying? Did Jeanette see Kate at Mr. Harris' house and fail to report it? Or, is Kate lying because Jeanette stole her life?
Hopefully we find out more when Cruel Summer Episode 6 airs on May 18, 2021. The Cruel Summer Season finale concludes the series on May 25, 2021 on Freeform, and next day on Hulu.