'Cruella': Why Does Emma Stone's Cruella de Vil Hate Dogs?
"If she doesn't scare you, no evil thing will." The song about the Disney villain's namesake isn't wrong. Disney's latest release Cruella has many fans wondering what inspires Cruella de Vil's motivation for hating dogs. As it turns out, the original villain's passion for furs stems from greed.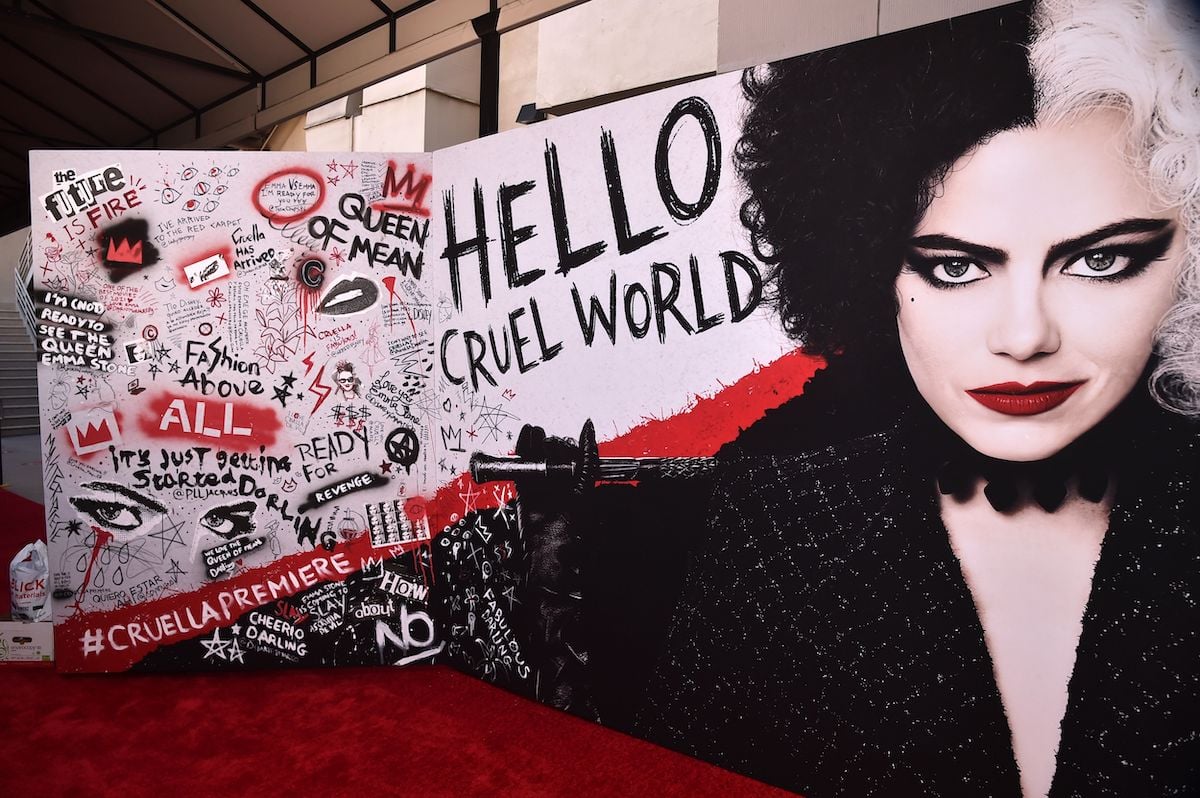 'Cruella' movie in theaters and on Disney+ May 28
The long-awaited live-action remake of Cruella will be in theaters and available to stream on Disney+ Friday, May 28. Starring Emma Stone, Emma Thompson, Emily Beecham, and Kirby Howell-Baptiste, Disney's iteration of Cruella De Vil's prequel story aims to mimic the success of movies like Maleficent starring Angelina Jolie.
The film will tell the origin story of the titular villain from One Hundred and One Dalmatians. However, according to a statement Disney recently released, Stone's portrayal of Cruella does not in any way harm animals.
"Cruella doesn't share the same motivations as her animated counterpart," the statement reads. This puts audiences, including the many who thought the origin story would ask them to empathize with and even root for a character who will do terrible things, at ease.
Still, many people are curious about the villain's motivations — why are innocent Dalmatian puppies her victim of choice?
Cruella de Vil's fur coat obsession is strictly monetary
Disney fans know Cruella de Vil as the evil puppy-murdering villain who fawns over fur coats. Disney fans also know Cruella de Vil lacks empathy for living creatures and will stop at nothing to obtain the most lavish furs.
In the 1996 live-action movie 101 Dalmatians starring Glenn Close, it is revealed that Cruella skins puppies because their fur is more valuable. Older dogs have coarse fur that the fashion industry doesn't prefer. 
Will Stone's portrayal of the Disney villain have the same kind of drive and use it to save puppies as an advocate? Fans will have to tune in to learn more about Cruella.  
'Cruella' movie plot
According to Collider, Cruella takes place in 1970's London in the high fashion world. Stone's character works at a department store while moonlighting as a clothing designer.
One day, a posh woman called the Baroness (Thompson) enters the store wearing a locket that was once Cruella's mother's. Thinking she lost it the night her mother died at the Baroness' estate, Cruella decides to stop at nothing to get the locket back. 
Is Cruella de Vil the worst Disney villain?
According to WDW Magazine, she is. Cruella is blinded by greed and selfishness in the 1961 animated film and the 1996 live-action movie, making her one of the most evil Disney villains. She embodies all of the bad things that cause corruption of the human spirit. 
RELATED: 'Harry Potter': This Hogwarts Professor's Cameo and 4 Other Magical Nods in Disney's 'Onward'
Perhaps the worst part about Cruella is that she's not a fantasy creature. She's a real person with human traits that mimic people we meet in everyday life. And that is perhaps the scariest thing of all. 
Unlike Jolie's portrayal in Maleficent — we learn "the truth" behind her motivations in Sleeping Beauty are rooted in betrayal and heartbreak — many Disney fans are unsure they'll ever be able to root for Cruella. Is there anything that could redeem the villain and justify her future actions?  
Disney fans will have to tune in to the movie to find out. See Cruella in theaters on May 28 or stream it on Disney+.