'CSI: Vegas' Recap Season 1 Episode 2: Gil and Sara Fight Over Hodges' Innocence
CSI: Vegas had a dramatic return. The TV show is questioning whether David Hodges (Wallace Langham) is innocent or guilty of falsifying evidence. This is how the characters are handling the case and the new evidence.
[Spoiler alert: CSI: Vegas Season 1 Episode 2 spoiler ahead.]
A couple is murdered before their wedding day on 'CSI: Vegas'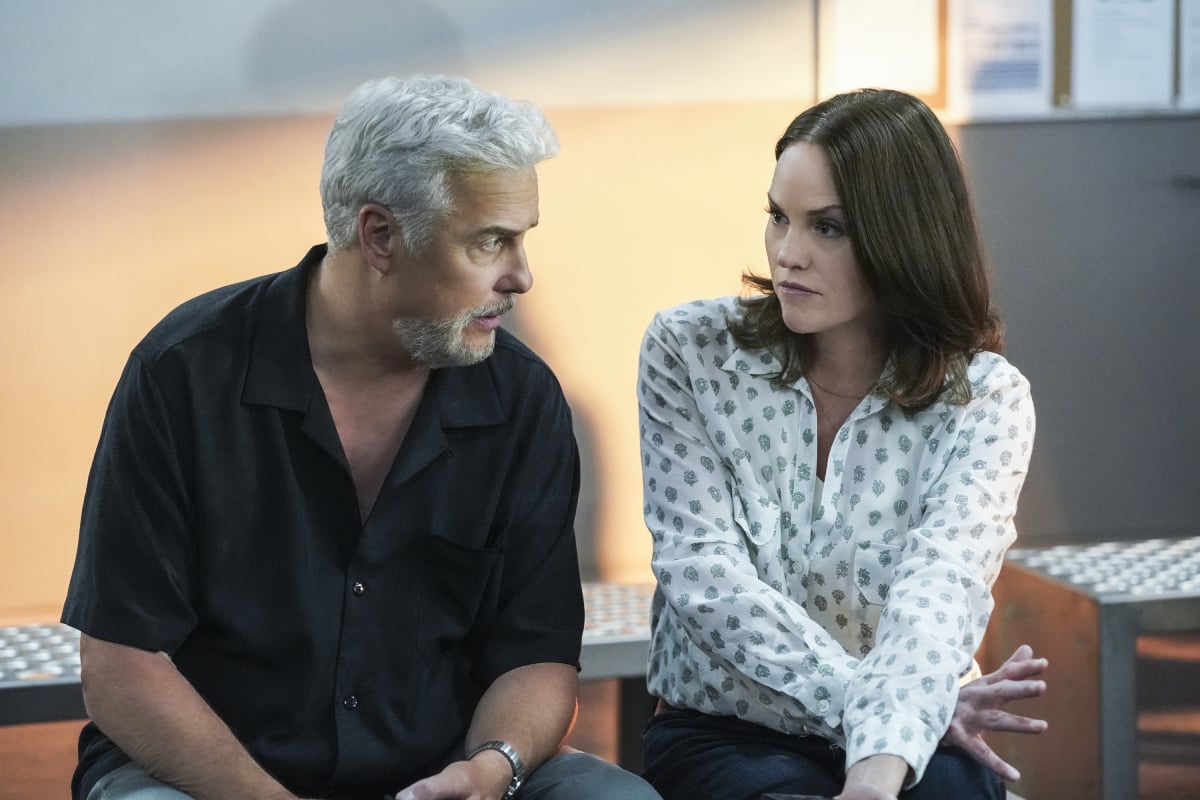 The CSI: Vegas episode opens with someone shooting a gun four times in a home. A man and a woman are left bloody on a couch. The woman crawls on the floor, but then someone stops her. The person takes a picture of her then shoots her dead.
Meanwhile, Gil Grissom (William Petersen) is up late researching David Hodges (Wallace Langham) and the evidence found in the storage unit. All of that evidence is authentic. Hodges is then fingerprinted and charged with perjury, destroying, and falsifying evidence. 
Maxine Roby (Paula Newsome), Allie Rajan (Mandeep Dhillon), and Joshua Folsom (Matt Lauria) respond to the murder scene. They find out the dead couple was supposed to get married that day and think that someone who knew them killed them.
It turns out the couple is Jinny and Nate. Allie and Joshua go to their wedding to look for clues. That includes getting evidence from their wedding guests and questioning them.
Gil Grissom and Sara Sidle find out more about David Hodges
Gil and Sara Sidle (Jorja Fox) are blocked from working on the Hodges case because of their relationship. But they're determined to find out what's going on. Sara is allowed to look at the murder case, though and she finds a shoe print. Pollen from a rare tree was in the footprint.
Gil and Sara visit Hodges in jail. Sara is confident he's innocent, while Grissom is questioning how well they know him. A pregnant woman then hugs him, which surprises them. They didn't know he had a family.
Allie and Joshua trace the evidence back to a club called Scramble. It's a swinger's club where Nate and Jinny were members. They find a G-Wagon outside and look for evidence. Mail for Anwar Hassan, who is the big boss of Scramble, was inside. 
Gil, Sara, Hodges, and Jim Brass (Paul Guilfoyle) meet. Hodges tries to convince them that he didn't do it, but Gil and Jim are uncertain. Hodges said he's been working as an expert witness, and the woman in his life convinced him to leave his previous work behind. After Grissom lists a few things in the storage unit, Hodges has a theory that someone stole his stuff that's been missing from his move.
Allie and Joshua look into Scramble and find out there are cameras in the walls. Hassan has been blackmailing and extorting members. He's then brought in for questioning. Hassan is ruled out, given he has a tremor and can't hold a gun.
Evidence shows Hodges might be innocent after all
Sara and Gil look through Hodges' new place. They don't find any evidence of a break-in. Grissom still doubts Hodges, and Sara asks him to at least trust her. As they leave his place, they notice Hodges' neighbor's dog is missing. They think someone killed the dog then buried it at the neighbor's house.
The married couple brings the dog to Maxine and Hugo Ramirez (Mel Rodriguez), who realized the killer of Nate and Jinny has small feet but wore big boots. They bring in Christie (Stevie Lynn Jones), who worked at Scramble. Nate and Jinny found out Hassan was sick, so they started to fight their extortion. Christie killed them to make people fall back in line. 
We're still left with Hodges' case. The autopsy on the dog showed someone crushed his skull. But he bit the person before he died. Gil and Sara have a theory that an intruder came a week ago based on the timing of this. Maxine says Gil can be a consultant for the case, so he's officially back in.
It looks like Sara might be right after all. CSI: Vegas fans will have to watch the CBS show next week to see Gil back on the job to find out more.