'Curb Your Enthusiasm' Is Filming as Richard Lewis Confirms He May Appear in Season 11 Episode
'Curb Your Enthusiasm' fans may get to see Richard Lewis in at least 1 episode during season 11. He confirmed he was back on set and cameras are rolling.
Richard Lewis broke two big stories on Twitter, sharing that HBO's Curb Your Enthusiasm is filming and he may appear in an episode.
Lewis previously revealed that he would likely have to sit out the upcoming season of Curb due to hideous back pain. His pain was so extreme he'd have to be wheeled onto the set and then return to his trailer writhing in pain. But he is going to rally for at least one episode, delivering the good news that season 11 is underway.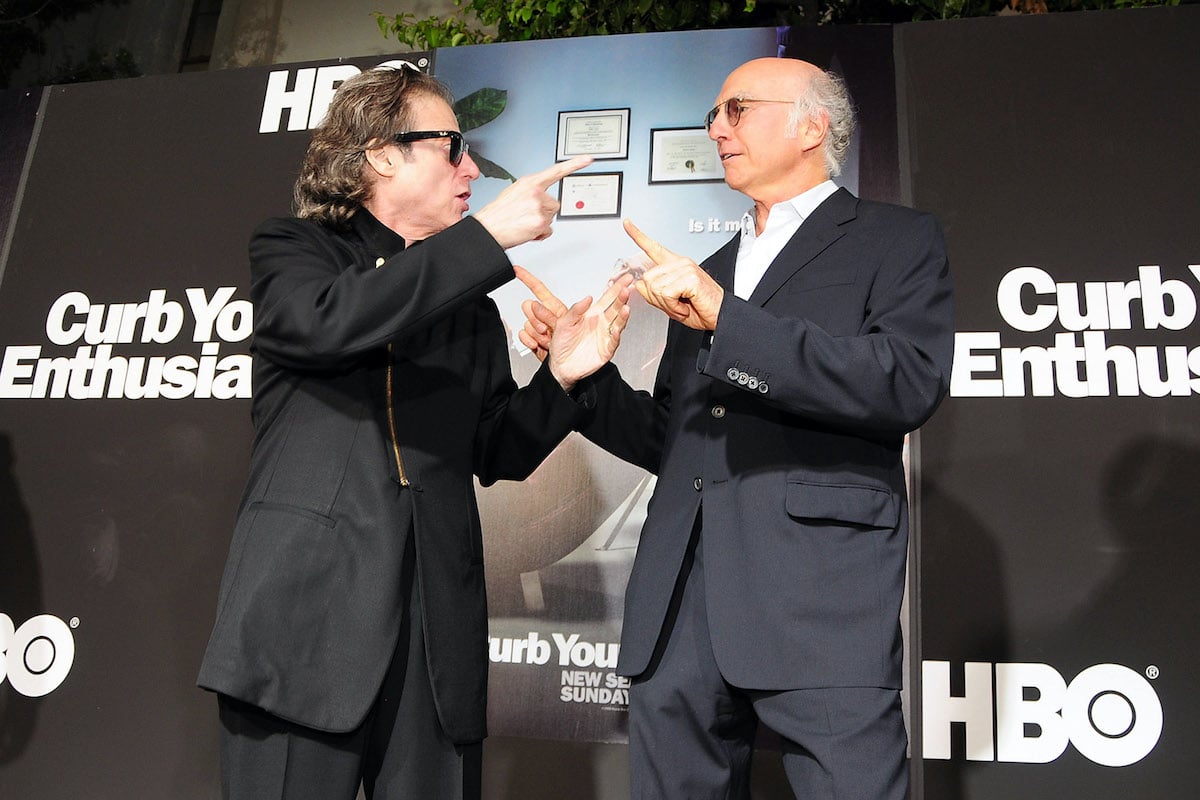 Richard Lews is recovering from surgery
Lewis broke the news on Twitter. "Great news for me!" he shared, along with a photo on set. "Although I'm still recovering from three surgeries and missing Season 11 of Curb, [Larry David] called me and asked if there was any chance if I felt strong enough to do one episode! I am and here I'm on the set to shoot it. I'm so grateful."
He previously shared on Twitter that he would not be appearing in the upcoming season due to pain. "What a ride, LD!" Lewis tweeted in Jan. "I love you, buddy. Tragically, these past 18 months I've endured a back and two shoulder surgeries and not able to be in #curbyourenthusiasm for season 11. I'll be watching…"
"For 20 years, I had the greatest comedy gig I could have ever imagined with my oldest and dearest friend LD. Honestly, I'm crushed that I won't be part of this season," Lewis told Variety. "For sure, I will be screaming with all the other 'Curb' fans when the new season starts. Hope to be there for Season 12!"
When will 'Curb Your Enthusiasm' Season 11 debut?
The pandemic put a damper on filming, but Jeff Garlin confirmed in mid-April the show was on set and filming.
"I'm filming right now," he said on the 10 Questions With Kyle Brandt podcast. "We have three more weeks left and we'll have a season that'll probably come out, I'm guessing, in the fall."
Garlin added that season 11 will only briefly address Covid-19 too. "Except for the first episode, we don't do any COVID stuff," he said. Garlin acknowledged that fans want to be entertained and not reminded of the pandemic. "The first episode, it touches on [Covid], there's a couple of things. But it's a post-Covid world in Curb." 
Larry David's world on Curb often reflects real life. Maybe Lewis's back issues could be addressed? Lewis's wife Joyce Lapinsky described to The Chicago Tribune what being on set was like with her husband when he was in intense pain. "He'd be in a trailer, laying down in pain," Lapinsky recalled. "Then they'd just perk him up and bring him in for the shoot."
"When they finally needed me, I wasn't really that great standing up," Lewis added. "So I had two days' work with six scenes, and, fortunately, all the scenes were in restaurants. I don't know what I would have done if it were anything else."