'Curb Your Enthusiasm': Ted Danson and Mary Steenburgen Thought the Pilot 'Sucked' (but the Show Changed His Life)
Viewing the Curb Your Enthusiasm pilot was a cringeworthy moment for actors Ted Danson and wife Mary Steenburgen. In fact, Danson, who is close friends with creator Larry David only offered to appear in series as a favor because he thought the pilot "sucked." But Danson admitted that he was in a crossroads in his career and that HBO's Curb ended up changing his life.
What did Ted Danson tell Larry David about the pilot?
Danson said his career was in a transitionary period when Curb Your Enthusisam began. "I felt a lot of doubt," Danson admitted on The Off Camera Show. "And then Curb Your Enthusiasm came along. Larry David, who I thought I was doing a favor because his pilot sucked. You know, I was like, Mary and I both on Martha's Vineyard invited to come see the pilot and it's hot and we're all sweaty and a couple of people fell asleep."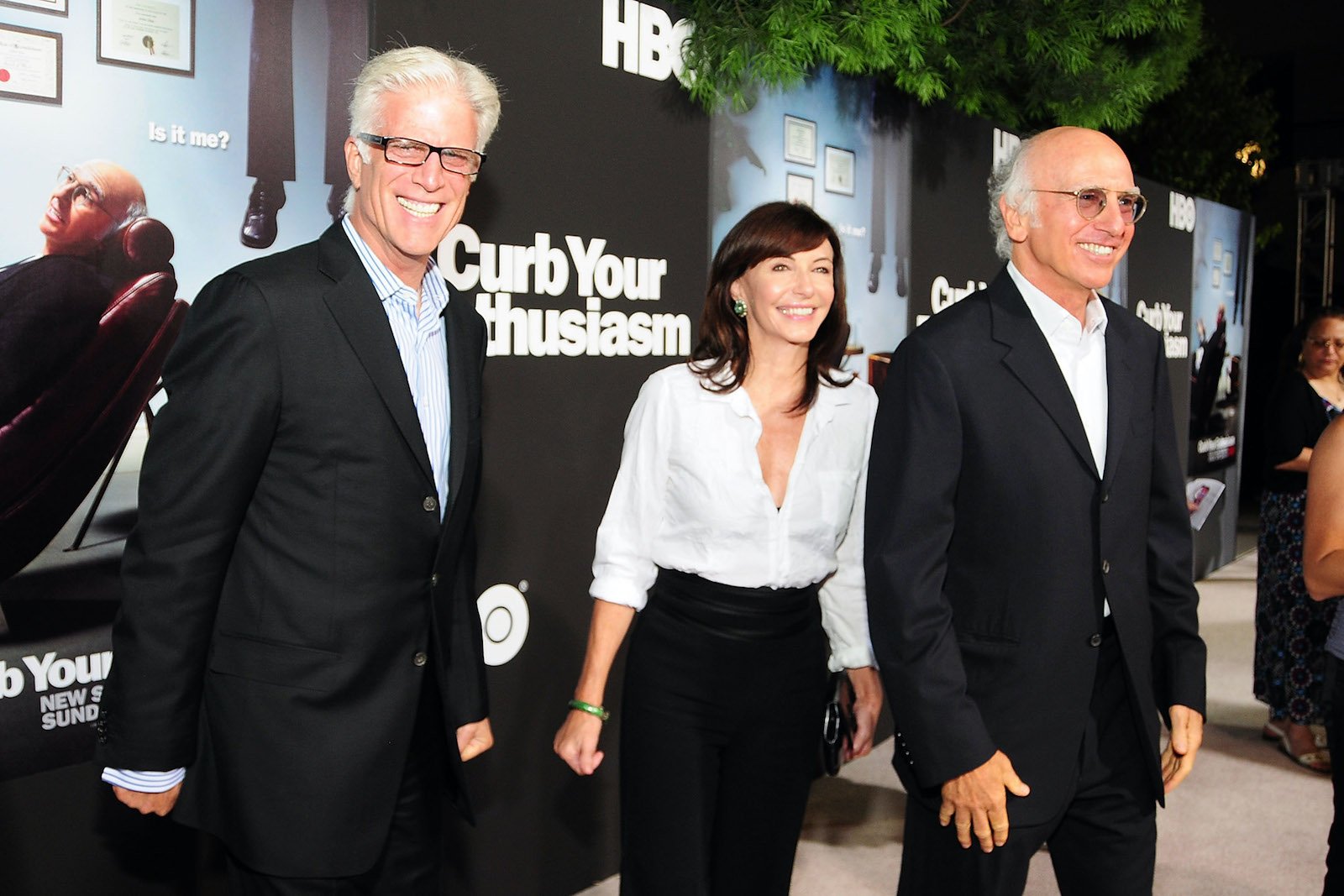 "Mary and I were like, 'Larry, any time you want us to come on the show as ourselves, we'd love to.' Poor sap, you know, help you out," he laughed, now knowing that Curb would become an enormous hit show.
Ted Danson says 'Curb Your Enthusiasm' changed his life
Danson looked back on being on the show, sharing that the experience changed his life. "It changed my life and it really did going off and doing that show," he admitted. "Besides, it's brilliant. And he turned half hour on its ear. It also brought happiness. It brought a giggle back to my work. All of a sudden I was enjoying going to work and I was laughing again."
RELATED: 'Curb Your Enthusiasm': Larry David and Richard Lewis Hated Each Other When They First Met
As a recurring character playing an exaggerated version of himself, Danson started the series married to his real life wife. But in a plot twist, David had Danson and Steenburgen divorce, which had some fans wondering if that was the truth. "It's always fun to play with Larry David, Danson told USA Today in 2017. "It's kind of effortless. You don't have to learn lines because there are no lines. It was a little bizarre to take Mary's and my relationship, and say we're now divorced and I'm dating Cheryl. We got barraged by phone calls and inquiries by some people who should know better, wondering whether we're still together. It was kind of a perfect Larry David moment, in a way." And no, Danson and Steenburgen did not divorce in real life.
Ted Danson says he has a 'nervous breakdown' before and after every role
Danson admitted he has a "nervous breakdown" before and after every role. "I have a nervous breakdown, before every part," he said. "And a nervous breakdown at the end of every part. Because I think my two cents about creativity is you need to start at zero and you don't know, squat. And if you think you do, you're wrong."
"And you know you need to start at zero. Because if you're starting on, 'Oh, I know this worked and this last part I did…'" he continued. "You know, you don't have anything to do with brand new creativity. [And] you have to start at zero. You have to start it not knowing which has to bring fear and anxiety. And you know, doubt in all of those things, but it should. I think that's what the creative process should be. You should start over every time."
RELATED: 'Curb Your Enthusiasm' Season 11 Premiere Date Announced