Da Brat Married Her 'Twin Flame' Judy Dupart on 2/22/22
Rapper Da Brat married her wife Jessica "Judy" Dupart in February 2022. The Chicago-bred emcee has been public about her relationship for a few years, and their wedding was the ultimate celebration of their love.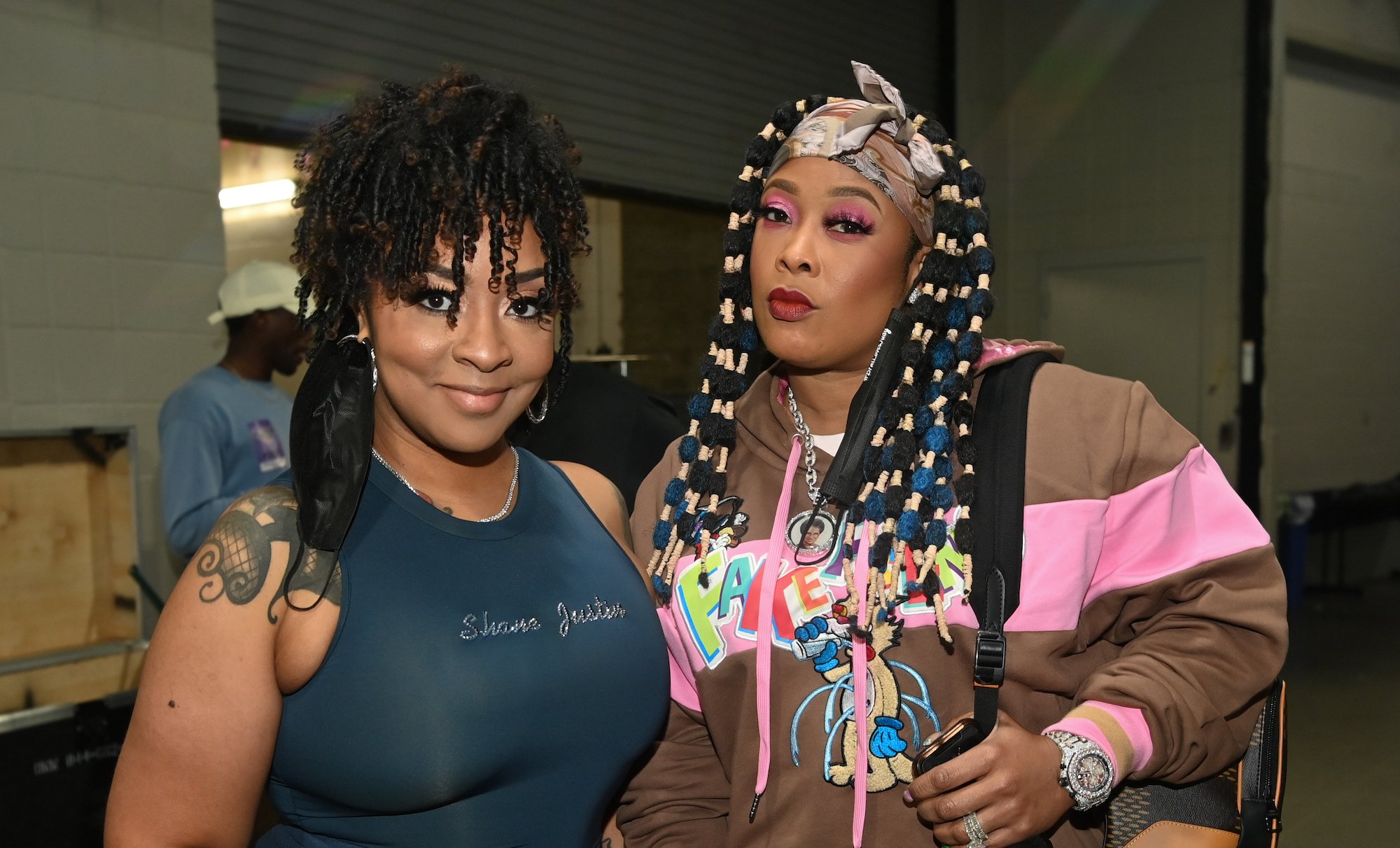 Da Brat came out with her relationship in 2020
For decades, Da Brat never spoke publicly about her love life, instead preferring to keep it private. But she revealed her relationship with haircare entrepreneur Judy Dupart in 2020 and has been happier ever since.
Brat spoke about her public coming out journey on The Rickey Smiley Morning Show. "I never confirmed anything because in the '90s, it wasn't cool back in the day," she said honestly. "I'm a little bit nervous because I'm not really used to talking about this thing because I'm really not a public person when it comes to my personal life. But when you get blessed and somebody when you weren't even looking for nobody loves you like you've never been loved before, it's a whole different experience."
Brat's love for her wife knows no bounds. "She inspires me, she believes in me, she motivates me, she accepts me for who I am — my past, my faults, mistakes," the rapper said. "We can talk about anything and everything. There's nothing I can't talk about with her and it's just amazing."
Da Brat married her wife on 2/22/22
The two tied the knot in 2022, cementing their love forever. But they didn't get married on just any other day: they exchanged vows on February 22, 2022, or 2/22/22.
"Everything about her made me want her to be mine forever," the rapper told People magazine. "And I felt like I knew it not much longer than from the day we met."
Dupart explained that the wedding date was especially important to them.
"We've been calling each other twin flames for a while. So this date, 2/22/22, is a significant event. We just didn't want to miss it because it comes once in a lifetime," Dupart said. "It's relevant. It's just real significant to our relationship. It signifies angel numbers, and it also is reminiscent of twin flames."
Even though they were already in love with each other before, the wedding was simply a way of formalizing that love and putting an official seal on it. "We're already a union. The paper is just going to solidify it," Brat said. "But she wasn't ever going nowhere, anyway. And I wasn't letting her go. So, we get to do it and show the world that we're a union. It's a milestone because, in the '90s, things like this couldn't happen."
"I met somebody that made me want to be so out loud and tell everybody and scream it from the mountaintops," she added. "So, I'm very grateful for that. It was like a weight lifted. I promise you, she was sent to me by God."
The significance of 222 angel numbers
222 angel numbers have special significance when it comes to love and interpersonal relationships. As Dupart mentioned, the number two is often associated with pairs and partnerships, so the 2/22/22 date was the ultimate symbol of united love.
More broadly, 222 angel numbers often signify hope, balance, harmony, life choices, commitment, compromise, and trust. It's a sign that you can build on your current situation to achieve your goals.
RELATED: Mariah Carey and Da Brat Got In Trouble For Leaving a Studio Session To Get French Fries