Da Brat Opens Up About Mariah Carey's Rumored Relationship With Eminem Ahead of The Release of the Singer's Memoir
It's always been hard to tell what happened between Mariah Carey and Eminem — if anything at all. Over the years, both of them have maintained two very different stories about their rumored romance. However, recent reports claim the pair allegedly did date, despite Carey's claims to the contrary.
Amid speculation that the singer might finally open up about their rumored fling in her upcoming memoir, Carey's friend and former collaborator Da Brat weighed in with some striking thoughts about the alleged romance.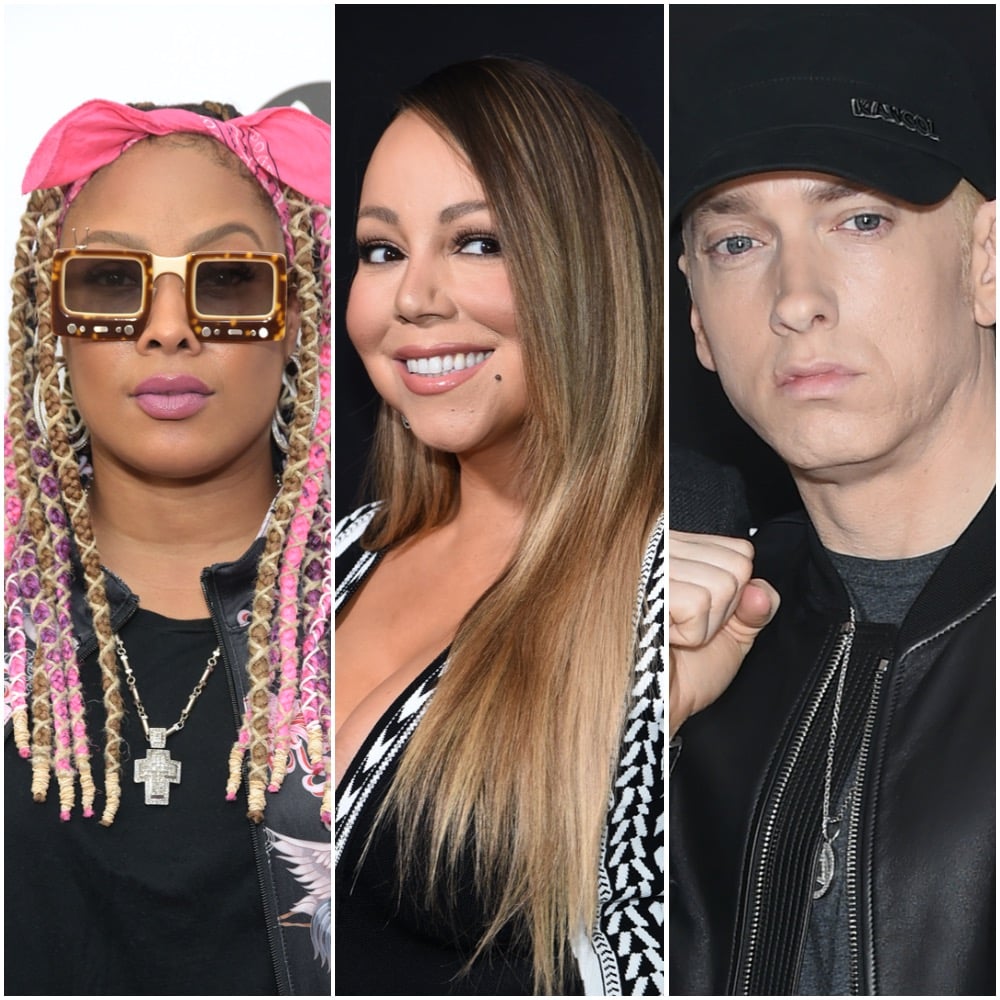 A recap of Mariah Carey's rumored relationship with Eminem
Complex reports that the artists allegedly began dating in 2001 after Carey approached Eminem about a possible collaboration for her album Charmbracelet (2002).
Eminem teased the rumored fling in songs such as "Superman" and "When The Music Stops" before confirming it in a 2002 interview with Rolling Stone. However, he noted in the same interview that they had since ended their alleged relationship.
"I don't want to say anything disrespectful because I respect her as a singer, but on the whole personal level, I'm not really feeling it," he explained. "I just don't like her as a person. I gotta be honest; I learned a lesson from it: Don't believe the hype. I have respect for her, but she doesn't really have it all together. I'll just say that and that she's a beautiful woman."
Carey went on to deny that they'd dated, telling Larry King in an interview the same year: "I hung out with him, I spoke to him on the phone. I think I was probably with him a total of four times. And I don't consider that dating somebody."
RELATED: Nick Cannon Opens Up About Eminem Beef Over Mariah Carey
From there, the artists started trading barbs in music, interviews, and on other public platforms. The feud made headlines as recently as late 2019 when Nick Cannon went on a podcast and rehashed the drama he witnessed between the artists while married to Carey.
There are reports that Mariah Carey will talk about Eminem in her upcoming book
Carey announced in early July that she has a new memoir called The Meaning of Mariah Carey due for publication on Sept. 29. She promised in an Instagram note to let readers in on "my memories, my mishaps, my struggles, my survival, and my songs."
Though she did not point out any specific topics, a source told Us Weekly that Eminem allegedly believes she'll talk about their alleged romance.
"Eminem's Achilles heel has always been Mariah Carey. They had a very toxic relationship," the source explained. "He knows that Mariah is going to say very negative things about him. He is expecting the onslaught, and almost welcomes it."
The source added, "Marshall is stressed out that Mariah is going to say sh*t that he was bad in bed or a selfish lover because he has always been very insecure about that. She knows that."
RELATED: Is Mariah Carey Currently Dating Anyone?
Da Brat weighed in on the report
In a recent episode of the gossip show Dish Nation, Da Brat and the other co-hosts started talking about the report from Us Weekly.
The Funkdafied rapper — who is friends with Carey and worked with the singer on songs such as the "Heartbreaker" remix — quickly denied that Eminem had ever reached third base.
"He was never in bed, in bed, with her. Let's get this clear," she said in a clip circulating the Internet. "When y'all read, y'all will see that he prematurely ejaculated when they had all of their clothes on because he was excited that he was with Mariah. There was no sex," she continued as the other co-hosts squealed and flipped out.
As of writing, neither Carey nor Eminem has addressed the remarks. But maybe we'll get more insight when The Meaning of Mariah Carey hits shelves on Sept. 29.