Danica Patrick-Aaron Rodgers Split: What Really Went Down
Get the details on the breakup between NFL quarterback Aaron Rodgers and former NASCAR driver Danica Patrick.
Fans who hoped wedding bells would be ringing for Aaron Rodgers and Danica Patrick were disappointed to learn that after two years of dating, the NFL quarterback and retired NASCAR driver called it quits.
Sports fans everywhere have been trying to figure out exactly when and why these two ended their relationship. Here's what we know.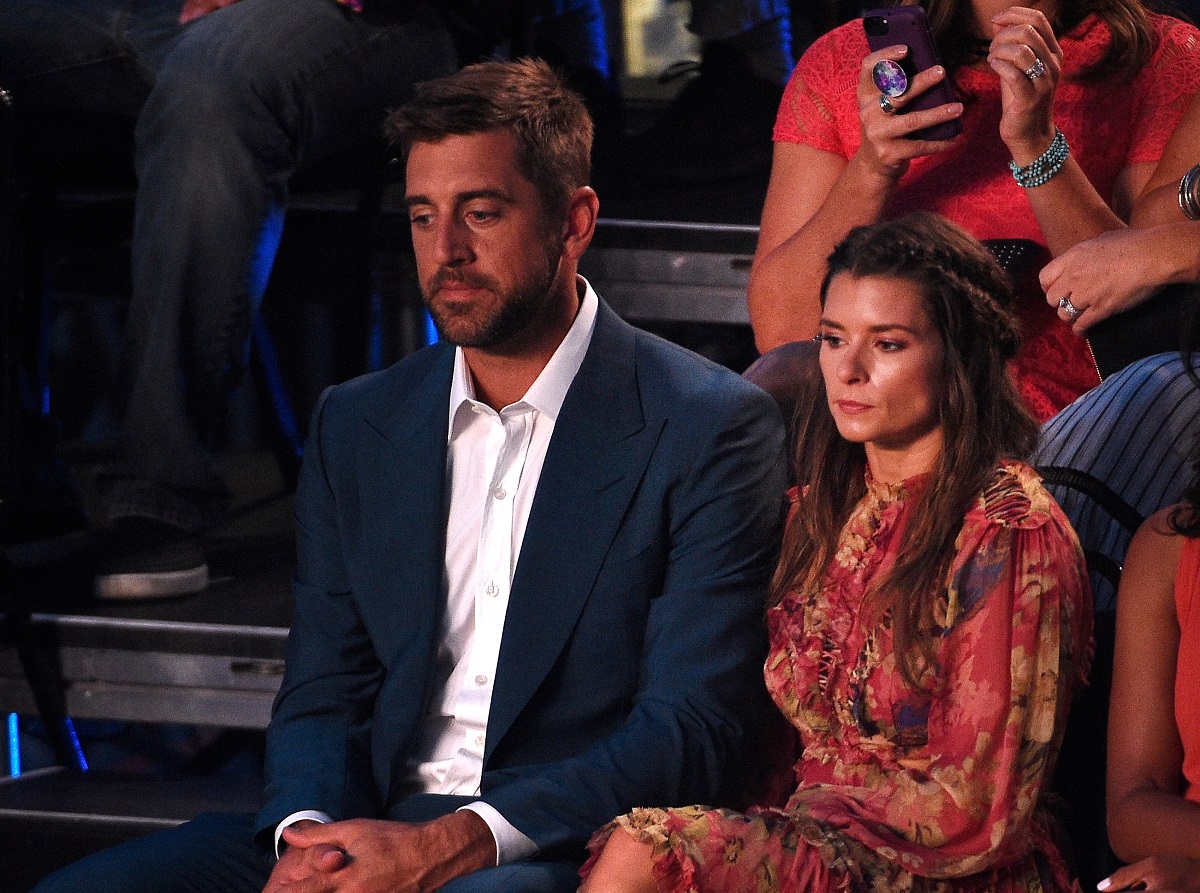 Clue about when Rodgers and Patrick broke up
On July 16, a rep for Patrick told Page Six that the former race car driver and the football star were "no longer together." The news was a bit shocking especially since Patrick had been talking about marriage. She told E! News that she was hopeful it would happen.
She also gushed about getting proposed to soon when she was a guest on Jenny McCarthy's SiriusXM show in November.
Patrick's representative did not reveal when they broke up but the last time Rodgers appeared on her Instagram was April 11, leading many to think it happened in the spring. The photo was from a trip they had taken a month earlier to Peru.
In July, Patrick did a Q&A on her Pretty Intense podcast. When asked about dealing with life transitions she said, "Well, you cry to your friends a lot. That's important… Also developing a mindset that life might be about to get better than you could ever expect and get excited. Understand that you're leaving a situation for a reason, whether it's a person or a job or a city, whatever it is you're leaving for a reason, right, and something better is on the way. That's the point."
Patrick's cryptic messages and what she admitted following their split
When the news that Patrick and Rodgers weren't seeing each other anymore broke, the former IndyCar driver posted some cryptic messages about healing and taking emotional therapy classes.
"It's emotional therapy through moving the body, breath, and acknowledging what comes up," she wrote in one Instagram post. "In class you put your hand on your heart and lower stomach (sacral) to reset the body between moves. ……Today I put my left hand on my stomach…. and the back of my right hand on my back, surrounding the solar plexus chakra, and all I heard was – I got you, I always have. That is the main chakra that lights up on me in life."
She also shared quotes from marriage therapists and relationship coaches including, "Look at the chosen relationships in your life and notice any themes. What role do you play? Who are you with them? Who do you believe you need to be? What stories do you tell yourself about what they can offer you? What can they or can't they handle? The way you choose people may offer you insight into what you're craving or what shifts you may need to make in order to shift an overworked role you've held for a long time."
Then in October, Patrick opened up about the split via The Rachel Hollis Show on Quibi saying, "At the beginning of the last relationship. I was like, 'Look. You either grow together; one grows and one doesn't or you grow apart. I have never experienced growth without pain."
Aaron Rodgers was engaged to Shailene Woodley
The quarterback meanwhile, made headlines for another reason following their split when he was linked to Big Little Lies actor Shailene Woodley. Rodgers' girlfriend after Danica Patrick later became his fiancé. In February 2021, Rodgers and Woodley announced their engagement. However, they never made it down the aisle and split up within a year of that announcement.
Before Woodley and Patrick, Rodgers dated Olivia Munn from 2014 to 2017.