Daniel Craig Overcame a Lifelong Fear While Playing James Bond in 'Casino Royale'
Daniel Craig's five James Bond movies turned him into a household name. Casino Royale turned Craig's previously solid, if relatively obscure, acting career into something completely different. In hindsight, it's hard to fathom that he never wanted to play James Bond in the first place. The role not only brought international superstardom, it also helped Craig overcome a lifelong fear.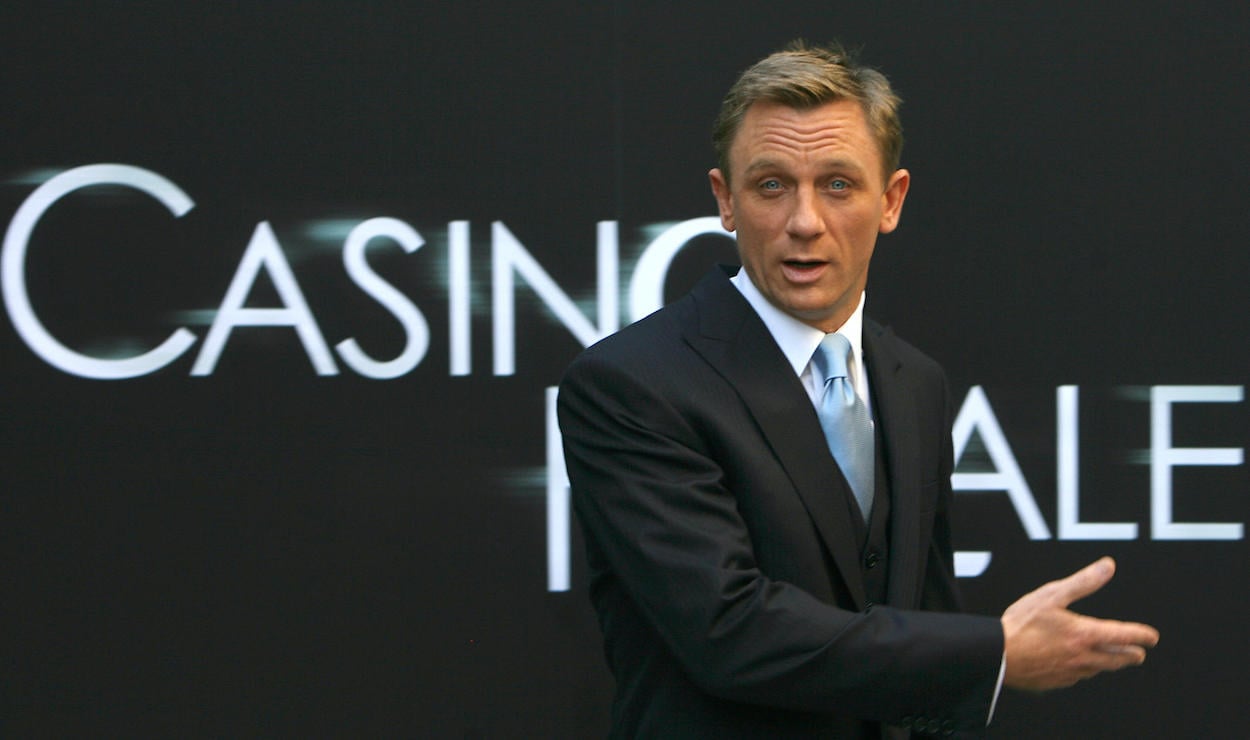 Craig is the longest-tenured 'James Bond' actor
No Time to Die, Craig's fifth turn donning impeccably tailored suits whilst fulfilling his MI6 duties, finally hit theaters in 2021, marking the actor's last Bond movie. Rumors of Craig leaving the role circulated for years, but he left the franchise on good terms. At least the casting backlash that followed him before 2006's Casino Royale had abated. 
When all was said and done, Craig's 15 years playing Bond were longer than any other. 
Sean Connery played the superspy first, acting in five Bond movies from 1962-67 before returning for Diamonds Are Forever in 1971. Roger Moore led seven movies in the series from 1973-85, but no one has approached Craig's longevity as James Bond.
Casino Royale helped revive the Bond franchise, and it also helped Craig overcome his lifelong fear.
Craig conquered his fear of heights while shooting 'Casino Royale'
The first post-opening credits scene in Casino Royale sees Bond in a parkour-heavy chase through a market and construction zone. Part of the chase takes place on the arm of a tower crane, and aside from some sequences where the stunt double fills in, Craig was the one running along the crane at great heights. 
It's not obvious on film, but Craig called the scene the most challenging of his tenure because of his lifelong fear of heights, as he revealed to GQ (via YouTube):
"The crane sequence in Casino was one of the most challenging and fun scenes, because when I had started Casino Royale, I was afraid of heights. And after it, I wasn't. So, I had to go up about 60 feet onto scaffolding and walk along beams that were about six inches across. No, run across beams that were six inches across 60 feet up in the air, which was — it wasn't fun, but it was challenging."

Daniel Craig
In the same video, Craig said Casino Royale is also responsible for some of his favorite stunts, especially the physicality he needed for the finale in the sinking house in Venice, Italy. 
Who will play 'James Bond' after Craig?
Now that Craig has left the role behind and finishes his tenure near the top of the Bond rankings, the question is, who's next?
The answer is equally concise: Who knows?
As Esquire noted, the list of actors who could play James Bond is about as long as the celluloid rolls from the previous 25 movies put together. The list includes certifiable stars such as Tom Hardy, Tom Holland, and Robert Pattinson, Bridgerton actors Tom Hopper and René-Jean Page, and a slew of British-born gentlemen.
One thing we do know is Bond will always be a man, according to producer Barbara Broccoli. However, as Esquire reported, she hasn't even considered who will fill Craig's shoes. 
Craig conquered his fear, proved the doubters wrong, and finished as the longest-tenured Bond. Whoever is next to play the role has big shoes to fill.