Daniel Radcliffe, Rupert Grint, and Emma Watson Had to Write Essays About 'Harry Potter' Before Filming and the Results Were Predictably Hilarious
The 'Harry Potter and the Prisoner of Azkaban' director made Daniel Radcliffe, Rupert Grint, and Emma Watson prove that they know their characters inside and out.
The Harry Potter series is one of the most famous novel adaptations in the entertainment industry. Taken from the widely popular novels by J. K. Rowling, the movies featured Daniel Radcliffe, Rupert Grint, and Emma Watson, who played Harry Potter, Hermione Granger, and Ron Weasley respectively.
Before filming for the franchise's third installment began, Harry Potter and the Prisoner of Azkaban Director Alfonso Cuaron gave them the assignment of writing essays about their characters. The results were predictably hilarious.
Alfonso Cuaron left his Mexican heritage as Easter eggs in 'Harry Potter and the Prisoner of Azkaban'
Chris Columbus took on the Harry Potter project, delivering the first two installments wonderfully. Columbus directed Harry Potter and The Philosopher's Stone and Harry Potter and The Chamber of Secrets. Both did well at the box office.
However, Columbus stepped aside from his directorial duties after the second film to stay close to his children as his involvement in the fast-growing franchise was denying him time from his family. Warner Bros. then tapped Mexican film director, screenwriter, and producer, Cuaron, to helm the third installment, Harry Potter and The Prisoner of Azkaban.
The decision for Cuaron to direct came after his 2001 Academy Award nomination for Y Tu Mama Tambien, which took the country by storm. He initially wanted to back away from the movie as the first two films had been "happier and brighter." However, with Warner Bros.'s permission, he was able to put his own spin on it and added some nods to his Mexican heritage along the way.
As SF Gate reports, Cuaron added small skulls throughout the movie in honor of the Mexican holiday, the Day of the Dead. Additionally, Hogwarts showcased a fountain with a snake and an eagle made of stone, a detail Cuaron used to pay homage to the Mexican flag.
The director also claimed some of the film's best scenes didn't come from his excellent directing skills, but his poor English. Sometimes the cast misunderstood him, and the scenes were even better.
Cuaron made Daniel Radcliffe, Emma Watson, and Rupert Grint write essays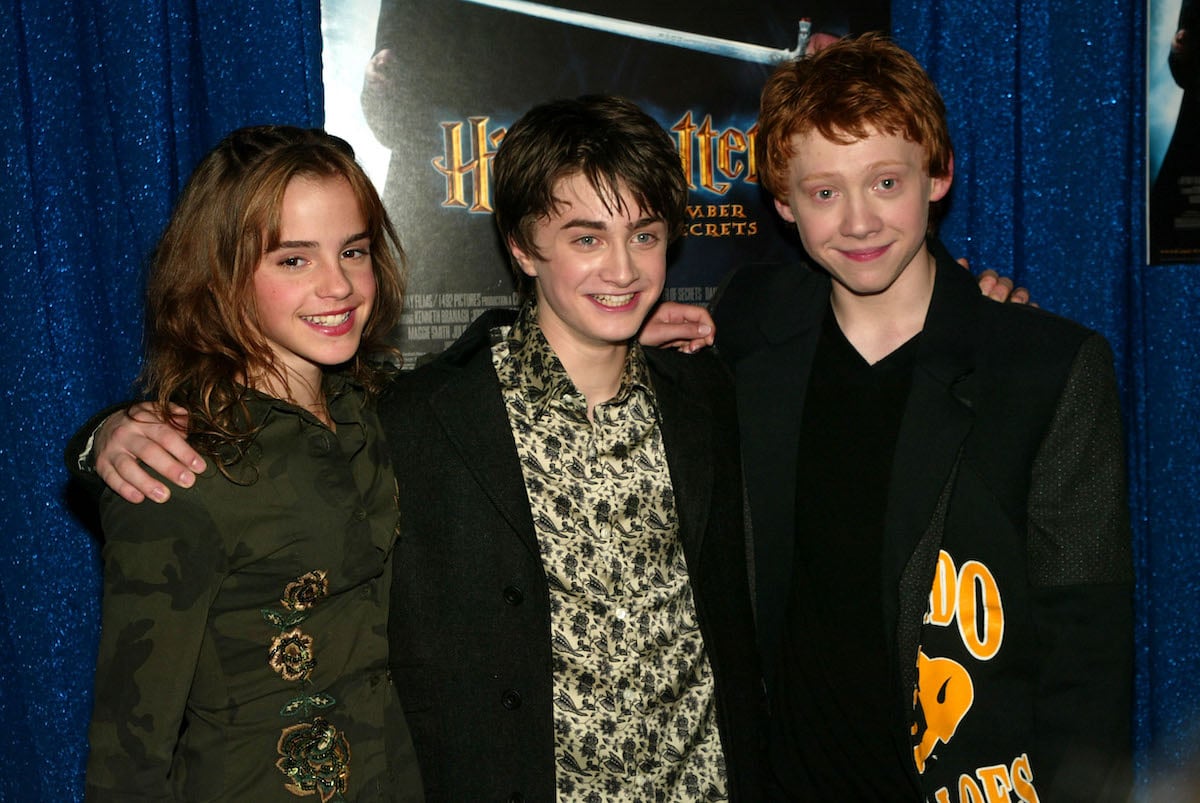 After being tapped to direct, Cuaron gave Radcliffe, Grint, and Watson an unusual assignment to write an essay about their Harry Potter characters. According to HuffPost, Watson submitted a 16-page report about Hermoine. Radcliffe only managed to do a one-page composition about Harry.
Grint, in true Ron fashion, decided against even writing the essay. When asked why he didn't do his assignment, he revealed that he had a good reason. Grint said he neglected the essay because he had been preparing to take his exams. He also mentioned that this is what Ron Weasley would've done too.
Grint was 15 at the time and the oldest of the three. He had an upcoming series of standardized tests called the General Certificate of Secondary Education exams. These prevented him from focusing too much on Cuaron's assignment.
Watson mirrored her character in more ways than one
Watson seemed so dedicated to her role that she became one with it. Both the actor and her witch character were determined to know everything. It became tiresome for all involved. Hermoine wanted to read every book in the library and know every spell, so she could prepare and excel.
In the same sense, Watson pulled a "Hermoine" by memorizing everyone's lines and mouthing her co-stars' words as they filmed. This became a problem when viewers can notice her mouthing words in the final film. When asked why she read everyone's lines, Watson revealed that she loved the Harry Potter books and "really wanted to do my job well. And I kinda overdid it."