Daniel Radcliffe Reveals the Frustrating 'Side Effect' of His Acting Career
Lack of anonymity is what Daniel Radcliffe calls a 'side effect' of his fame, but he's not in any rush to fade into the background.
The Harry Potter series provided Daniel Radcliffe with his big acting breakthrough. Millions of kids grew up reading the Harry Potter books and then watching the movies, so Radcliffe has a level of fame few actors achieve. He even made a die-hard fan faint with the smallest gesture. Radcliffe has since starred in more artistic fare such as Horns, Jungle, and Swiss Army Man, but he started his career with an iconic role in a blockbuster franchise. While he can't imagine any life other than that of an actor, Radcliffe said there's a side effect of being known all over the world.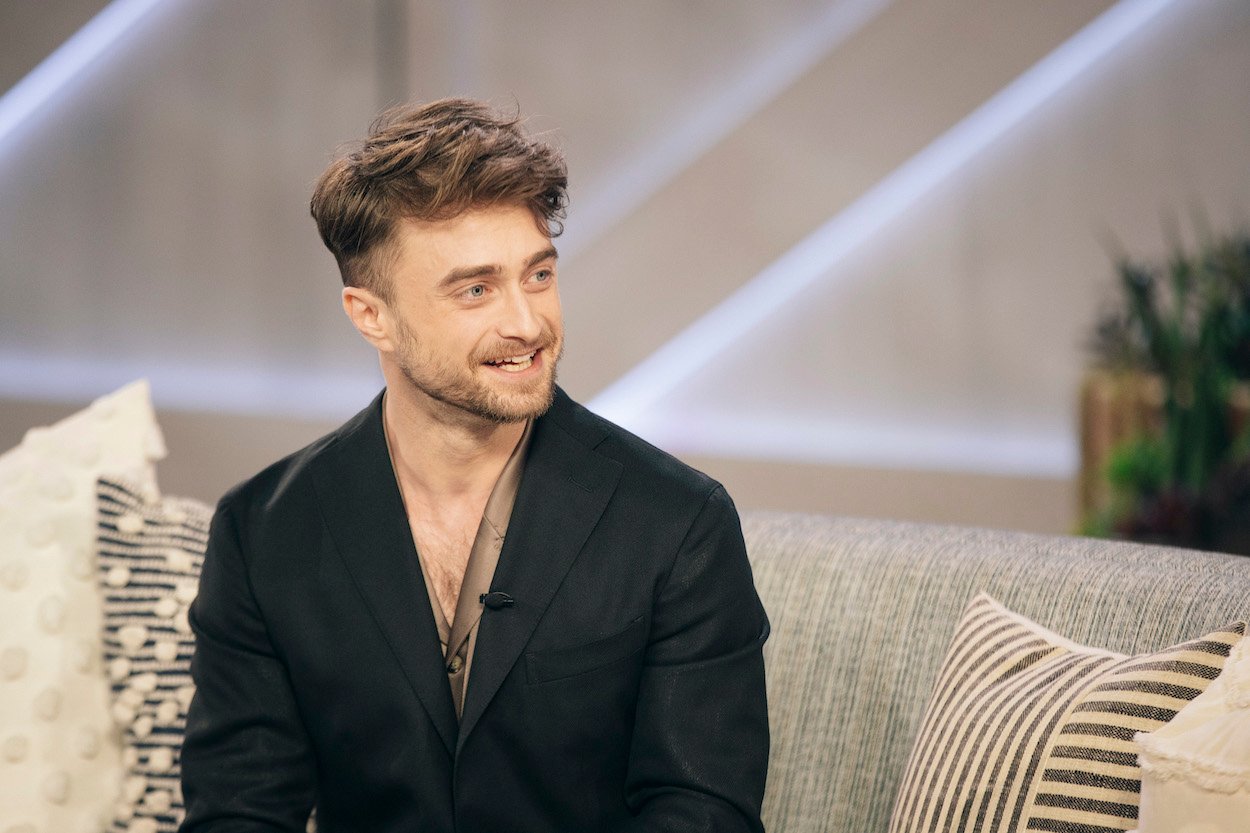 'Harry Potter' wasn't Daniel Radcliffe's first movie role
Potter fans practically watched Radcliffe grow up on the screen. He was born in 1989, and he was 12 years old when Harry Potter and the Sorcerer's Stone hit theaters in late 2001. Radcliffe's age aligned almost perfectly with his character's age.
Playing Potter remains the movie role Radcliffe is known for, but it wasn't his first. That honor goes to The Tailor of Panama, which came out in March 2001. 
Yet The Tailor of Panama wasn't Radcliffe's first role. He played Young David in a BBC production of David Copperfield in 1999. Radcliffe acted opposite Maggie Smith, who played Professor McGonagall, the head of Gryffindor house, in the Harry Potter series. 
Once Harry Potter and the Sorcerer's Stone hit theaters, though, it instantly became Radcliffe's defining role and changed the course of his acting career.
Radcliffe reveals the 'side effect' of his famous acting career
The Harry Potter series established Radcliffe's acting career and helped give him a healthy net worth, allowing him to take more creative roles later on. It also brought worldwide fame, but that is a double-edged sword. 
As Radcliffe revealed to Wired (via YouTube), being famous means he had to sacrifice things most people take for granted. 
"I like my job. A side effect of my job is that I'm famous. Generally speaking, when you hear people say that they want to be famous, I'm like, anonymity is a really cool thing. Like, it allows you to do a lot and make mistakes and then not feel like all very, very high stakes all the time."

Daniel Radcliffe
Radcliffe can't just walk into a restaurant, sit down, and eat. A trip to the movies as an iconic movie star is quite different from most people's movie theater experiences. Still, Radcliffe wouldn't have it any other way.
He'd rather deal with fame than switch careers 
Early fame removed Radcliffe's ability to learn and grow in a more straightforward way, but he wouldn't change anything about his career arc. He wanted to be an actor from a young age, and that hasn't changed just because he can't walk down the street without being recognized.
"[T]here's definitely some parts of fame that are just weird, and I've had to grow into realizing what they are because they're all such a part of my life," Radcliffe told Wired. "If fame is the part of my job that I have to deal with to do my job, I would make that deal 10 times out of 10. Like, it's not even a question."
Acting appears to be Radcliffe's calling. He made a conscious decision to start at an early age, is at ease with the fame his career brings with it, and seems laser-focused on acting. Where some actors turn to directing or producing — such as Scarlett Johannson producing Black Widow — Radcliffe's IMDb page lists more than 40 actor credits but just two producing credits (for Circus Kid and Miracle Workers).
While Radcliffe says anonymity is "a really cool thing," it doesn't seem like he'll be chasing it anytime soon.