Daniel Radcliffe's Secret Talent Stunned 'Harry Potter' Director Chris Columbus During the Audition Process
Daniel Radcliffe's secret talent came out during the audition process and might have been what landed him the role of a lifetime.
It's no stretch to say the Harry Potter movie franchise changed Daniel Radcliffe's life. He went from an unknown child actor with just two acting credits to an international superstar who soon had to deal with the side effects of fame. The book series that spawned the movies was a bestseller before filming started, and hundreds of child actors vied for the lead roles. Radcliffe's co-star, Emma Watson, revealed she endured a grueling and unusual audition process. Years into his Potter run, Radcliffe said his secret talent, which he showed off during his audition process, helped him win the role of a lifetime.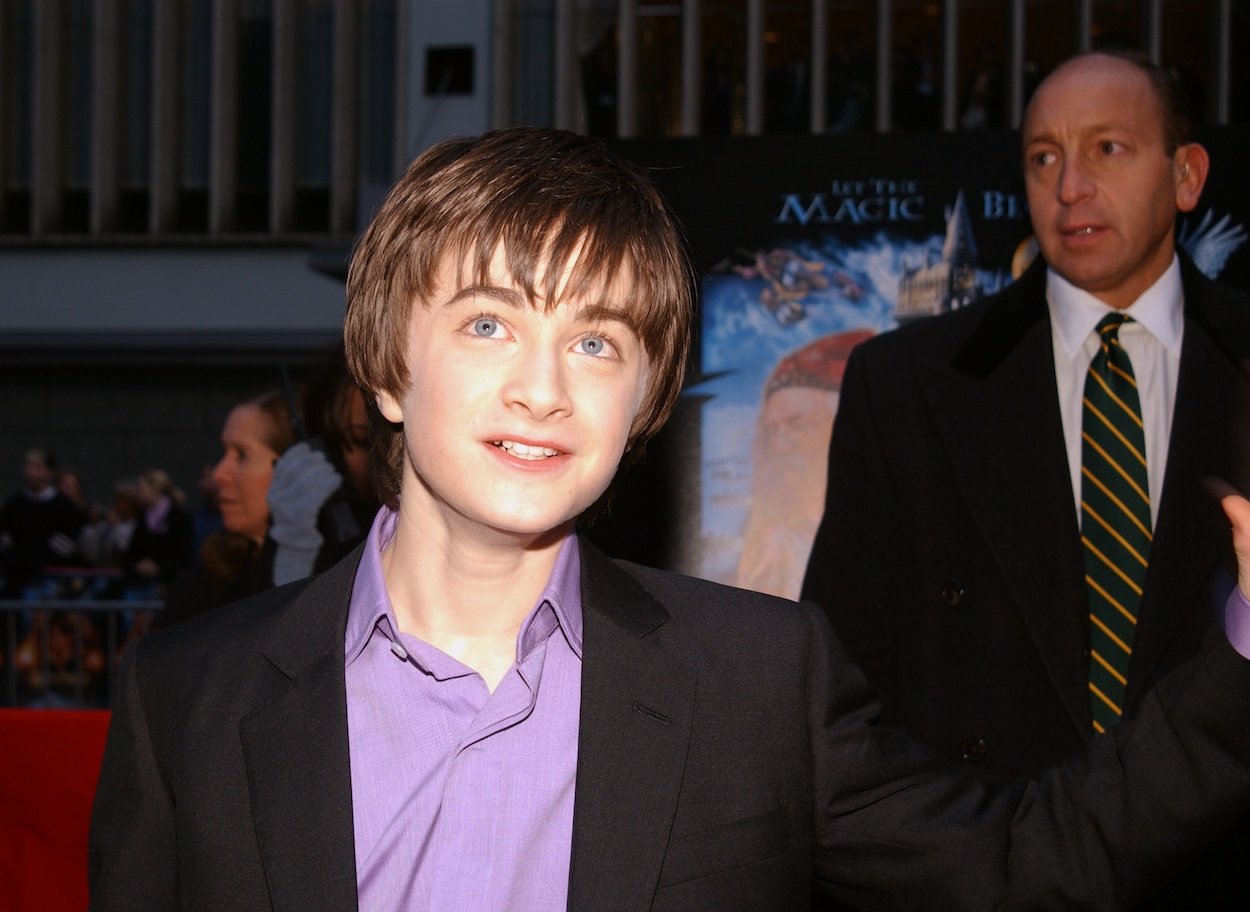 Radcliffe's acting dream almost never got off the ground
Radcliffe appeared as young David in a BBC production of David Copperfield and the Pierce Brosnan movie The Tailor of Panama before he became Harry Potter. But his dream of becoming a working actor almost never happened.
The Weird: The Al Yankovic Story star once revealed that his parents discouraged his acting dream. Radcliffe voiced his desire to act at a young age, but nothing came of it immediately. He brought it up again years later, and his parents believed just going through auditions would be enough to satisfy his craving.
That didn't work out. 
Radcliffe once said David Copperfield co-star Maggie Smith helped him land the lead in Harry Potter. Radcliffe's secret talent might have had something to do with it, too.
Radcliffe's secret talent? 'A primitive version of playing the spoons'
While out on the talk show circuit promoting Harry Potter and the Goblet of Fire in 2005, Radcliffe appeared on Friday Night With Jonathan Ross. 
Their wide-ranging conversation touched on the audition process, and Radcliffe said his secret talent might have been what won him the role of the boy who lived (via YouTube).
"In the end — I think it was partly out of desperation, partly out of being, not an attention seeker, but something along those lines — I ended up doing the Match of the Day theme tune on my cheeks by slapping my hands. A bit like a primitive version of playing the spoons. … Chris Columbus, at the end of that, said, 'If that doesn't get you the part, nothing will.' And it did!"

Daniel Radcliffe
Match of the Day is a long-running BBC soccer highlight show that airs weekly during the English football season. The hosts have changed over the years, but the theme music remains the same, and Radcliffe's secret talent is turning his cheeks into musical instruments to play the tune.
Casting the movies was a challenge for Columbus
Columbus directed and produced the first two entries in the Harry Potter series (and was a producer on the third, Prisoner of Azkaban), so he played a significant role in shaping the franchise. Especially the casting.
Before helming the Potter franchise, The Gremlins and The Goonies screenwriter directed child actors before in Adventures in Babysitting, Home Alone, and Mrs. Doubtfire. Columbus knew exactly how to cast the movies, especially the child actors. He preferred inexperienced actors for two reasons — they wouldn't be known commodities, and their performances would be more genuine.
Emma Watson (as Hermione) and Rupert Grint (Ron) had no previous acting experience. Radcliffe had two roles to his name before Potter, but he wasn't internationally known. Given that we know how things turned out, Columbus' casting decisions proved to be grand slams. Radcliffe's secret talent might have been the difference-maker that won him the part and helped make movie history.