Danny Trejo Reveals the Artist Behind His Iconic Chest Tattoo Actually Hated It (Exclusive)
Actor Danny Trejo laughed while recalling the evolution of his infamous chest tattoo, which has become one of the most recognizable body art expressions in cinematic history. He knows the ink is iconic, but the artist who created it wasn't a fan.
Trejo's chest tattoo of a woman wearing a sombrero has been seen in films such as the Machete series. Artist Harry "Super Jew" Ross created it and Trejo told Showbiz Cheat Sheet that Ross used to tell Trejo to hide it.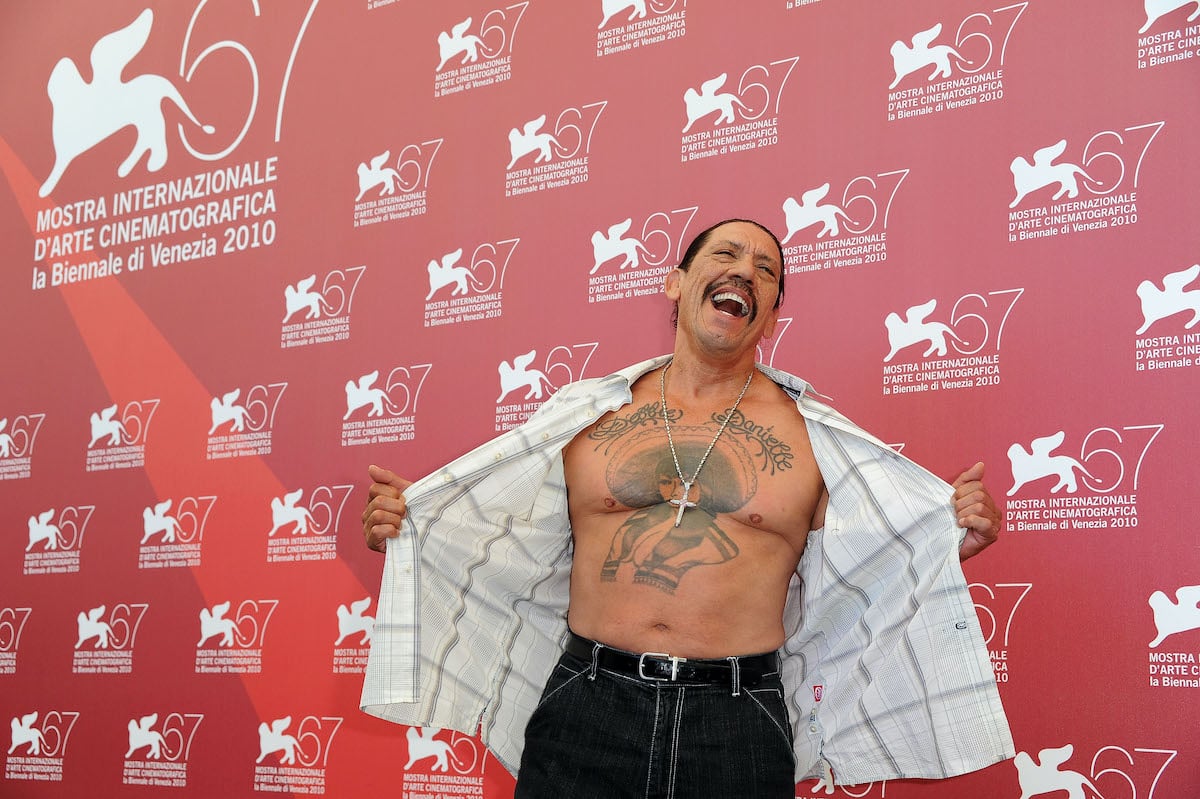 Danny Trejo's signature tattoo was created in prison
"This tattoo, the one I got on my chest, that was done by a guy named Harry 'Super Jew' Ross who passed away," he recounted. "And he hated this tattoo, you know, but it was his first tattoo. He became a prolific tattoo artist known all over the world before he passed away. And he would be like, 'Don't show that!' But I was like, 'Just shut up. This tattoo made you famous!'" Trejo laughed. "And it did because it's the most recognizable tattoo in the world."
In the past, Trejo has told the epic story of how the ink evolved. But he recently shared that this tattoo was done by hand and Ross did not use a modern tattoo gun.
"Well, we started it in a prison, San Quentin, and two prisons later we finished it," he said. "It was a needle and thread, needle and thread. So it was the old school before they invented the little machines and stuff."
Danny Trejo jokes with his kids about getting ink
Trejo's sense of humor is almost as legendary as his ink, and he shared a story about what happened when his daughter wanted to cover an old tattoo. He connected her with one of the top artists to cover the small tattoo she had on her hip. But when she revealed what she covered it with, he was a little surprised.
"She put a peacock about this big!" Trejo said using his hands to describe the new large design. "I thought you were gonna get a little cute heart!"
"My daughter once brought her boyfriend over to the house," he recalled. "And she was talking to me. What do you think [about my new boyfriend]? And I said, jokingly, 'Honey, he's got tattoos,'" he leaned in and laughed. "She couldn't stop laughing."
Trejo, who is a big family man, also shared how he recognizes one beloved holiday: Cinco de Mayo. He partnered with Tostitos to help everyone get the party started.
Fans can enter the Five Ways to Cinco sweepstakes daily for chances to win festive Cinco de Mayo prizes such as Danny Trejo's cookbook, exclusive SCOOPS!® -a-rita glasses, Bluetooth speakers, and more. Plus, Tostitos will coordinate an at-home virtual fiesta for one randomly selected winner and Danny Trejo to celebrate with friends and family.
"The way we celebrate it is Tostitos Five Ways to Cinco," he explained, adding that his family just likes to get together. "We just like to get together," he said. "It's Cinco de Mayo. Spelled backward is let's have a party!"