Charlie Cox Hopes to See Daredevil and Kingpin 'Collide' In the MCU
After reprising his role as Matt Murdock in 'Spider-Man: No Way Home,' Charlie Cox wants to see his Daredevil and Vincent D'Onofrio's Kingpin collide in the MCU.
After Daredevil ended, fans weren't sure they'd ever see Charlie Cox and Vincent D'Onofrio share the screen as Daredevil and Kingpin again. But now that they're officially part of the Marvel Cinematic Universe, Cox hopes the two will find a crossover to collide in.
Charlie Cox will return as Daredevil in the MCU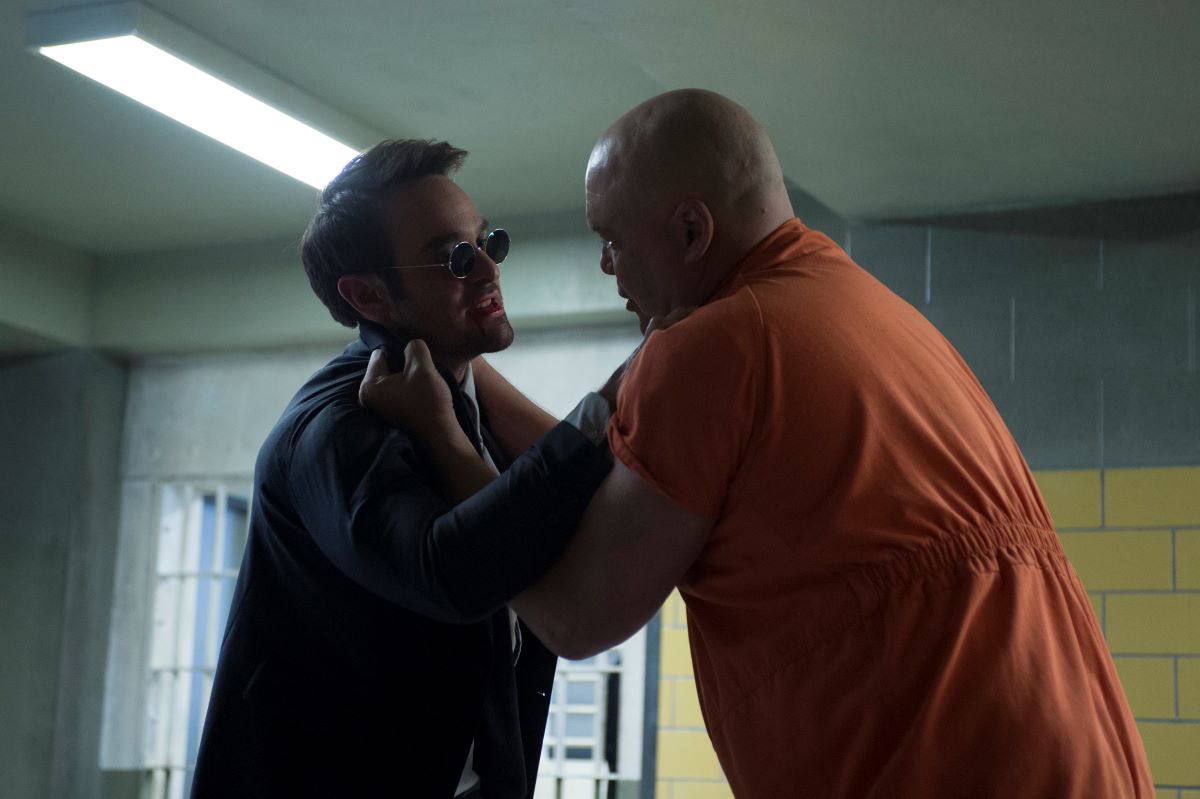 Ever since Daredevil Season 4 was canceled in 2018, fans have been hoping to see Cox return as the titular hero. Many were thrilled to see his cameo in Spider-Man: No Way Home. And according to Marvel Studios boss Kevin Feige, the actor is slated to appear in future MCU projects. 
"If you were to see Daredevil in upcoming things, Charlie Cox, yes, would be the actor playing Daredevil," Feige announced via Cinema Blend. "Where we see that, how we see that, when we see that, remains to be seen."
D'Onofrio's Kingpin made a surprise return in Marvel's Hawkeye series in December 2021. The villain was shot in the season finale. And while fans hope he returns for the Echo spinoff, there is still no official word on his future in the MCU.
Charlie Cox wants to see Daredevil and Kingpin collide in the MCU
Now that Cox's return to the MCU is confirmed, how and when it will happen is still a mystery. Cox insisted he knows very little. But the actor is excited about the prospects and hopes to see his Daredevil face D'Onofrio's Kingpin once again.
"Look, I don't have any idea what anyone's plans are at this stage, but I presume there's more for us to do," Cox told The Hollywood Reporter. "I know a little bit — not a huge amount — but a little bit."
"I am imagining, I am hoping, that our worlds will collide again because the stuff we've done in the past was tremendous fun to do, and he's such an incredible actor," he added. "We have to start every conversation with, 'What do you know?' because you have to be careful. It's really exciting."
Charlie Cox wants to play Daredevil until he's 'too old'
Now that Cox's Spider-Man: No Way Home cameo cat it out of the bag, the actor can talk about how excited he is to see Daredevil return to the MCU. He genuinely loves playing the superhero. And he told Supernova that he wants to don the red cowl and suit for as long as possible. 
"I mean, look, I feel so lucky to have been cast in that role, and it is the gift that keeps on giving," Cox said. "I loved every single minute of making the show. And so, to be asked to come back and to be involved in any capacity is absolutely thrilling to me."
"And I hope, I don't want to sound greedy, but I hope I get to do loads more," he continued. "I hope I get to be involved way, way more for many years. I hope it never ends. I hope it gets to the point where people are like, 'You are too old to be playing this part.'"