Dave Filoni Said Fans Shouldn't 'Deal in Absolutes' When It Comes to Ahsoka Tano's Future
[Spoilers for The Rise of Skywalker ahead.]
The biggest moment in The Rise of Skywalker, for fans young and old, was when Rey finally heard the voices of Jedi from the past. When she needed the extra push the most in her fight against Palpatine, Jedi like Anakin Skywalker, Obi-Wan Kenobi, Yoda, and more spoke to her. They reminded her to let the Force guide her to victory. One of the most-anticipated voices was Ahsoka Tano's (played by Ashley Eckstein), but some fans also thought her inclusion confirmed the worst. And Dave Filoni, supervising director for The Clone Wars, was surprised by that reaction.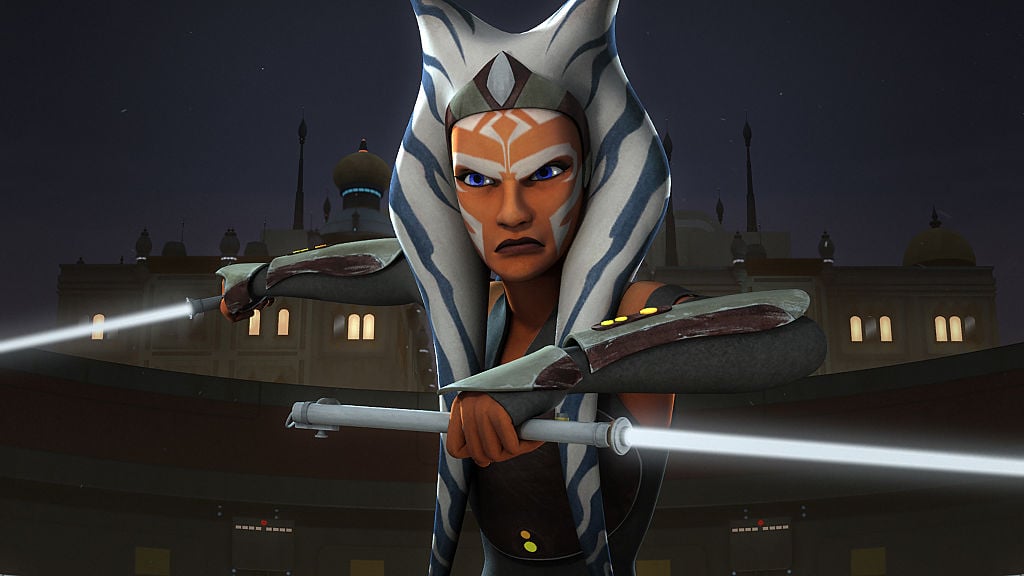 Fans thought 'The Rise of Skywalker' confirmed Ahsoka was dead
All of the voices speaking to Rey were Jedi that have died or seemed to die, on-screen (looking at you Mace Windu). The only character that hasn't is Ahsoka, and fans took her cameo in this moment to mean that she had passed away by the time The Rise of Skywalker takes place. 
She would be around 72 years old, and could easily still be alive considering no one knows what age Togrutas die. But with life as a Force wielder, it's a bit more likely that she could have been killed. All of this, on top of the fact that she doesn't show up in any of the original or sequel trilogies, made fans worry that she passed. 
But, not long after the movie came out, Filoni got on his social media and suggested that Ahsoka is still alive at this point. He shared a drawing he did of Gandalf and Ahsoka together, with Gandalf saying, "People thought I was dead too. Look how that turned out." 
Filoni said fans 'don't take all the lessons' from past movies, suggesting Ahsoka lives
Now, in an interview with io9, Filoni elaborated on how people thought she was dead and strengthened the notion that Ahsoka is still alive. "I have to wonder with Star Wars fans," Filoni said on Feb. 19. "They seem to watch the movies but they don't take all the lessons. They deal a lot in absolutes, which is very much a Sith thing." With that cheeky callback to Revenge of the Sith, Filoni really knows how to play with fans' emotions. 
He then pointed out how in The Empire Strikes Back, Luke Skywalker was able to call out to Leia through the Force, and Darth Vader does this with Luke as well. "There's no absoluteness that these people are dead," he said about the Jedi voices in The Rise of Skywalker. 
Filoni thought this moment was the perfect way to include Ahsoka in the bigger 'Star Wars' saga
Why was it so important to include Ahsoka at this moment? For Filoni, it was a way to finally have this important character show up in the larger Star Wars world, outside of the animated shows. "It doesn't really have any big implications to what I'm doing with the character, to be honest," he said. "I just thought it was a really fun thing. I thought J.J. [Abrams]'s instinct to be so inclusive with all these various elements of Star Wars and characters [was great]." 
In addition to Ahsoka, Kanan Jarrus was also included. He's only ever shown up in Star Wars Rebels and the upcoming seventh season of The Clone Wars, but not in live-action films. "I thought it would be a great thing for the actors involved to be a part of something that was just really this celebrating moment of the Star Wars saga," Filoni continued.
Filoni was actually surprised so many people thought this meant Ahsoka was dead
By including Ahsoka — again, the only character out of the voices that fans haven't seen die on-screen — Filoni didn't think it would cause such a reaction. He was surprised fans thought she was dead. 
"I always take from [fan reactions] that 'Wow, they really care about this character,'" Filoni said. "They want to know the ins and the outs and everything. And so I take it with a real grain of respect because, well, we've got to figure all these things out and how it works. And it is interesting that the voice is there. What does that mean?" 
There's more in store for Ahsoka Tano
Of course, he didn't say what it meant. Nor did he confirm a Star Wars Rebels sequel series that would continue Ahsoka's journey. But don't worry; Filoni has some things planned. "It didn't really affect what I'm doing especially since I'm before it," he said, in regards to what's next for Anakin's former Padawan. 
"So when we get to that point [after The Rise of Skywalker] or if we'd ever reach that point again, I don't know," he said. "I'm in this other timeline. I'm in a couple right now. I just honestly love that people ask about the character. To take it from where we did in 2008 to now is pretty exciting."
It sounds like Filoni is working on several Star Wars projects that occur at different periods in the timeline. Do they all include Ahsoka? Maybe. But with Filoni's comments, fans can rest assured that she's alive and healthy (hopefully).