Dave Grohl Felt Like He Was in a Waking Dream, Asking Led Zeppelin to Jam With Foo Fighters at Wembley Stadium
Growing up, Foo Fighters frontman Dave Grohl worshipped Led Zeppelin. When he started playing the drums, he wanted to sound like the band's drummer, John Bonham. So, you can imagine how terrified Grohl was when he called members of Led Zeppelin to see if they wanted to play a couple of their songs during Foo Fighters' 2008 performance at Wembley Stadium.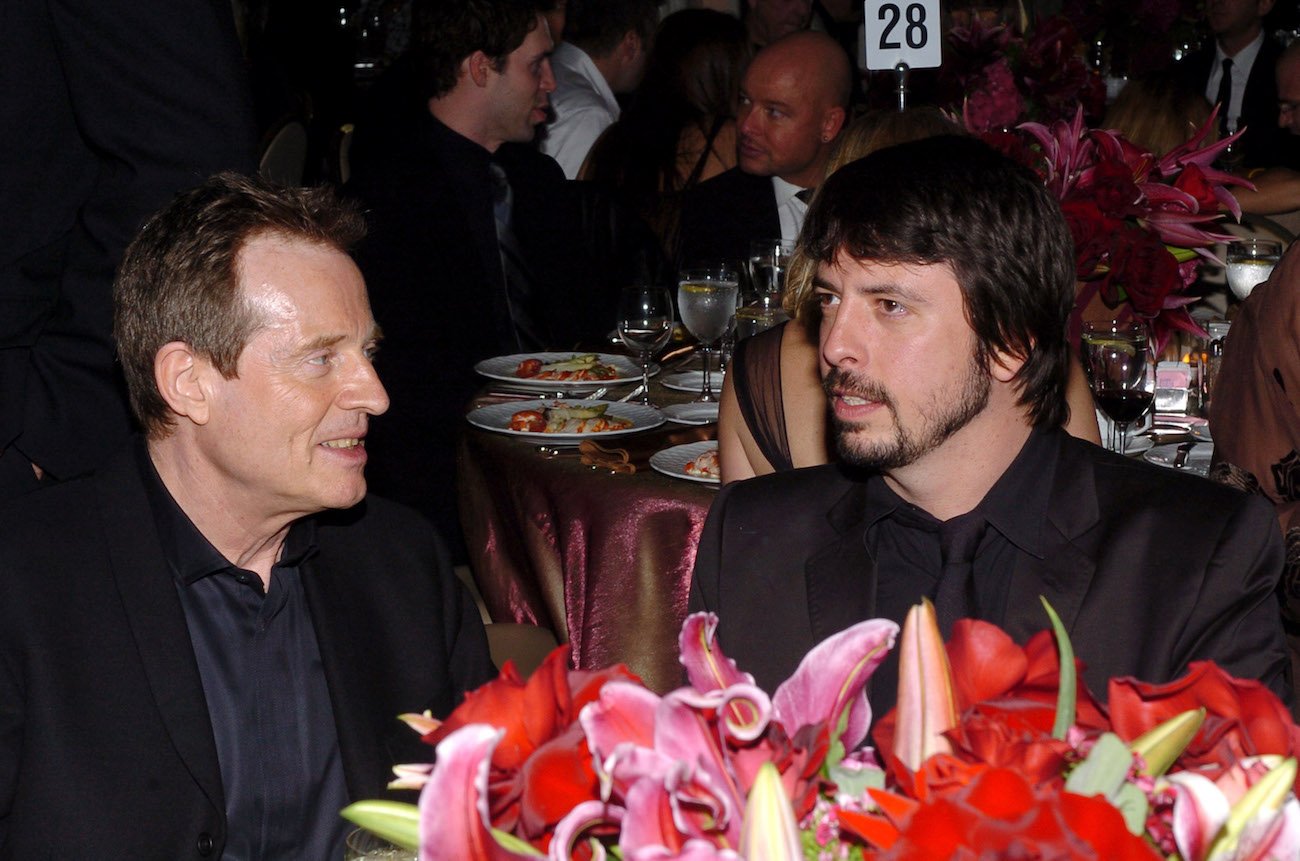 Dave Grohl loved Led Zeppelin as a kid
In Rolling Stone's list of 100 greatest musicians, Grohl wrote about how much Led Zeppelin influenced him.
"You have no idea how much he influenced me," he wrote. "I spent years in my bedroom — literally f***ing years — listening to Bonham's drums and trying to emulate his swing or his behind-the-beat swagger or his speed or power.
"Not just memorizing what he did on those albums but getting myself into a place where I would have the same instinctual direction as he had. I have John Bonham tattoos all over my body — on my wrists, my arms, my shoulders. I gave myself one when I was 15. It's the three circles that were his insignia on Zeppelin IV and on the front of his kick drum."
Grohl told Entertainment Weekly that Led Zeppelin's importance to him is hard to explain because he didn't take music lessons. Their music taught him so much, just as The Beatles' music did.
"It kind of taught me how to learn, so in a way I almost saw them as more than human — which of course they're not," he said. "They're wonderful generous people that walk the earth as we do, but to me they just meant so much more that I almost didn't want to impose any sort of personal relationship on them."
RELATED: Taylor Hawkins on the Worst Foo Fighters Song: 'It Was a Total Cop Out'
Grohl was terrified of asking members of Led Zeppelin to perform with Foo Fighters in 2008
In 2007, Foo Fighters played at London's Wembley Stadium at the Live Earth benefit. Grohl jokingly announced that they'd be back to play. However, Foo Fighters had never headlined a stadium.
A year later, Foo Fighters' manager asked them if they wanted to play at the arena again. The group agreed, and "of course we had to pull out all the stops," Grohl told Entertainment Weekly. "So we designed this stage in the round."
Then, Foo Fighters' management suggested getting some special guests to make the experience even more special. So, Grohl thought of Led Zeppelin (bassist John Paul Jones and guitarist Jimmy Page), his heroes. Thankfully, asking the legends to come along wasn't as complicated as Grohl thought.
"I thought 'Well, we've gotta call John Paul Jones.' We had wound up performing 'The Pretender' with him that year at the Grammys and we made friends so I figured, this is the most momentous occasion of my entire life, why not call the band that changed it all for me?
"So I got on the phone with Jimmy Page and he basically said, 'Well what do you want to do?' And I was terrified to answer. I felt like I was in a waking dream. But I had to say something, so I said, 'How about 'Rock and Roll'?' so he said, 'Yeah, what else?' I said, 'How about 'Ramble On'?' he said, 'Great, see you at rehearsals.' I mean it was that easy, I couldn't believe it."
RELATED: The Foo Fighters Song Taylor Hawkins Thought Was the Hardest to Perform
The Foo Fighters frontman doesn't remember performing with the legends because he was so nervous
Grohl was so nervous about playing with the members of Led Zeppelin that he forgot most of their time together on stage.
"You know it's kind of a blur to be honest, I know it's on f***in' Palladia or whatever, but I remember the rehearsals the day before when we were soundchecking at the stadium. I was so nervous, and hungover actually [laughs], and when they showed up I couldn't believe that finally the moment I had been waiting for — to sit on a drum stool, look to my left and see Jimmy Page, look to my right and see John Paul Jones — was actually happening.
"Just being eight feet away from Jimmy Page as he played this classic song and shredded these classic leads is just so hard to explain. It's almost as if I had fallen into a Led Zeppelin movie or something, it didn't even feel real."
Later, Grohl was fortunate enough to start a band with Jones and Josh Homme called Them Crooked Vultures. Grohl will never forget those Wembley performances, not just those with Led Zeppelin.
"I'll remember how I felt running up to that stage," Grohl said. "Having 60 or 70,000 people singing 'Everlong,' it was magical. I'm looking out at my mother, my wife, my daughter, my whole family, just thinking 'This wasn't supposed to happen, this band was never supposed to do this. And I'm so grateful for all the other things in my life, but I'd hate to feel like this was just another show.'
"It wasn't, and it never will be for me. There are some things in life that stay with you forever, and yeah, that was one."
RELATED: Taylor Hawkins Owned an Important Piece of Queen Memorabilia That Foo Fighters Used While Recording