Dave Grohl Said Taylor Swift Rescued Him at One of Paul McCartney's Parties — You'll Never Guess What They Sang Together
Dave Grohl said Taylor Swift saved him at one of Paul McCartney's parties. They played a song together, one that was unexpected.
Can you imagine Dave Grohl, Taylor Swift, and Paul McCartney in the same room? It's hard, but it has happened, probably more than once. However, thanks to Grohl, we know of one instance where all three music legends were together, having a great time.
It was a memorable night for Grohl because Swift had to come to his rescue during a pivotal moment. All eyes were on an inebriated Grohl, and Swift swooped in like a superhero.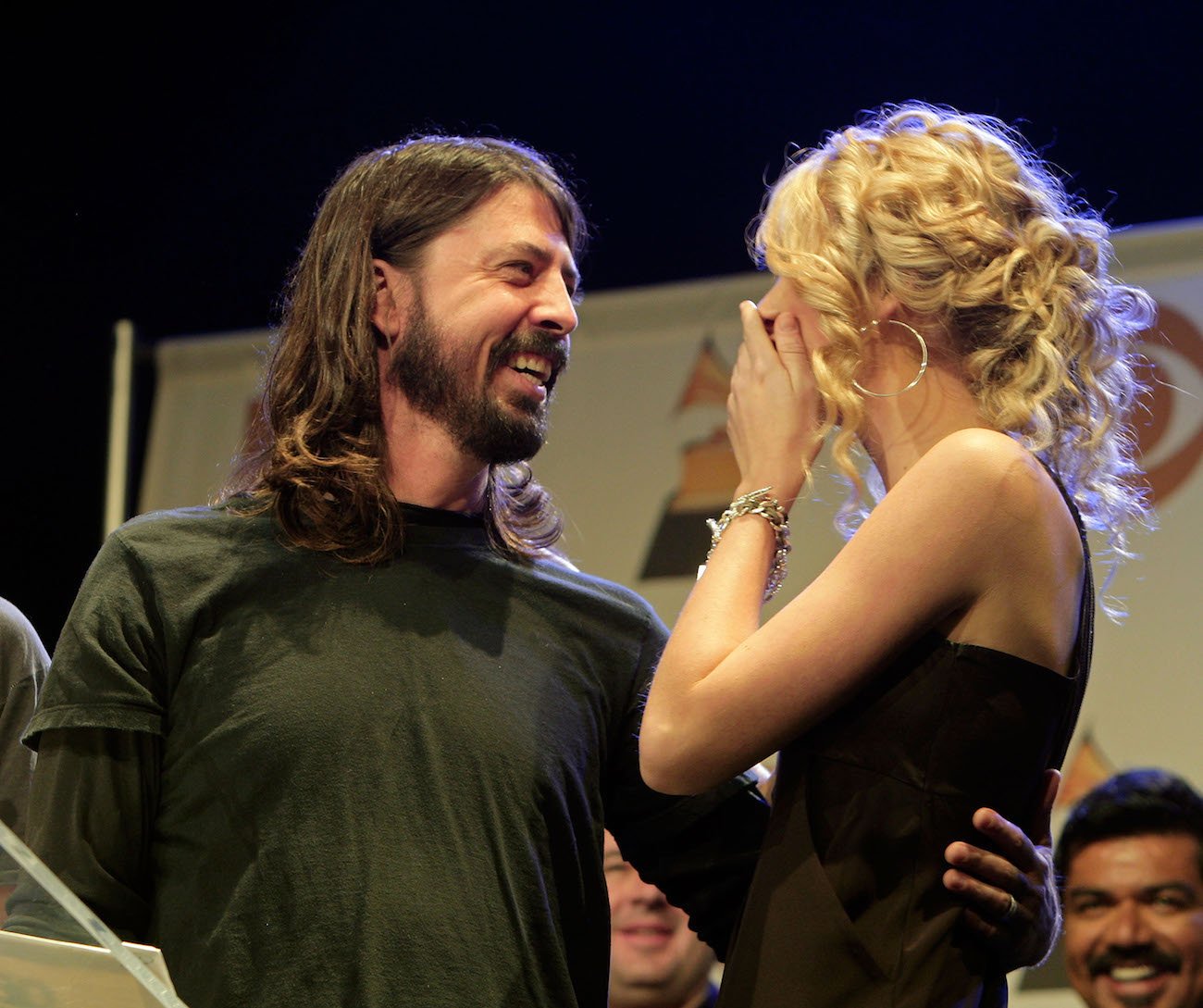 Grohl got embarrassed at one of Paul McCartney's parties, but Taylor Swift came to the rescue
In a 2018 interview on The Late Late Show With James Corden, Grohl explained what it's like playing with Paul. Grohl has, of course, performed with the ex-Beatle many times. Still, he never gets used to it. Grohl then revealed there was one time when he did not want to jam with Paul.
"When you go to jam with him, you're jamming with Paul McCartney," Grohl explained. "But there was one time at a party that we all went to, and I wanted to leave early because I had to get my kids to the bus stop at seven o'clock in the morning."
He told his wife they needed to leave at 10:30 pm, but that was when the party started to get "really good."
"Paul got up and started playing this song on piano, and it was a new song," Grohl said. "It was amazing just to sit in his living room and watch him play piano. He finished, and everyone turned to me and said, 'Alright, Dave, play a song!'"
Grohl explained on The Howard Stern Show that that moment felt like one of those nightmares "where you're naked and running backwards, and you're in school, and your teeth are falling out."
"I can't play piano, and I was a little out of sorts at that point," Grohl continued to tell Corden. "All of the guitars are left-handed, and I'm like, 'Oh my god, what do I do? What do I do?' and at that point, Taylor Swift stands up and goes, 'I'll do a song.' So she saved my a**."
Then, something happened that an inebriated Grohl could never have imagined.
Grohl said Swift played a Foo Fighters song at Paul's party
The Foo Fighters frontman said Swift got up and started playing this song that sounded familiar. Grohl had already smoked some pot by this time in the night, so he was a bit out of it. He recognized the song she was playing but couldn't name it.
"I'm looking at my wife like, 'I know this song. What is this song?' She was playing the Foo Fighters song, 'Best of You.'" Grohl was still experiencing the nightmare feeling he told Stern about.
"I kind of just slumped down like, 'Oh god this is…' But she was singing it so-it was so beautiful. It sounded so great. So then I got up next to her and started singing along. 'Singing' with her. Because I sang it the way I sing it [Screams lyrics]. Next to Paul and the piano. It was crazy."
Grohl told the story before performing "Best of You" at the Citi/Live Nation private party around Cannes Lions in 2016. In that version of the story, Grohl called Swift Batman for what she did at Paul's party. "As if I weren't high enough, that f***ing blew me into outer space, man," he said (per Rolling Stone).
The Foo Fighters frontman has said he's 'obsessed' with Swift
Grohl and Swift have a history that has nothing to do with Paul McCartney parties. In 2015, Swift took a break from her 1989 World Tour to perform at BBC Radio 1's Big Weekend, where she opened for the night's headlining act, Foo Fighters.
Recognizing that Swift was willing to open for someone, even Foo Fighters, Grohl dedicated some of the night's songs to her.
Before playing "Congregation," Grohl said (per MTV), "I'm officially obsessed — she might want to get a restraining order. I'm all about Swift. I'm going to dedicate this song to Taylor Swift, how about that? This one goes out to my opening band, Taylor Swift."
Grohl dedicated two more songs to Swift that night. "My kids would kill me if they found out (Swift was our opening act)," he said.
In a recent Rolling Stone interview, Grohl revealed that someone that Swift works with told him about her latest endeavors to re-record her music to take back ownership. It deeply impressed him. "Like, f*** yeah, girl," Grohl said. "Hell hath no fury. Now I'm scared of her! I would be so nerdy and into it. I think it's so much fun."
So, it's clear that Grohl is a fan of Swift's. Grohl has collaborated with many people, including Paul, but can you imagine what a collaboration between him and Swift would sound like?