David Bowie's Surreal First Encounters With 'Greatest Mentor' John Lennon
David Bowie had some classic stories about his first encounters with John Lennon, who he considered a mentor. Bowie and Lennon then worked together.
When personalities on the scale of John Lennon (1940-80) and David Bowie (1947-2016) collide, you'd expect great (or at least over-the-top) things to happen. According to the way Bowie told it in the years after Lennon's death, that's exactly how it went when the two legends interacted in the '70s. In brief, the takes would fly.
"Uninvited, John would wax on endlessly about any topic under the sun and was over-endowed with opinions. I immediately felt empathy with that," Bowie said in his 1999 Berklee College of Music commencement address. "Whenever the two of us got together, it started to resemble Beavis and Butthead on 'Crossfire.'"
However, their first meetings didn't go all that smoothly. At first, Bowie felt shy around the man he called "probably [his] greatest mentor." The surreal circumstances surrounding his first encounter with the post-Beatles didn't help.
Elizabeth Taylor first introduced David Bowie to John Lennon at a '70s party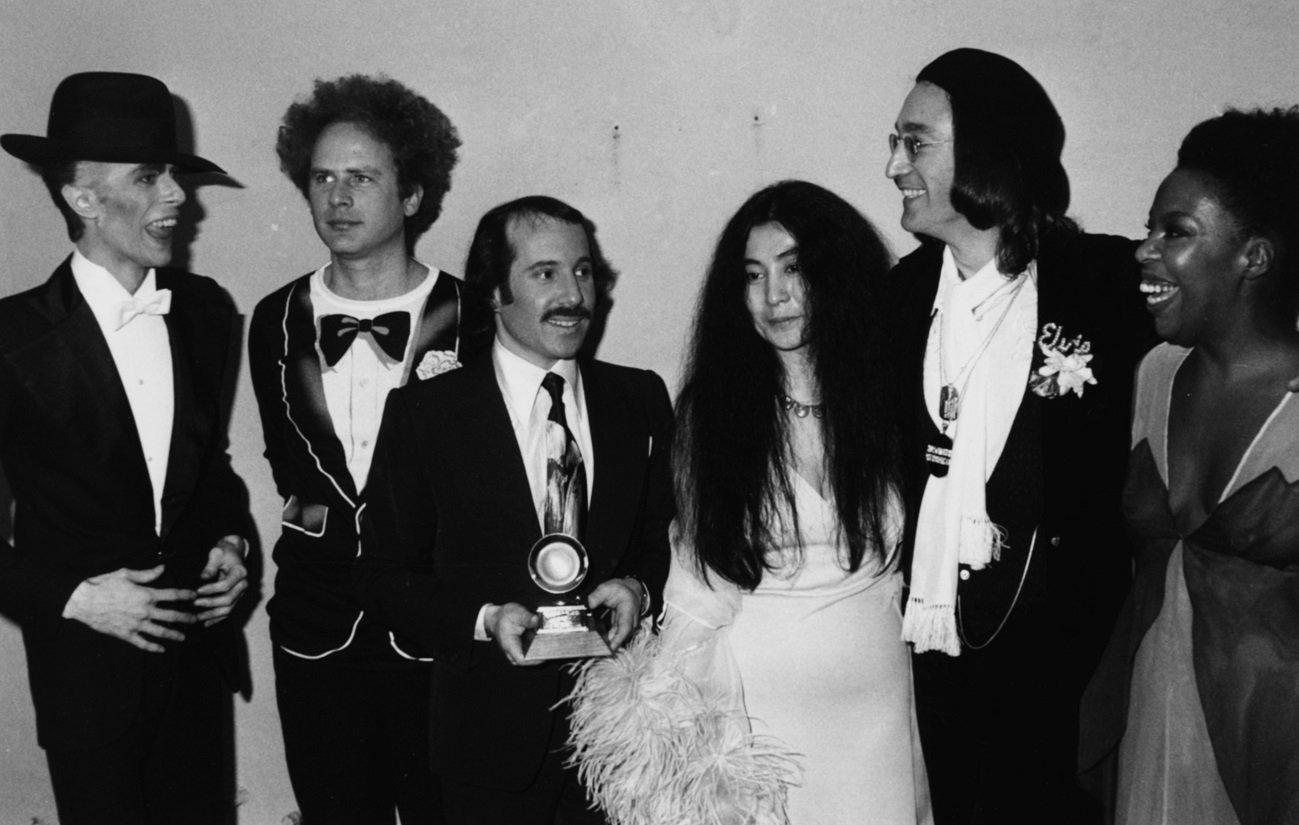 If you're going to get introduced to your idol, having Elizabeth Taylor do it is the way to go. And that's exactly how Bowie met Lennon in '74. In his Berklee address, Bowie recalled their awkward interaction at a party Taylor hosted.
"I think we were polite with each other, in that kind of older-younger way," Bowie said. "So John was sort of [imitating Lennon's accent], 'Oh, here comes another new [rocker].' And I was sort of, 'It's John Lennon!' I don't know what to say. 'Don't mention the Beatles, you'll look really stupid.'"
Naturally, Bowie mentioned The Beatles almost immediately. But it didn't put off Lennon. And their next encounter matched that first meeting.
Bowie and Lennon also had a hilarious interaction at the Grammys
In '75, Lennon and Bowie both presented awards at the 17th Grammys. Backstage, they posed for those famous photos with Yoko Ono and Simon & Garfunkel. By then, they'd recorded together (Bowie's cover of "Across the Universe") and even co-wrote a track ("Fame").
But Bowie had some precious memories of that night. He'd presented an award to Aretha Franklin, who said, "I'm so happy I could even kiss David Bowie." Beforehand, Bowie had been telling Lennon how America didn't "get" him. So when Franklin walked offstage without that kiss, it stung a little bit.
"So I slunk off stage left," Bowie recalled at Berklee. "And John bounds over and gives me a theatrical kiss and a hug and says, 'See, Dave. America loves ya!' We pretty much got on like a house on fire after that."
Lennon contributed to Bowie's first Billboard No. 1
Lennon was right about one thing: America did love Bowie. The nation's music-buying public gave him his first No. 1 hit with "Fame" later in '75. Magically enough, Lennon had contributed lyrics and a few musical ideas on "Fame" (enough for Bowie to give him a songwriting credit).
As for "Across the Universe," Bowie was really happy with that cover (and loved Lennon playing rhythm guitar on it). For his part, Lennon enjoyed lending a hand to Bowie, who he considered a fine artist and a friend — he said so in his '70s interviews.